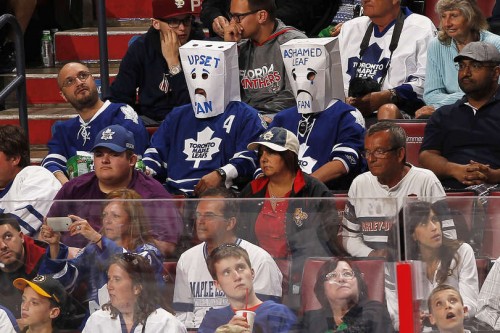 The season is over, and Leafs hockey along with it. After a disappointing ending, fans everywhere are debating the changes that should and shouldn't be made in an attempt to make the playoffs next season. My personal suggestion? Lower the seat prices by $10 for every season they've disappointed their fans, and maybe take a buck or two off the beer prices while they're at it.
Just in case my suggestions don't pan out, here are six predictions about what's to come for the multi-talented Leafs (and by multi-talented I mean hockey and golf pros… Too obvious?)
6. Nonis stays put.
Fans have been debating whether or not Leafs' GM Dave Nonis will make the cut or get cut going into the next season. Quite honestly, if he were going to get fired it would have happened in the last week or so a la Mike Gillis and the Canucks. Nonis has made a few errors in judgement during his short time as the GM (*cough* paying an arm and a leg for Clarkson *cough cough* 7-year contract extension for Phaneuf), but he's also made some really smart choices.
He stated quiet at the trade deadline which is exactly what this team needed, although it may not seem like it when you look at the playoff brackets. Putting faith in their young players as they develop has never been a specialty of the Leafs, and there is absolutely no guarantee that forcing the team to adjust to new lines and trying to create chemistry so late in the season would have put them any closer to the post-season.
Nonis also hasn't had enough time to display his full potential as the GM. It takes more than one season to see the full impact of trades and changes both in the players and the management, and despite it being a shortened season, the Leafs did make the playoffs last year. That franchise victory had a lot to do with Brian Burke, but it did give fans, and likely management the impression that Toronto's situation wasn't as desperate as it seems now. Nonis definitely has another year or two with this organization to prove that he's the right man for the job. Don't say goodbye to him just yet.
5. Phaneuf stays put.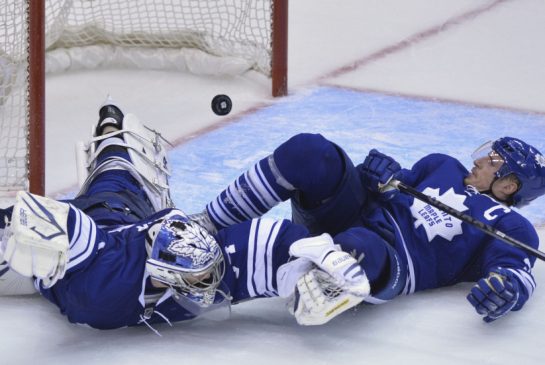 There has also been a lot of talk about whether or not Phaneuf will get traded before the start of next season. To those people I say…. Seriously?
It's become the trendy thing for Leaf fans to bash Phaneuf, but despite all the criticism he receives from the hockey world, Leafs Nation has written him off too quickly. Being the captain doesn't necessarily mean he has to be the superstar of the team, and if he's maintained this position for as long as he has, he obviously brings something to the team off the ice that other players don't.
This isn't to say that Phaneuf hasn't made his share (and other people's shares) of mistakes this season, because he definitely hasn't been perfect. Sometimes I have to pinch myself (get it? get it?) to make sure the mistakes he makes are happening in real life. But come on, the guy just got a 7-year contract extension that the Leafs really can't afford to buy out any time soon, and whether the fans like it or not, he's the captain. He's not going anywhere, at least for the time being.
4. Reimer gets traded.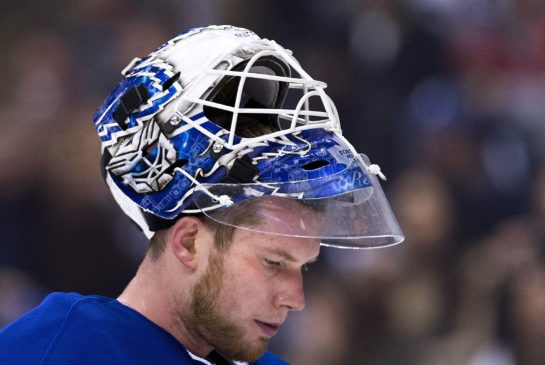 Now before I get torn apart by the mobs of Reimer-hater-haters (the people who hate anyone who hates Reimer), I'm not trying to blame the outcome of this season on him. Quite frankly, the people who blame Reimer for everything obviously don't watch every game. First of all, Bernier played far more frequently, so there's that. Second of all, Reimer is only one person, and that person happens to be the last line of defence. He let in some bad goals this season no doubt, but the only way he can even let goals in is if they get past the five men in front of him. Goalies can never be held fully responsible for the downfall of an entire team.
That being said, there is a good chance Reimer will be traded some time before the upcoming season. It's no secret that he's not Carlyle's favourite player, and he did put on some lack-luster performances this year. Like I said, goalies can't be held fully responsible for losing, but as the last line of defence, you should be the sharpest guy on the team, and Reimer just wasn't that guy this year. The Leafs also gave Drew MacIntyre some experience at the end of the season with his first NHL start, which likely means they're testing the waters to see if he is capable of handling the #2 spot.
Maybe I'm wrong, but it seems to me that with Bernier as the #1, the Leafs have more of a safety net (pun intended) than they have for the last few years. This may give management the push they haven't had before to trade their #2 goalie for someone who instills a bit more confidence in the team and the fans. However, they would be wise to at least wait until Bernier's surgery is finished and he's had time to recover before making any definite decisions.
3. Bernier wins the Vezina.
Alright, maybe I'm getting a bit ahead of myself there. But in all seriousness…
3. Bernier leads the team to the playoffs.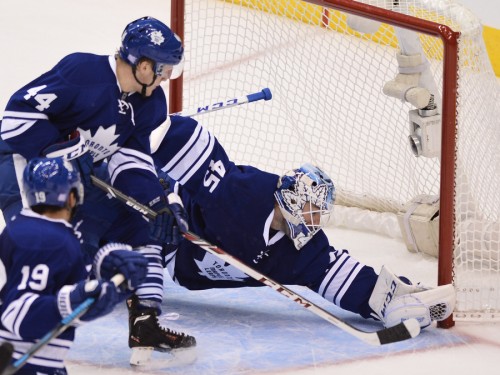 I've said it once and I'll say it again, Bernier is one of the Leafs' greatest hopes. He has been one of, if not their most consistent player. He still has some room for improvement but that can be said of any player; there are always things to work on no matter your level of skill. He only started in 49 of the 55 games he played this season, with a record of 26-19-7, and a save percentage of .923. He was seventh in the league both in shots against and saves, facing 1,787 shots this season and saving 1649 of them.
Statistics aside, he seems like the right fit for Toronto because he hasn't caved to the incredible amount of pressure that comes with the territory. The fans and the media in the city can be some of the most critical in the sport, especially when defensive tactics have been called into question so frequently for the team.
He can't do it alone, but with the right changes to the defensive roster (we'll get more in depth on that, don't you worry), Bernier is exactly the kind of goaltender who could lead the Leafs to the playoffs, and maybe even past the first round. His late-season injuries could definitely have an impact on him, but based on his performance in Toronto so far, he has a bright future ahead of him with the blue and white.
2. Shanahan will do… something.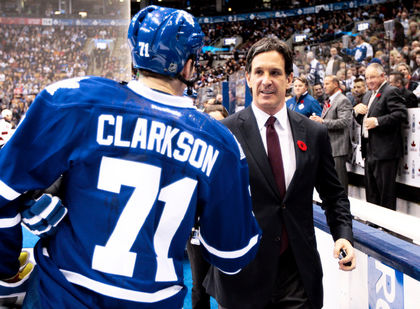 I don't really know what to think of this move to be honest, and it seems hockey fans are as torn as I am. Some say that the Shanahan move is nothing more than a publicity stunt, in order to suppress the rising levels of animosity coming from Leaf fans and make sponsorship deals. Others think Shanny will be able to make a significant improvement to the Leafs' game with both his on-ice and leadership experience.
It's still a little unclear how his position will work alongside Nonis – there could be some sort of power struggle in their futures – but what is clear is that Shanahan will be able to provide a fresh new perspective when it comes to decision making for the up-coming season. He may not have the years of experience in a management role as others in the franchise (to give you an idea, he has played with and against some of the Leafs players he is now the boss of), but sometimes it takes a former player to really understand what to do with the current ones. To put it bluntly – if he doesn't make things better, at least he won't make things any worse.
1. The defense gets a spring cleaning.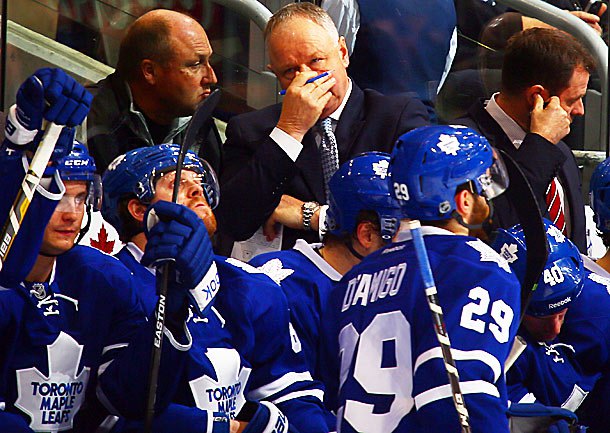 It's been said time and time again, but the defensive line up is easily the weakest link for the Toronto Maple Leafs. It wouldn't be the least bit surprising if they all got cleaned out, leaving few of this year's players behind. Phaneuf and Gunnasson will almost definitely remain, but otherwise no defensive players are completely safe. Reilly's rookie status will probably keep him safe, and he and Gardiner still have time to develop, which Nonis has expressed that he wants for his team.
Others like Paul Ranger stand a chance as well, but more likely than not the defense will be getting a major overhaul, both in terms of trading players, and changing who plays on the top line and who brings up the rear. It's going to take a lot of work to improve this aspect of the team, but honestly, much like the Shanahan addition, they can't make it much worse.
The fate of head coach Randy Carlyle didn't make the list simply because I have no idea what will happen to him. The popular opinion seems to be that his days are seriously numbered, but there is always the chance that he's given one more season to prove he can coach the team to victory. Despite the mid and late season collapses, there were some noticeable improvements in the team. Whether or not they had to do with Carlyle's leadership is debatable, but regardless, it won't be long before his fate with the Leafs is decided and announced to the hockey world, good or bad.++