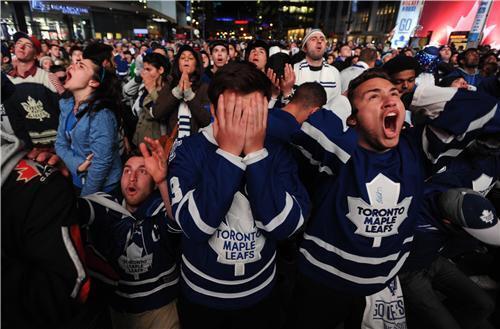 They may not be in the playoffs (again), but… actually no 'but', this sucks. In an effort to help kick your lack-of-playoff blues, I've made a list of the top 7 signs you're a Leafs fan. I was going to write a list of 10, but I spent too much time watching old playoff videos and crying in an effort to research for a different article (Top 10 Playoff moments… needless to say I scrapped that one for now). GLG.
7. "This Year Is Our Year" Is Your Most Commonly Used Statement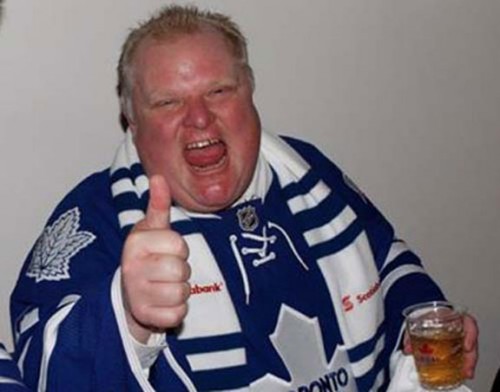 It doesn't take a hockey expert to realize that one or two years is rebuilding – one or two decades is a downward spiral of bad decisions. The Leafs have been "rebuilding" for so long that it's starting to seem like they don't know how else to function (well, kind of) as an organization. But every time a season ends and the playoffs begin without them, you reassure yourself by using the old faithful, "It's fine guys, we're rebuilding. This year coming up though… this is going to be our year" or "Have you seen how young our guys are? Give them a few years and we're going to be unstoppable".
Honestly, it's not all your fault. As I've pointed out in the past, being a Leafs fan is like being in a bad relationship; you know what you're being promised about improvement is probably not true, but you can't help sticking around just in case they find some way to prove you wrong. They're like the crack of NHL teams, because ya know, Toronto doesn't have enough of that going around already.
6. You've Spent Half Your Pay Cheque On One Ticket
And that's not because you're such a dedicated fan that you just had to sit right behind the glass. Nope, an average-Joe nosebleed seat at the Air Canada Centre does not come cheap. They can sell for over $150 per seat depending on the game, and that's before you've even got a beer and pretzel in hand.
But hey, if it means watching the boys play in the flesh while surrounded by tens of thousands of (really drunk) people who share your love of the Leafs, it's worth making some cut-backs for the next month. I mean, groceries or hockey? Exactly. Moving on.
5. You Hate The Habs and The Sens
You hate them a lot without rhyme or reason other than the fact that you're a Leafs fan and that's just the way it works. These rivalries date back to the start of each franchise, and the fans have adopted them as much as the players. Your favourite forward plays for Montreal? Nope, sorry, I hope you don't win a cup until you get traded. Your cousin got drafted to Ottawa? That giant Leafs flag in your yard will never be replaced by a giant Senator, and Uncle Phil will shout "Go Leafs Go" at him during every family gathering.
I once asked my Dad "If I made the NHL and I got drafted to Montreal, would you still cheer for me?" You can guess the answer. Montreal. Is. The. Enemy. Ottawa is the next runner up. It's basically a contractual obligation of being a Leafs fan.
4. You Use Your Pain To Your Advantage
Leaf fans all know how to laugh at themselves, and they also know how to use their team's struggles to their advantage. Nobody is going to question your loyalty if you bet against the white and blue during a 7-game losing streak, because deep down we all know that misery loves company.. especially the company of Sir Wilfred Laurier and Her Majesty (I'm talking about money in case that was lost on anybody).
Also, this guy.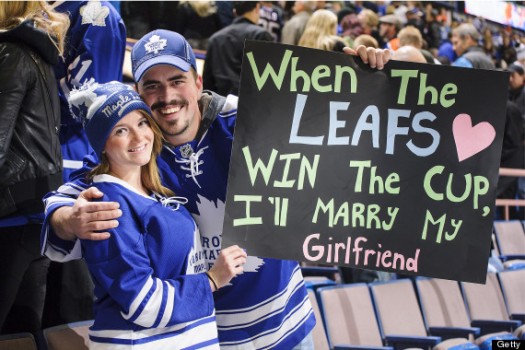 I wonder if this girl actually knows how long it's been since the Leafs have won the cup. For the sake of comedy I seriously hope she's clueless.
3. You Know Every Stat And Random Fact In The Book
Leaf fans are used to taking abuse from just about every other fan-base in the sport, and other sports for that matter. Sure, it gets really old really fast, but it also means that you know exactly what you're up against, and therefore have a stats ready to fire at will for anyone who tries to cross you, no matter how irrelevant or petty they may be.
We haven't won the cup in almost half a century? At least we've won a cup, 13 of them in fact (we're looking at you Canucks, St. Louis, San Jose, and then some). Also, we would have won the cup in '93 if it weren't for that high stick. WHY WAS GRETZKY IN L.A. ANYWAY?! C'Mon Ref! (Ironically Kerry Fraser, the ref who didn't call the high stick, now writes a blog titled 'C'Mon Ref!'. Seriously).
Some unoriginal insult about Kessel not having the most points in the league? Call me when someone has more points in one game than Daryl Sittler. It's 10 by the way.
We can't hold our own in overtime? Well Sundin shares the NHL record for most overtime goals scored at 15, and fastest overtime goal scored in six seconds. He also has more game-winning goals than Lemieux and Gretzky. And remember when his 500th NHL goal was a hat trick goal? Yeah, me too. (That last one is particularly useful when arguing with a Flames fan).
Our defence sucks?…. You suck.(Alright so we've really got nothing on that last one. Can't win em all).
2. You're Still A Leafs Fan
Let's face it, if after the years and years of Stanley Cup drought and getting nothing but heartbreak, an extended golf season and an endless supply of jokes from other hockey fans, you still love the Leafs, you're definitely a true fan. The bandwagon is always filling up and emptying out as the team's success goes up and down, but despite everything you're as excited every October and as loyal every April as you were the last.
It's not without frustration, but you'd rather have people insult you for your choice in hockey team than to insult you for how quickly you jump ship when things aren't going their way. Besides, you already have the jerseys… and the flags, and the phone case, and the autographed Johnny Bower something-or-other (because who doesn't have one of those). Which brings me to my next point…
1. Everybody Knows You're A Leafs Fan
Home and away jerseys? Check. Some sort of poster or banner proclaiming your fandom? Check. More hats, scarves and other miscellaneous winter gear than you can count? Check check and check. You probably had TML wallpaper in your room at one point in your childhood, and it's started to spread to other parts of your house, car and desk at work (computer screensaver included).

It's not enough to just love the Leafs, you let everyone else know how much you love them too (even when you hate them). Your non-hockey-fan friends want you to shut up about them. Anyone at a party who can hold a conversation about them becomes your new best friend. Everyone knows that your social schedule revolves heavily around the Leafs' schedule. You want to go out tonight sports-hating friend? Well sure, I happen to know this sports bar playing the game and serving beer, how convenient!
You'll use any you can excuse to gloat about, analyze or watch your or defend your favourite team, because that's exactly what they are – your team. No matter how much they disappoint you, how much flack you catch for cheering for them, you're proud to tell people you're a Toronto Maple Leafs fan. And whenever the day comes that they bring the Cup back to the city, you'll honestly be able to say they've always been your team while happily climbing over (and by climbing over I mean knocking off) all the new people who decided top hop back on the bandwagon.