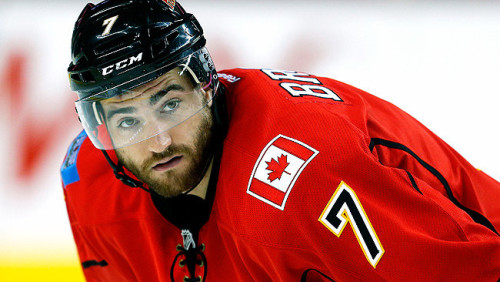 The Calgary Flames of 2014-15 were a sight to marvel at: young, inexperienced and full of question marks, but with that certain je ne sais quoi that somehow made them successful.
Considering they emerged almost from nowhere, it would be easy to say the entire roster broke out last season. But certain players such as Mark Giordano, Sean Monahan and Jiri Hudler were expected to – and did – deliver big time. With that in mind, there were a few Flames who managed to stand above their peers in Calgary's magical season:
Johnny Gaudreau: Sure there was plenty of hype surrounding the Boston College product – the kid who was expected to do great things with the Flames…eventually. But few could have predicted he would break on to the scene as he did last season when he appeared in 80 games and put up 64 points – second only to Jiri Hudler among teammates and tied for the rookie scoring lead with Mark Stone. If not for a mid-season slump that hit him and his linemates, a 75-plus point campaign would not have been unthinkable. But his offensive potential was well-documented and highly touted, so it's not exactly a surprise he had success. What really cemented Gaudreau's breakout performance was his commitment to, and ability to deliver on, his defensive game. No one expected Gaudreau to compete for the Selke Trophy in his first season, but he still finished the season with a respectable plus-11 rating and his 67 takeaways tied him for 12th in the league.
Kris Russell: Always a dependable piece on the back end throughout his career, Russell never quite did anything to set him apart from the rest of the league. In 2014-15, however, he broke out in a big way on both sides of the puck, helping push the Flames to the playoffs in the absence of Mark Giordano. He played a career-high 79 games, during which time he recorded a league-best (and also career-high) 283 blocks – 74 more than second-best Roman Josi – and put up 34 points, a single-season best for him as a pro. What's more, in the 20 games after Giordano went down Russell took his game to another level as he put up 14 points. His increased offensive production no doubt coincided with his increased workload: In that same stretch of 20 games he played at least 28 minutes six times, and by season's end his 2,507 total shifts were good enough for fourth in the league.
TJ Brodie: In his fourth season in Calgary Brodie got out to a torrid start, showing some top pair potential. After being held off the score sheet in the team's season opener, Brodie then reeled off a six-game point streak, and by the 25-game mark he had already accumulated 21 points – making a very early case for the Norris Trophy. While he wasn't able to maintain that pace – he had only 20 points in the remaining 56 games of the season – Brodie showed his ability to be a game-changer on the offensive side of the puck. His breakout wasn't just limited to offence, though, as Brodie contributed 178 blocks (8th in the league) and 71 takeaways (7th in the league, although he had 88 giveaways). Like Russell, Brodie's workload also saw a big jump with the injury to Giordano – his 2,601 total shifts were second behind Drew Doughty.
Micheal Ferland: As far as the regular season goes, Ferland's rookie year in the NHL was rather underwhelming. After starting the season in the AHL, Ferland joined the big club for 26 games, recording 67 hits (a modest 2.58 per game) and two fights. Although he wasn't brought up for his offence, his five points still left something to be desired. But the playoffs were a different story altogether for Ferland who emerged as a valuable asset and an important contributor to the Flames' success. His physicality and gritty play endeared him to Flames fans and left the Vancouver Canucks – Kevin Bieksa in particular – embittered and spiteful. His ability to get under the skin of Bieksa and co. played a significant role in getting the Canucks off their game, which was their ultimate demise in a series win by the Flames. Capping off what was a great post-season performance for him was the fact Ferland had five points in nine games.
Love Reading About Hockey?

Subscribe to keep up-to-date with the latest and most interesting hockey news!
| | |
| --- | --- |
| | We hate spam just as much as you |