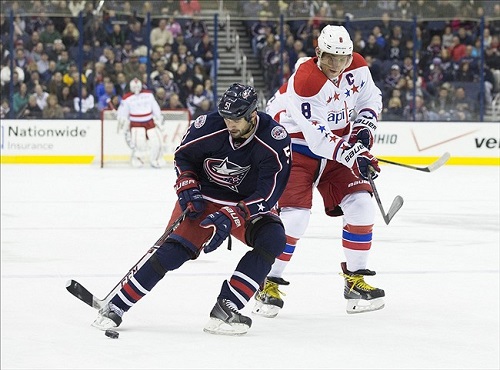 Last night the Capitals played probably there worst three periods of hockey of all season. Now for the Capitals to end the season with 92 points (what is expected to make playoffs) they must finish the season on a 105 point pace.
Updated #Caps vs. 92-point pace chart. They'll need to finish out on a 105.4-pt. pace to his 92. pic.twitter.com/FJtlSN0kw8

— JapersRink (@JapersRink) January 31, 2014
1. The Defense Is Worse Than Thought
We don't have a goalie problem, we have a defense problem. When the puck is in our defensive zone we look like chickens with our heads cut off. Both goals scored by Ryan Johansen, and the second period goal by Brandon Dubinsky are perfect examples of this.
Nick Backstrom let's Johansen (his man) get away and Johansen won the race the rebound to get his first goal of the game. Backstrom needs to know where to be on the play so Holtby isn't forced to make a spectacular save.
No one wants to pick up Johansen down low on the second goal. Letting him have all the time in the world to beat Holtby.
Lastly, the goal by Dubinsky, no one wants to pick him up and he is allowed to wind up and beat Holtby.
2. Wilson Needs More Top Line Minutes
We have seen flashes of offensive brilliance from the 19 year old who I want to say has 2 assists in the last 3 games while playing on the 3rd/4th line. With the team struggling it wouldn't hurt to let the power forward to play offensive minutes. It is time that he starts using his hands to score and not pound opponents faces in.
3. In The Next 5 Games, Caps Need 6-8 Points
This should not be too difficult for a NHL team that deserves to be in the playoffs. The Capitals play a home and home against an ailing Red Wings (away then home), then they have the Islanders at home, the Jets at home, and the Devils at home. If they don't finish the stretch with 6-8 it's trouble in Washington.
4. Martin Erat Deserves Top Minutes
Along with Tom Wilson, I believe Martin Erat deserves top line minutes as well. While one might argue that he has 0 goals this season, he is top 5 on the Capitals for even strength assists. Marcus Johansson who has gotten top line minutes all year has just one even strength goal, but no one has questioned his top line role except for his short stint on the 3rd line. Erat can play left wing opposite of Wilson on a line centered by Mikhail Grabovski.
5. Mike Green Can't Be Traded
As I watched the 2nd and 3rd period of last nights game I saw how poor our defense is without Mike Green. It was just a mess, neither John Erskine or Connor Carrick are top 4 defensemen. Without Mike Green our defensive problems are magnified just hurting us even more.