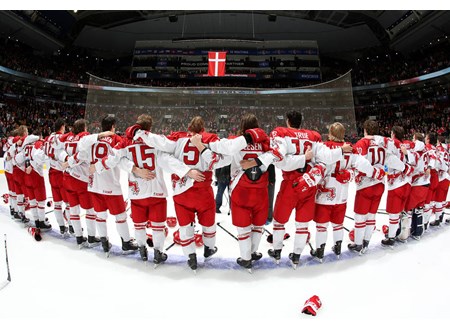 The Danes were victorious over the Swiss, 4-3 on Tuesday, in a 2-1 shootout. Denmark goals coming from Oliver Bjorkstrand and Nikolaj Ehlers, and the sole Swiss goal from Timo Meier.
A historic win for Denmark, their first victory in the top flight of U20 after 15 straight defeats (six in 2008, 2012, and three this year). Denmark now need favorable results elsewhere to avoid the relegation round. Russia must defeat the Czech's in regulation or overtime and the Swedes need to defeat the Swiss in regulation for Denmark to advance to the quarterfinal round.
The Swiss took a 2-0 lead after goals scored by Kris Schmidli, and Kevin Fiala. Schmidli, unmarked, put home the rebound off of Luca Hischier's shot, 10:48 into the first frame. Sixty-six seconds later Fiala's one time shot beat Danish goaltender Georg Sorensen five hole. Denmark ended the scoring in the first with a goal scored by Bjorkstrand. Bjorksitrand received a pass from line mate Ehlers and deked by goaltender Gauthier Descloux who made the initial save, but then knocked the puck into his net with 2:02 left in the second.
The Danes then drew even at 2 with a powerplay goal in the second period at 12:19. Anders Krogsgaard's seeing eye shot from the point beat everyone. However the Swiss only needed 24 seconds to regain their lead on a fluke goal from Meier. After his initial shot was saved, Meier chased his shot below the goal line and banked the puck off Sorensen. Denmark tied the game up at 3 with their second powerplay goal of the game. Swiss defenceman Michael Fora fanned on the clearance and Johnny on the spot, Mikkel Aagaard, was in front to bring the Danes level again.
Sorensen was phenomenal all game stopping 42 shots from the Swiss including a dazzling save against Luca Fazzini, who couldn't stuff it past Sorensen's outstretched leg pad which would have given the Swiss a 4-3 lead.
"I was happy with how I played today," Sorensen said. "I played well yesterday, so I just did my routines again today. We had great guys in front of me, and they played well today also. We gave it everything we had. We're exhausted but happy."
Love Reading About Hockey?

Subscribe to keep up-to-date with the latest and most interesting hockey news!
| | |
| --- | --- |
| | We hate spam just as much as you |