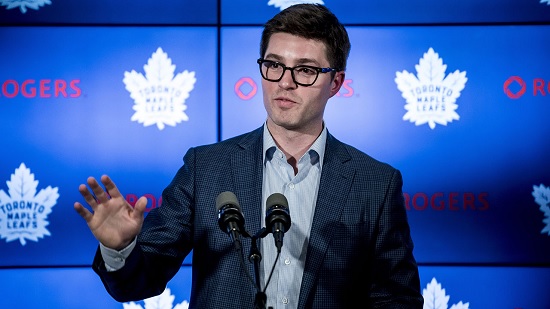 Much to the chagrin of the outspoken minority of Toronto Maple Leafs' fans, General Manager Kyle Dubas won't be fired – even after the Leafs missed the second round three years in a row and missed the playoffs entirely this season (play-ins don't count).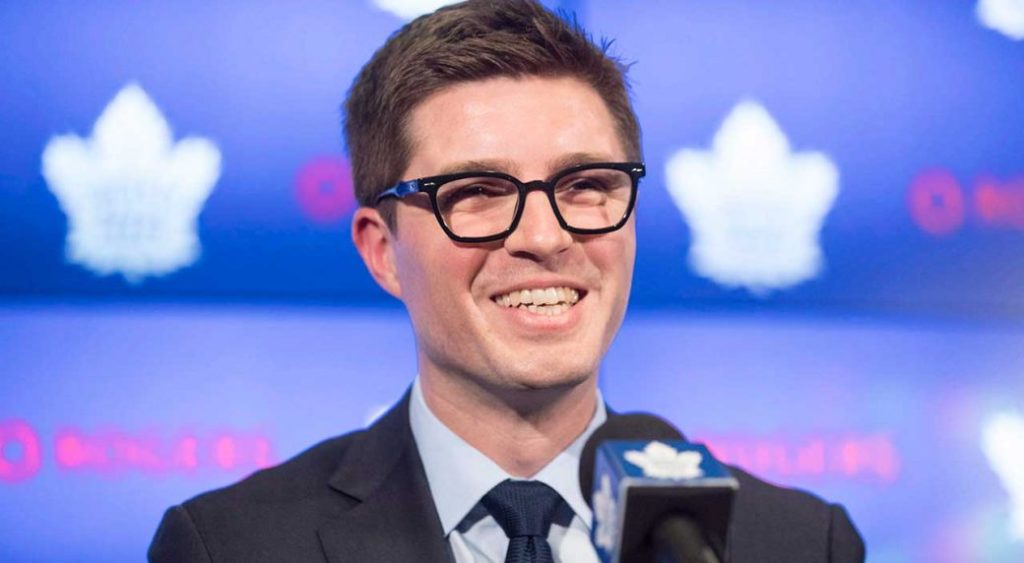 His skill and speed over size and toughness mentality is what separates him from many of the old guard amongst NHL executives. He is seen as a bit of an outcast amongst GMs, It's the reason 17 GMs received votes for GM of the year and he wasn't one of them. It's also the reason GMs voted leader of the old guard, Lou Lamoriello, recipient of this season's Jim Gregord GM of the Year Award.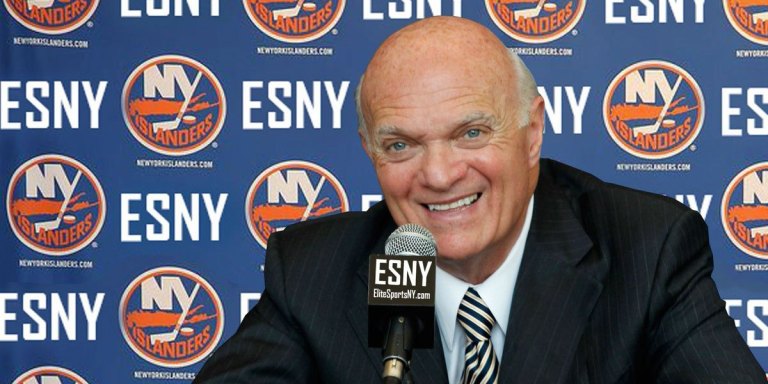 However, even though I don't think Dubas will lose his job for the next two to three years (at a minimum), there are some bumps he's encountered during the Shanaplan that could lead to him getting Shanabanned.
Below is a list of Kyle Dubas's worst five moves as GM of the Leafs, if you feel I missed something feel free to let me know in the comments. Without further ado:
5) Josh Leivo to the Vancouver Canucks
I understand that Dubas is a player-friendly GM (something we'll touch on later), but promising to trade a player if he isn't getting playing time just seems like a young GM losing an argument with his veteran coach. The trade of Leivo for Michael Carcone, a career AHLer with a high of 27 points in the A, was only made because former coach Mike Babcock hated playing Josh Leivo, despite his decent showings in the few games he played with the Leafs.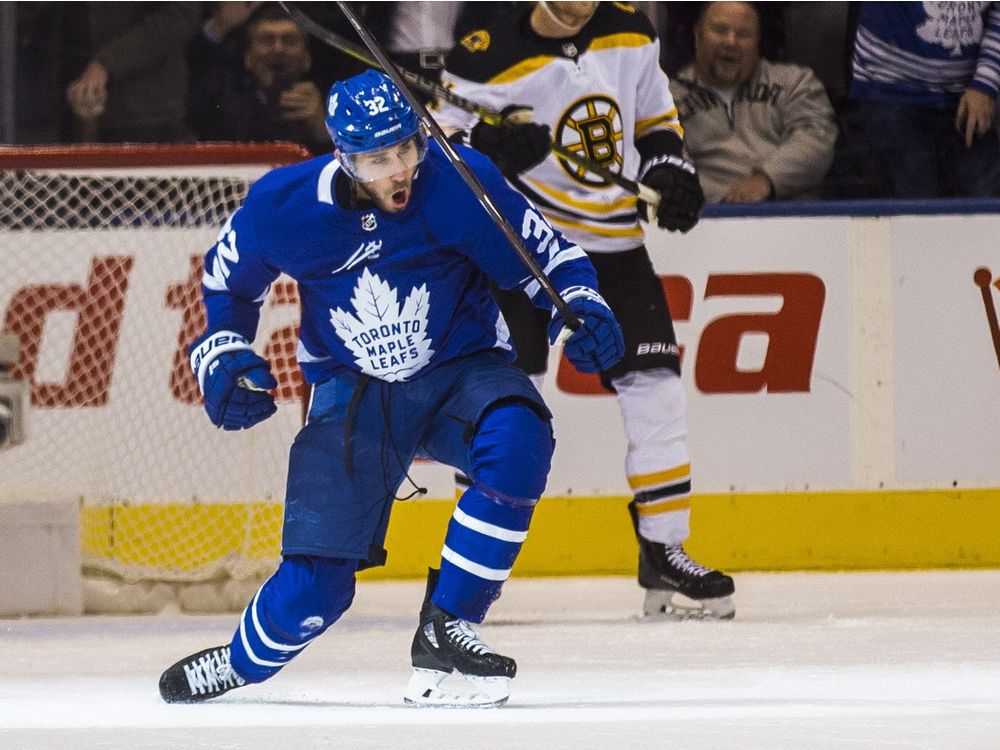 Although it could be argued this isn't a major move that affected the team in a considerable way, you could also say Dubas traded an NHL quality player for an AHLer that has never played an NHL game, and got bullied by a veteran presence (Babcock) in the process. Even without the Babcock factor, this trade by itself warrants a spot on the list.
4) Waiting on signing extensions for Nylander, Marner, and Matthews
After signing John Tavares as a free agent in the summer of 2018, Kyle Dubas was asked if he could afford to sign all of William Nylander, Mitch Marner, and Auston Matthews. His response was a simple "we can, and we will."
That is great and all, however he took Nylander to the RFA deadline to sign a deal in 2018-19, which effectively ruined Nylander (and the Leafs) chances at a decent season that year.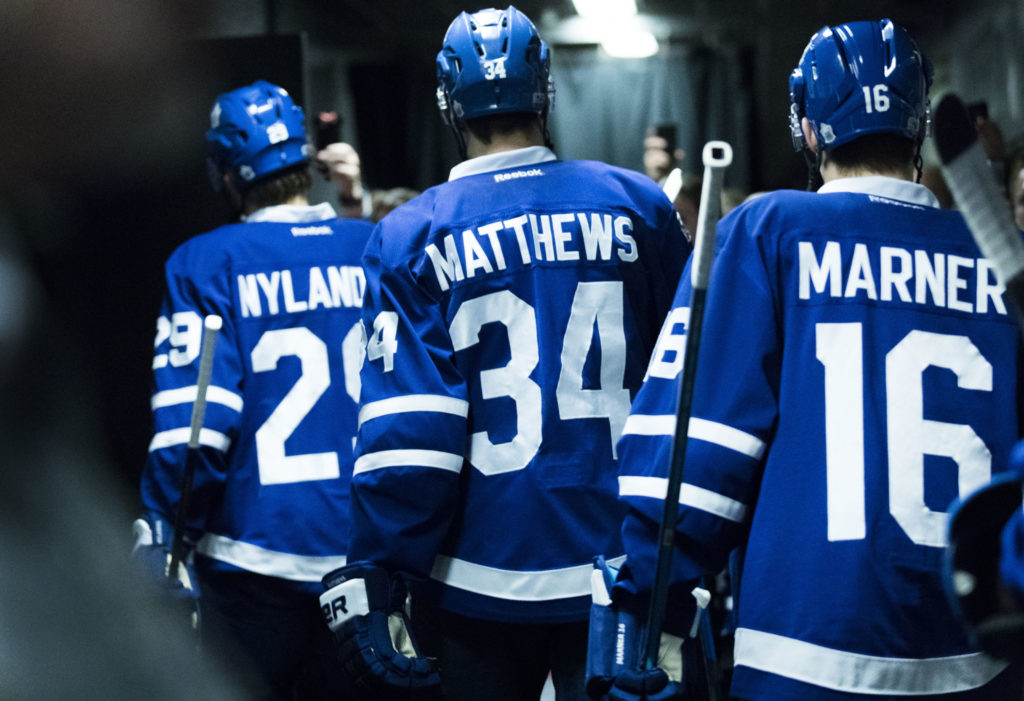 And because he was so focused on Nylander, he missed his chance to jump in front of the Matthews and Marner deals. Matthews is making $11.634 per season on a deal that walks him straight into his first season as an unrestricted free agent (UFA). Meanwhile Marner is making a tidy $10.893 million per season in a six year deal that only buys one season of his UFA years.
The Nylander deal was a screw-up in it's first season but looks reasonable in seasons beyond that. The Matthews and Marner deals, however, clearly are at (Matthews) or well above (Marner) market values and they take them straight to UFA status as opposed to most teams trying to buy a bunch of UFa years and getting a better deal as the cap goes up.
Clearly Dubas faltered here, and his patience on each deal definitely helped his teammates bank accounts, but maybe that didn't help the Leafs quite so much.
3) John Tavares Free Agent Signing
John Tavares is a great hockey player, he pours himself into the sport and is a consummate professional. There is a reason he is captain of the Leafs.
Toronto also needed to upgrade their centre depth at the time, with there being a steep drop off in talent after Matthews and Kadri. It is the reason they traded for Brian Boyle and Tomas Plekanec at back-to-back trade deadlines.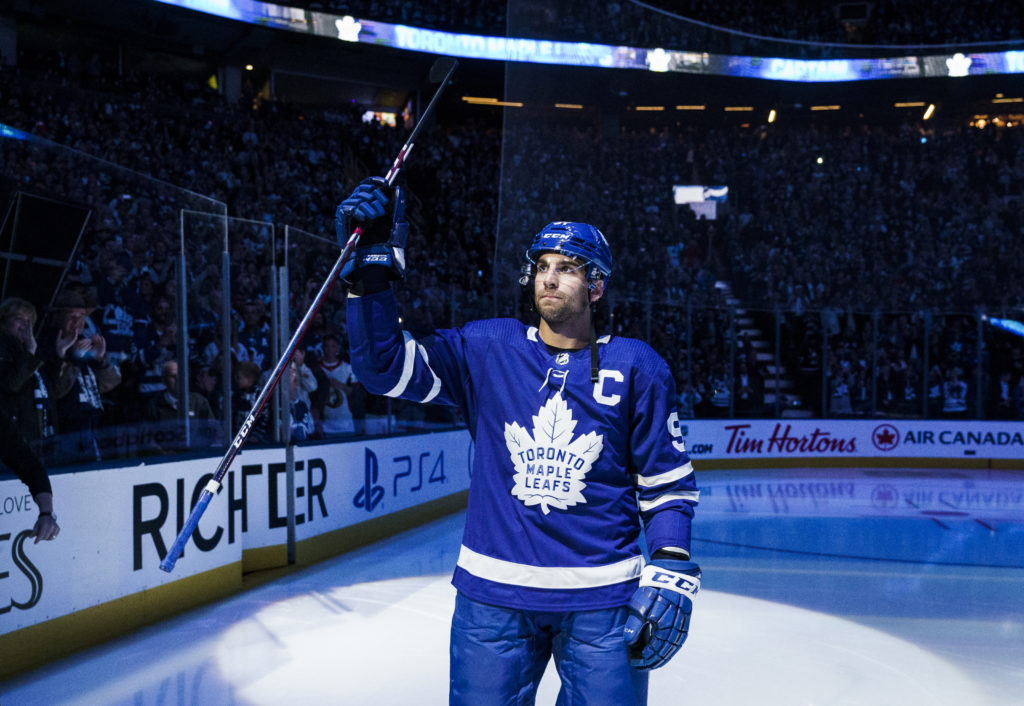 With all of that said, there is no reason the Leafs needed to add Tavares when they had Kadri on the team still. They could have got by easily with Kadri as a number two centre and spending some of that $11 million on depth behind Kadri and on their defence. There is also no reason they had to sign him to the AAV or term (7 years) when he made it clear he always wanted to return to Toronto.
He is a great player, but is his $11 million worth more than Kadri's $4.5 million and the cap flexibility to sign an amazing UFA defenceman, like say, Alex Pietrangelo? This is another situation that Dubas held all of the cards in his favour, but still folded his hand.
2) Nazem Kadri Trade
Speaking of Kadri, this could arguably be at the top of the list for Kyle Dubas' worst moves as GM.
I remember the day, July 1, 2019, and the initial shock of the deal. Everyone knew that Dubas was trying to trade Kadri for a top four defenceman, and in-fact he had nearly been dealt earlier before vetoing a deal Dubas had worked out with Calgary. Kadri was a local guy and wanted to stay with the Leafs, as he said after the trade to Colorado:
"So what happened is they had a deal in place and they wanted me to move my no-trade clause," Kadri said. "But you know, obviously, for me, it was no disrespect to Calgary or the Flames organization. I love their team and I love the direction they're headed. I just figured that had I declined, I would have had a better opportunity of being a Maple Leaf next year and that's really what it came down to. I wanted to play for the Leafs next year. I wanted to be a part of that. In declining that trade I had aspirations of being a Leaf and we know clearly that didn't happen."
So after re-affirming his commitment to Toronto, Dubas traded him again – this time to a team not on his no trade list – the Colorado Avalanche. Kadri, Calle Rosen, and a third round draft selection went to Colorado for Tyson Barrie (with $2.5 million salary retained), Alex Kerfoot, and a sixth round draft selection. At the time Kadri had three years left on his team-friendly $4.5 million a season contract. Barrie had one season left before UFA status and Kerfoot was an RFA that Toronto signed to to a four year, $3.5 million a season deal.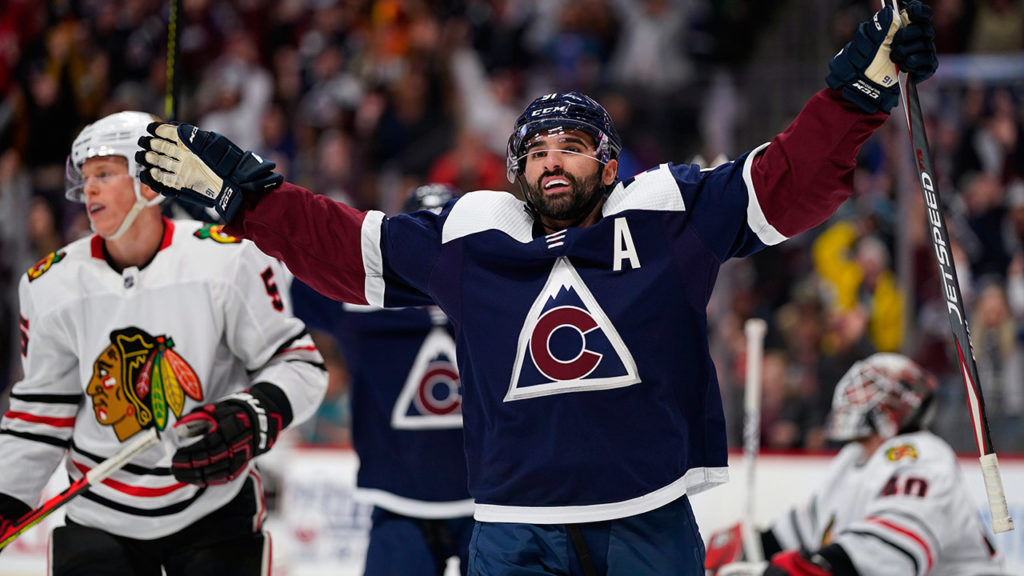 Barrie was good at generating shots and quarterbacking a power play, but he was not reliable in his own end. Something that had been clear in Colorado. He didn't solve the Leafs right-side problems on defence this season and now he is a UFA.
Kerfoot was never a centre in Colorado, but Dubas thought he could fill in on our third line but he never generated much despite having decent linemates like Kasperi Kapanen. In fact Kerfoot looked most comfortable when he was playing wing with Tavares and Marner. Without a clear fit in Toronto, now there are rumours Dubas is trying to trade him.
Kadri on the other hand scored a tidy 9 goals and 9 assists for 18 points in 15 playoff games for the Colorado Avalanche – including this buzzer-beating goal against St. Louis with 0.1 seconds left in their round robin game:
Did I mention Dubas also had to give Colorado a third round pick? At least Toronto still has Calle Rosen to play for the Marlies!
1) Mitch Marner Contract
A season after going right to the RFA signing deadline with Nylander and derailing his season, Dubas desperately wanted to avoid the same with Marner.
Marner was coming off a 94 point season and had clicked really well with Tavares in his first season in Toronto.
Before we get to Marner's contract, here are some other RFAs from last season and what they ended up getting:
Those all seem reasonable right? Mostly around $7 million per season for some of the best young players in the game.
So how did Kyle Dubas do? Well off course he blew all of the other contracts out of the water with a 6 year, $65.35 million contract that pays Marner a ridiculous $10.893 million per season.
Not only did Dubas not use the fact that Marner had almost no leverage as a RFA, but he just went out and made him the highest paid right winger in the game. It also gave Toronto three of the seven highest paid players in the game.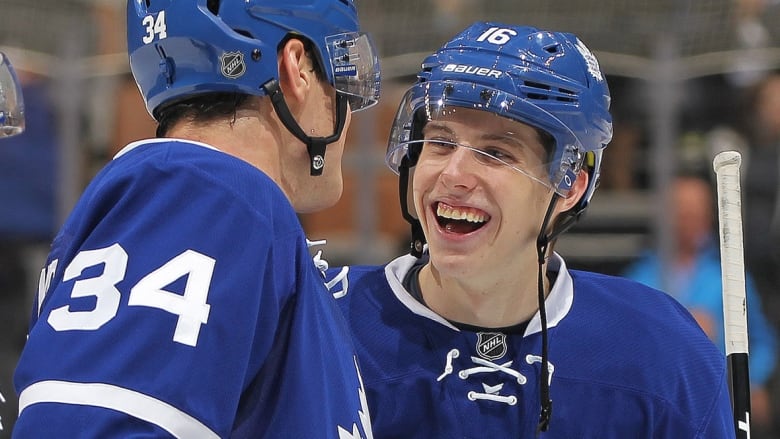 Now Toronto has no defensive depth on their right side, no clear third or fourth line centre, no Kapanen, and are trying to move one or more of Andreas Johnsson, Kerfoot, and Frederik Andersen to get more space in a world where the salary cap won't realistically rise for at least three seasons.
There's just not much else to say about how bad of a contract this is for Toronto, and how bad of a situation Dubas put Toronto in with this deal.
Oh, and one final note, the contract only bought one year of Marner's UFA years – so if Dubas is still GM, say hello to your $15 million winger in a few seasons Toronto!
Stay tuned for more from Hooked on Hockey Magazine!