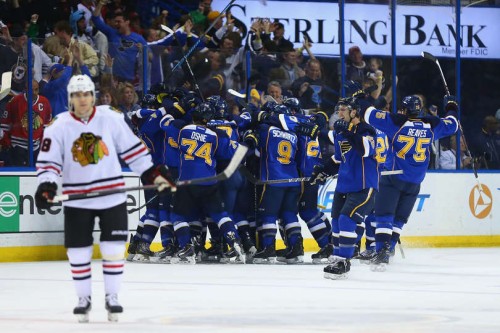 Round One is far from over and every minute between the St. Louis Blues and Chicago Blackhawks is red-hot with talent. From big hits and bad calls to triple overtimes and amazing saves, this rivalry is nothing short of awesome–and what any Blues or Blackhawks fan would expect. A fight to the very a end. The St. Louis Blues prove time and again they have what it takes to win games when they need it the most. With a potential 4 games left to play in this round, here are a few reminders to let hockey fans know the St. Louis Blues won't back down.
6. POWER PLAY CHALLENGE ACCEPTED
Patrik Berglund takes advantage of the Blues PowerPlay and scores a backhanded goal to tie the game 5-5. St. Louis always makes a point to take advantage of the upper-hand.
5. ROOKIES WINNING SHOOTOUTS
Even as a rookie player, #74 T. J. Oshie was making moves on veteran goaltenders like nobody's business. From a newbie player to an Olympic Shootout Icon, Oshie's goal-scoring skills stay classy.
4. BLUES ALWAYS DEFEND THEIR OWN
Barret Jackman takes a hit and Roman Polak immediately jumps in to defend his teammate. The St. Louis Blues don't take hits without retaliation. Whether it's with goals or bigger hits, don't mess with a Blue Note unless you want the whole symphony.
3. NO REST FOR THE WICKED
Showing no signs of fatigue going into a third overtime, Alexander Steen shoots and scores to win Game 1 of the playoffs against the Blackhawks in the current battle for the Stanley Cup.
2. ALL THE TIME IN THE WORLD
With barely six seconds left in the third period, youngster Vladimir Tarasenko scores to tie up the game. The recently injured forward reminds the 'Hawks the Blues never give up.
1. MILLER MAKES A POINT
From the back of his glove to the tip of his toe, Miller uses everything he's got to defend the Blues' net. Goal-saver and game-changer. Ryan Miller's defensive tactics have no limits.