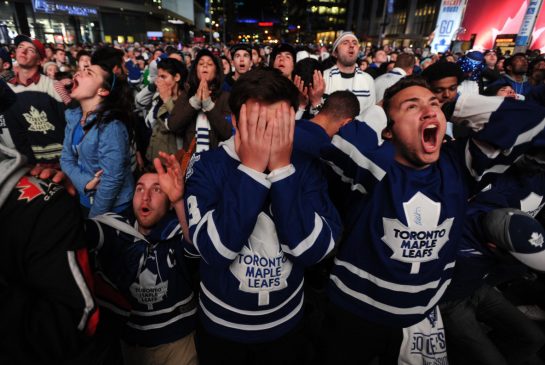 Public service announcement to Leaf fans: BREATHE. Everything will be okay.
No matter how necessary it is, – and it's extremely necessary in the case of the Toronto Maple Leafs – watching your beloved team get partly demolished before your eyes is well, not exactly what anyone would deem "fun". Dion Phaneuf, Shawn Matthias, Roman Polak, Nick Spaling, James Reimer, and Daniel Winnik have all been traded away in February by a Leafs management group that appears to be cleaning house – for real this time. I just hope Leafs general manager Lou Lamoriello is okay… I mean, his arm must be terribly sore from fielding calls.
In light of the true beginning of this ever-so-painful rebuild process, I've decided that Leaf fans could use some cheering up – actually a lot of cheering up (we've won all of 3 games in 2016 as of March 1). The following, in no particular order, are 8 small gifts that all Leaf fans are bound to enjoy:
The Montreal Canadiens (nearly) falling off the face of the Earth.

The Montreal Canadiens were in 1st place in the NHL standings as of December 1, 2015. (dropyourgloves.com)

The Montreal Canadiens were in 19th place in the NHL standings as of February 28, 2016. (dropyourgloves.com)
Simultaneous puppy yawns. The cuteness is paralyzing.

This song because: a) the uplifting message, b) those hairstyles in the video are golden, and c) who doesn't love belting out a classic rock song? Let's be honest, this song is basically an orgasm for your ears.
The current American Hockey League Eastern Conference standings. The Toronto Marlies are not only sitting at #1 in their conference, but are the top team in the entire league. The future looks bright, my friends.
More puppies!!