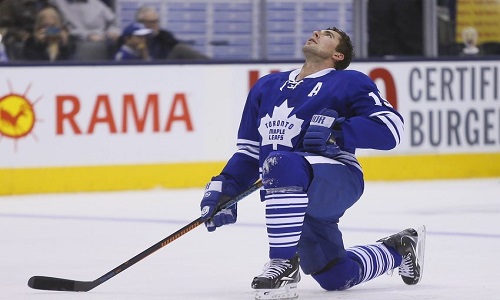 A poem of Joffrey Lupul's injury history in Toronto.
'Tis the story of a talented NHL player
whose injuries have turned him into nothing more than a home-stayer.
On February 9, 2012,
his career took an unanticipated delve.
Traded to the Toronto Maple Leafs,
the 29 year old's season was brief, brief, brief.
A shoulder separation in early March
simply left him hockey-parched.
Only 3 games into the 2012-13 lockout-shortened season,
he sustained a broken forearm, not to his pleasin'.
Twenty-five games were missed
and even more vanished without a kiss
because a mild concussion put him back on the injury list
and left him nothing short of pissed.
The 2013-14 season was one to forget:
a bruised foot and groin strain caused him to jet.
Months later he sustained a lower-body injury,
unfortunately one that was not handled gingerly.
His season was cut short
as his knee required new support.
In 2014-15,
Lupes was back on the scene
feeling like a well-oiled machine
ready to stay green.
However, in late October, he broke his hand
and was back on newsstands.
Another lower-body injury later
and it was "see you later, alligator".
Fast forward to present day
where a "mid-body" injury came out to play
and targeted the remainder of his season as prey.
Prior to that,
an undisclosed injury came up to bat
followed by a lower-body injury that lingered like a "we need to talk" chitchat.
In his career here with the blue and white,
Joffrey's body has caused more fights
than even the makers of "Bachelor in Paradise" could have thought to write.
Hopefully soon this poor guy
will realize sometimes it's best to just say goodbye.