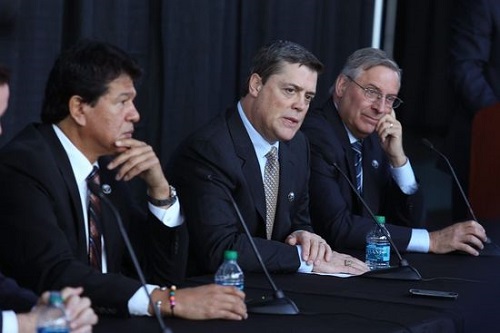 Buffalo Sabres owner Terry Pegula must have finally realized that enough was enough. This was the same guy who said that Buffalo was HockeyHeaven. The same owner who said Buffalo would hoist a Stanley Cup within 3 years of taking over ownership. In a bold move for the hapless Sabres, Pegula fired long-time GM Darcy Regier and head coach Ron Rolston. Replacing these two are Ted Nolan as head coach and Pat Lafontaine as President of Hockey Operations.
Pegula stated in a press conference this morning that he had "relieved Darcy Regier as GM and Ron Rolston as coach". The Sabres are 4-15-1 this season and have the worst record in the NHL. After taking over for Lindy Ruff last year, Rolston's record in 51 games with Buffalo was 19-26-6. Buffalo has been lifeless in games this year. Even though they won Tuesday night vs. the Los Angeles Kings, they were outshot 45-17. While Rolston had been lauded as a good coach for younger players, things did not materialize for him this season.
Fans in Buffalo have been chanting for Darcy to be fired for quite some time now. They finally got their wish. It was a surprise for many Sabres fans that he had lasted this long as GM. 16 years and only 1 Stanley Cup appearance, how does someone last that long? While Darcy has been some good moves, he has made some pretty bad ones as well. In addition, some of his draft picks over the years just never panned out. 1st round busts include Barrett Heisten, Artem Kryukov and Marek Zagrapan.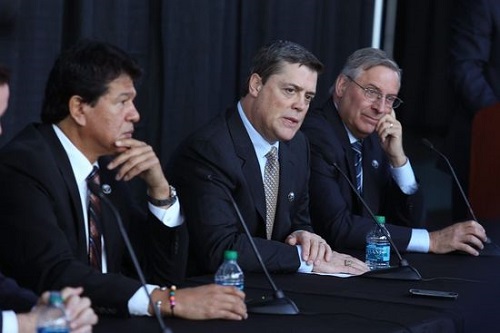 Ted Nolan was excited to be back as head coach, even if it is only on an interim basis. Nolan coached the team from 1995-1997 and won the Jack Adams Award for Coach of the Year. Unfortunately, he was fired after that season by Regier. Nolan has also coached the New York Islanders, the Canadian junior team and he will coach the Latvian national team in this year's Winter Olympics.
Pat Lafontaine is "very proud to be here" and "building the hockey department". Lafontaine was the Sabres captain in the mid 90's. He had his best statistical season in 92-93 when he scored 53 goals, and chipped in 95 assists for 148 points. He retired after the 97-98 season after battling concussion issues. Lafontaine finished his NHL career with 1013 points and was inducted in the NHL Hall of Fame in 2003.
Ted Nolan will be behind the bench for the Blue and Gold this Friday against the Toronto Maple Leafs.