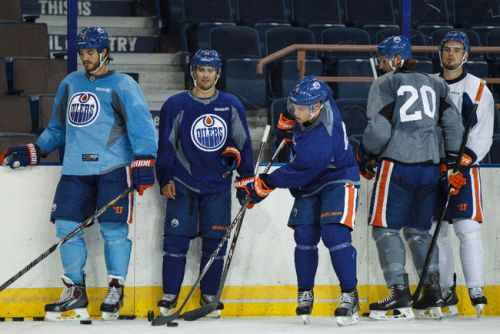 The Edmonton Oilers made another round of cuts earlier Tuesday afternoon, assigning four players to the Oklahoma City Barons and placing another player on the waiver wire. The Oilers assigned rookie pros Dillon Simpson, Jordan Oesterle and Mitch Moroz along with forward Travis Ewanyk to the AHL's Oklahoma City Barons.
In addition to that, the Oilers placed second year center Andrew Miller on the waiver wire for the purpose of assignment to Oklahoma City. Renaud Lavoie of TVA sports also reported today that forward Curtis Hamilton was placed on waivers by the team. Hamilton was cut yesterday afternoon by the Oil.
Dillon Simpson D – Simpson is a rookie pro that will be very interesting to watch this coming season in Oklahoma. He's a college boy who has excellent puck moving skills and really has improved in the defensive aspect of his game. He was a complete player for North Dakota a year ago, and easily their best defender. He's considered a leader too, and already has four years of college under his belt.
Simpson didn't knock any socks off this camp, but looked decent to my eye, and set himself up nicely for a good chance in Oklahoma City this season. He very well could be back as a call-up at some point this season.
Jordan Oesterle D – Another rookie pro, Oesterle caught the eye this camp and really impressed this observer. He's a puck-moving defender with good skill and skating ability, but is lacking something defensively. He was better than I suspected in this area, but I felt like his decision making could be better. He clearly needs an adjustment period to the pro game, and should get that in OKC. He'll be part of the logjam down there.
The good news for Oesterle? He stuck around almost two weeks, and I think really cemented himself as a prospect for this club.
Mitch Moroz F – Mitch Moroz will live in Edmonton's hockey history forever thanks to his great final season in the WHL that helped lead Edmonton to a Memorial Cup. Moroz provided his typical physical style and brought sandpaper to the Oilers lineup, but he didn't really stick out offensively. That was his problem in juniors for a number of years, so it was expected we would see this at the pro level. He was mediocre in camp, but I suspect we see him find his spot in OKC this winter as a role player.
Travis Ewanyk F – The checking center impressed me with his speed and physical play this camp, but offense was still an issue here. That said, he looked much improved this year over last year, and he should be a mainstay in the Barons' bottom six. Edmonton likes Ewanyk, and he could be a fourth line checking center down the road for this team. There is a clearly defined role and path for this particular player.
Andrew Miller F – Miller is easily the most skilled of the forwards sent down today. Miller struggled in camp last year and was a disappointment in OKC until the second half. He showed a little better in camp this year, but still didn't catch my eye. He's got good play-making skills but didn't show them too much this camp. He'll likely get a top-six role with the Barons this year, but I wasn't impressed with his showing.