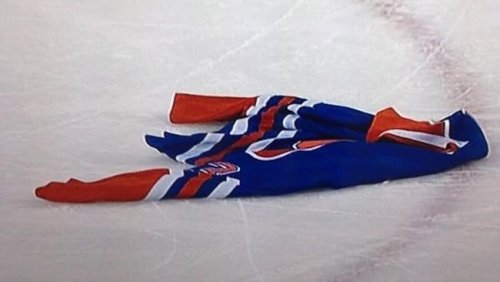 I'm 20 years-old, and I missed the glory days of the Edmonton Oilers. For me, the days of Wayne Gretzky and Stanley Cups are nothing more than stories and ESPN Classic games, not memories like they are for older Oilers fans. It's sad, but a whole generation of Oiler fans hasn't experienced winning, while an entire other generation is being raised on one thing and one thing only, losing.
We debate what is wrong with this team, is it the owner? The GM? The Coach? Kevin Lowe? The players? What is it?! Honestly, it's a combination of all of those things, but it's mainly one thing. The Edmonton Oilers have lost their identity, the most important part of a hockey club. Things like character, grit and class are overrated in today's game according to people, but an identity makes a team. Without one, a team really is nothing.
When I fell in love with the Oilers in the late 1990's and early 2000's, the Oilers were far from talented, in fact they probably have more talent on the roster today than in those days. What was the difference, why were those teams making the playoffs, and winning rounds, while these teams can't beat themselves, let alone a playoff team. It's simple, those Oilers had an identity.
Those teams were tough. They worked extremely hard every single night, played physical, and left everything out there on the ice. They were willing to sacrifice whatever it took to win a hockey game, and were willing to grind it out. Players like Jason Smith, Ethan Moreau, Fernando Pisani, Steve Staios, Ryan Smyth, Doug Weight, Mike Grier, Igor Ulanov, Georges Laraque, Jarret Stoll and many more led by example, playing that tough, grind it out style.
Those teams were fun to watch, because they never quit and brought it every single night. They won their fair share of games too, and were usually right in the playoff race every single season. Those were fun times to be a fan, much better than today, the darkest days in Oiler history.
Today, the Oilers are billed as a fast, skilled and offensive team. Taylor Hall, Jordan Eberle, Ryan Nugent-Hopkins, Nail Yakupov, Justin Schultz, this core is IT! They'll easily lead Edmonton to being a top offensive team every season, and push the Oilers back into the playoff picture, right? No.
Here's the problem, the Oilers are a slow hockey team, the Oilers are not an overly skilled hockey team, and worst part, Edmonton is not a good offensive hockey team, in fact the stats say they are one of the worst in the NHL in this regard. The identity given to this team does not match what this group really is.
Fast, exciting, offensive hockey? No, more like slow, boring and incompetent hockey, where the same mistakes are repeated four times a game for 82 games.
What can Edmonton do to fix this thing? Get back to their core values, back to their identity, which has been lost since the end of the 2008-09 season.
It's time to roll up the sleeves, bring out the hard hat, and pack the lunch pail, it's time for Edmonton to be a blue-collar and hard to play against team yet again.
That means getting a coach that can teach a system, a guy that can unlock offensive potential in players but get them to play an actual Western system, not some AHL swarm system that blows up four games into a season.
That means getting a goalie that can help carry your team. Curtis Joseph, Tommy Salo and Dwayne Roloson were mainstays on those teams, and haven't been replaced since. Getting a goalie that can help you win games is a massive part to building this kind of team, it fact it's one of the most important parts.
That means getting tough players, and I'm not talking Luke Gazdic and Steve Pinizzotto. I'm talking about getting players that have an edge, that will get in your face, but that can play at the NHL level, and have an impact. A guy like Matt Fraser is a start, but players like Justin Williams, an upcoming UFA, Marc Staal and Johnny Boychuk. Tough players that can produce at the NHL level. Those are the guys you need.
You needs guys that don't just lead in the locker room, but also lead on the ice. It's what made Jason Smith such a good captain. He'll tell you to fight for the guy next to you, then go out and block a shot with his face. Guys like that are needed in Edmonton. I'm not asking for massively skilled players, I'm asking for tough NHL players who will compete and be a little physical.
The Oilers are a wine and cheese gang, but they need to be a hard hat and lunch pail team. That starts with the core players. Can Taylor Hall be that kind of player? Can RNH? Can Eberle? Can Yakupov? Can Schultz? I'm not sure who can, and I'm not sure who is willing to be.
If I'm Craig MacTavish, I start fixing this thing by seeing who is willing to be that kind of player, that guy that can be physical and tough to play against and contribute. You don't have to be Lucic or Smyth, but can you be tough to play against like Jeff Carter? I think it's a pretty fair ask, don't you?
If they are willing to do that and do it, then fine, they remain part of this core. If they aren't willing to or simply can't, then it's a quick good bye for one or all of the wonder kids in Edmonton. No more screwing around.
After you figure that out, go get some veterans, more solid adds like Mark Fayne, that can make the team better on the ice and the room. Get those blue-collar guys and bring back what worked so well for so long in Edmonton.
Those teams gave a damn with no talent. Imagine some of this talent on one of those hard working teams? The possibilities would be endless.
If Craig MacTavish wants to save his job and get the Oilers out of the gutter, and I suspect he does, then his best bet is to take a step back, remember the type of team that made him successful as a coach, and build a team like that. Tough, physical, blue-collar, hard-working. Guys that will bleed for the jersey, make the sacrifice to win. Those are the Oilers I fell in love with as a kid, and those are the kinds of Oilers teams I long for today.
Personally, I believe it is the only way they'll achieve success again. Get back to basics gentlemen. It worked before, it'll work again.
Love Reading About Hockey?

Subscribe to keep up-to-date with the latest and most interesting hockey news!
| | |
| --- | --- |
| | We hate spam just as much as you |