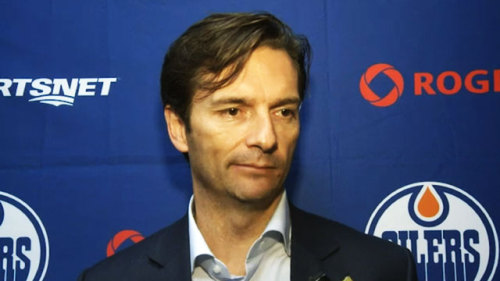 It was a move that anyone who follows, covers or watches the Oilers saw coming, the firing of Dallas Eakins. The Oilers, no GM Craig MacTavish, put this off as long as possible, giving the first time head coach every chance possible to turn around a ship that was, quite frankly, doomed from the time it left port.
Many people look to the failures of last season and this season and instantly say that it is the fault of Dallas Eakins and that he MUST be fired. In a sense, these people are right. When you finish 28th in the NHL one season, then sit in 30th the next year, something is really wrong. Eakins' systems weren't working for the team, and too many key players regressed under Dallas. Oh, and the power-play sunk to awful levels.
The team didn't win under Eakins, and didn't show much improvement under him by the eye, so yes he deserved what he had coming to him. That said, it is absolutely foolish for anyone to think that Dallas Eakins is the reason for what is happening in Edmonton, because he is not. Was he part of the solution? No, he was the wrong guy, but he didn't blow this thing up like Torts did in Vancouver last season.
Dallas Eakins was dealt a really crappy hand in Edmonton in terms of the roster he was given, and that is reason number one why this whole situation just is not his fault. In his time with the Oilers, Eakins never had four real NHL centers in his lineup, having only three last year and two this season. Two years in a row he was tasked with Mark Arcobello, and this season with 18 year-old Leon Draisaitl, who clearly is not ready.
On top of that, Eakins never had a top-pairing defender in his time with the Oilers. Jeff Petry and Mark Fayne are both solid top-four guys, but neither is a number one, or even a number two. Dallas Eakins was asked to win in the toughest division in hockey without a top-pairing defensively, that is a suicide mission my friends, that is not his fault.
Eakins was also never given a true NHL starting goalie. The Oilers used Devan Dubnyk, Jason Labarbera, Ilya Bryzgalov, Richard Bachman, Ben Scrivens and Viktor Fasth under Dallas Eakins. Not a single one of those guys is a starter in today's NHL, not a single one. In fact, two of them are AHL level goalies, and the rest are NHL back-ups. That just won't win you many games.
Add to that a young core still developing and veteran players playing in spots way over their heads like Andrew Ference and Matt Hendricks, and this is what you get. When you're stuck putting Justin Schultz out there for 20 minutes a night, you won't be winning many hockey games, that's just a cold hard fact.
All of those issues fall squarely on the shoulders of GM Craig MacTavish, who took over as the head man in hockey operations back in April of 2013. MacT has tried to turn this team around, but has left the same holes open that the man before him did, and has failed miserably in trying to make additions through both the free agent and trade routes.
As a GM, Craig MacTavish failed his coach, it's pretty plain and simple. MacT never gave Dallas Eakins a balanced roster in his time behind the bench, and he never once gave Eakins a roster that was top-20 in the league. A coach can only do so much, a GM must help him out. In this case, MacT just didn't help his guy out.
Now, like I said, Eakins isn't totally off the hook here. Taylor Hall, Ryan Nugent-Hopkins and Jordan Eberle all regressed as offensive players under Eakins, while Nail Yakupov and Justin Schultz have totally collapsed as NHL players. That's a problem that falls on the coach, you have to learn how to develop your key guys.
On top of all of that, the power-play fell apart, and the team failed to execute offensively at all. A team with this much talent should not be barely scoring two goals a game, that just isn't good enough.
Dallas Eakins is a good guy, you can tell. His farewell press conference on Tuesday was pure class. He didn't throw anyone under the bus, and stood by his guys and the man who gave him his first chance in the NHL. That's classy, that's a stand-up guy.
How will Dallas be remembered in Edmonton? Likely in the same boat as George Burnett from his failure of a stint, a young guy that fell flat on his face in Edmonton. In part, that might be true, but Dallas Eakins was failed by his GM, never given a solid and balanced roster. You can't make chicken salad out of chicken….well you know.
Yes, moving Eakins down the line is the right move, but this proves the point that there are bigger issues afoot. Stop looking at the coach, and start to look at management and at the players. They are the real problem here.
Good luck Todd Nelson, you'll need it.