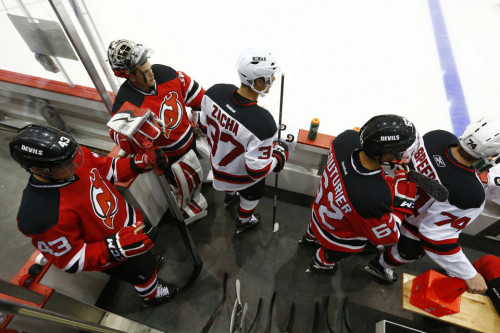 Adam Larsson – Age: 22 – Defenseman – 6' 3", 200 lbs
The Devils have showed what their expectations for Adam Larsson are when they signed the 22 year old defensemen to a 6 year, $25-million contract. With a $4.16 million AAV, you would think they see him as an eventual first pairing defensemen who can play big minutes against the other team's top talent. He has four years in the NHL at this point, but the 2014-15 season is the one where you saw that level of potential starting to come to fruition. He put up 24 points in 64 games and averaged 20:58 TOI per game showing that he is capable of eating minutes and contributing in all aspects of the game. Look for him to play a bigger role next year with the Devils' new coach John Hynes, who is used to developing young players as he did in the Penguins' farm system where he coached last year.
Steven Santini – Age: 20 – Defenseman – 6' 2", 207 lbs
After being drafted 42nd overall in the 2013 draft by the Devils, Steve Santini stepped into an immediate role on one the NCAA's best teams at Boston College. He is projected to be a very sound defensive defensemen who can eat up big minutes. At 6' 2", 205 lbs, he is able to use his size to his advantage when separating forwards from the puck and winning battles in his own zone. His offensive skills are not anything special, but with other more offensively minded defensive prospects in the Devils' pipeline, Santini looks to be a good anchor to one of them in the future. Santini will remain at Boston College for at least another year, but look for him to be up for a full time role with the Devils very soon after.
Stefan Matteau – Age: 21 – Left Wing – 6' 1", 209 lbs
The Devils will be looking to get younger this year which bodes well for someone like Stefan Matteau. He has spent most of his time playing for the Devils' AHL affiliate in Albany where he has put up 53 points in 128 total games. Matteau is known for playing an aggressive brand of hockey which is well suited for someone with his body type, which he uses to his advantage when fighting along the boards and in the corners. He's not known for his skill, but as seen from his AHL stats, can create offensively. With the team getting younger, someone who plays with the speed and energy that Matteau does could slot in well. He has seen 24 NHL games already in his career where he's put up only four points, but he has the ability to be a solid third liner this coming season where he can let the offense come to him and just play his game. The Devils could use a little energy and Matteau can certainly bring that.
Pavel Zacha – Age: 18 – Center – 6' 3", 210 lbs
The Devils finally signed their 2015 first round pick, Pavel Zacha, to a three-year, $925,000 contract, making him eligible to play in the NHL this coming season. That is the big question surrounding Zacha, whether he will make the big club out of training camp or head back to play with the Sarnia Sting of the OHL where he played last year. Limited to only 37 games with the Sting, due to injuries and two suspensions, he still averaged about a point per game with 16 goals and 18 assists. Zacha is a big, physical, center-man who has the potential to be a dynamic offensive player at the NHL level, something the Devils certainly need. He will most likely be given the 9 games in the NHL that are allowed before a contract year is burned off to try to make this decision more difficult than it already is. On a team that is starved for scoring, Zacha could certainly be a big part of the answer.
Damon Severson – Age: 21 – Defenseman – 6' 2", 210 lbs
It's not often that defensive prospects make the jump directly into the NHL from junior hockey at the age of 20 (and especially not with the Devils), but last year Damon Severson managed to do just that. In his rookie year Severson put up 17 points in 51 games and was a -13. Those aren't exactly the best numbers, but he was a rookie on a team that wasn't very good defensively and struggled to score. That being said, he did average 21:58 TOI per game and saw a lot of power play time. That's a lot of confidence shown to a 20 year old rookie. While the stats may not live up to the 61 points in 64 games he put up with the Kelowna Rockets in the WHL the year before, he still showed flashes of the ability to be an impact player at the NHL level. As time goes on he will continue to develop his all around game and get better as he gets more experience. Look for Severson to play on the Devils second pairing next year as well as playing a similar role on the power play as he did last year. Being only 21 going into this season gives Severson a lot of time to gain more experience and refine his game in the NHL.
Mackenzie Blackwood – Age: 18 – Goalie – 6' 4", 215 lbs
One thing the Devils' prospect pool was severely lacking going into the 2015 draft was goalie talent, and that need was addressed when they picked Mackenzie Blackwood 41st overall. Blackwood was the ranked North American goalie going into the draft and has the potential to develop into a very good NHL goalie. He fits in with the trend of big goalies since he comes in at around 6' 4", and uses it well when dropping down into the butterfly, covering almost everything and giving people very little to shoot at. All reports on Blackwood note how calm he is in net and his ability to not lose his confidence in any situation. He's been the starter for the Barrie Colts of the OHL since he was 16 years old and last year put up a 3.09 GAA and a .906 save percentage with them. He'll have plenty of time to develop with the goalie situation in New Jersey sured up for now with Corey Schneider and Keith Kinkaid. At 18, Blackwood may take a while to develop, but he adds a lot of top-end potential to an otherwise lacking goalie prospect pool.
Kyle Palmieri: Age: 24 – Right Wing – 5' 11", 195 lbs
The Devils acquired Kyle Palmieri from the Anaheim Ducks for the 41st pick in the 2015 draft and a pick in 2016. At the age of 24, Palmieri has played 198 games in the NHL, putting up 43 goals and 46 assists. While these numbers may not jump out at you, it is NHL level production that is much needed on the Devils right wing. It should also be noted that Palmieri has been playing on a very deep Ducks team where production is very spread around. He's shown that he has offensive talent and the chance to be on the right wing in the Devils' top six might just be the opportunity he needs to up his production. Palmieri becomes an RFA after this season, and being that he is a New Jersey native, might be willing to sign a long term contract with the Devils if he shows he can play an important part on their team.
Love Reading About Hockey?

Subscribe to keep up-to-date with the latest and most interesting hockey news!
| | |
| --- | --- |
| | We hate spam just as much as you |