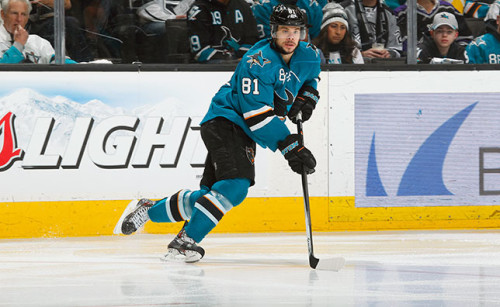 The New Jersey Devils announced on Tuesday that Tyler Kennedy will be joining the team on a professional tryout. That may sound like a familiar sentence, since this is the second time this year that Kennedy is on a professional tryout with the team. The first time was during training camp before the season, where he played in three preseason games before leaving the team to deal with a personal matter.
This news won't really excite people too much. Kennedy isn't the most exciting player in the world, but he is capable of playing the style of hockey the Devils require. In his 477 career NHL games, Kennedy has put up 199 points and 225 penalty minutes. He won't exactly light up the scoresheet, but he's a hard-nosed player who will battle for pucks and score the occasional goal. That's something that can be said for most of the players on the Devils at this point in time. Dynamic scorers don't just come walking on by, so it seems as if the Devils are just adding more of the same with Kennedy. The bottom six of New Jersey seems to be filled with players who provide exactly what Kennedy does.
This addition won't change the fact that as of right now, this is primarily a two line team, and while they have had a surprising amount of success so far this season, it will be hard to sustain unless everyone starts contributing. No one playing in the Devils bottoms six has more than four points as of right now, which opens the door for Kennedy. If he can manage to string together a couple of good games where he shows he can create even a little bit of offense, he may land himself a permanent spot with the team. My guess would be that unless Kennedy really impresses right away, there's not a real reason to give him a contract since they don't really need another checking line forward.
Love Reading About Hockey?

Subscribe to keep up-to-date with the latest and most interesting hockey news!
| | |
| --- | --- |
| | We hate spam just as much as you |