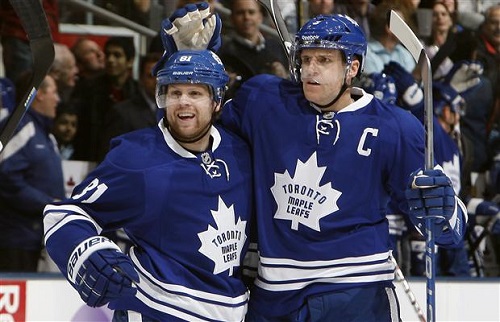 The Maple Leafs have added a new face to their blue-line in Paul Ranger, but the hope is that the young defensemen continue to mature into their NHL roles.
The Leafs' brief playoff run proved at least two things to the coaching staff. The first is that Cody Franson is a very valuable tool quarterbacking the power-play and the second is that Jake Gardiner's skating ability allows him to give the Leafs some real speed going through the neutral zone.
For whatever reason, both Franson and Gardiner did not get to spend much time in the regular season. Carlyle seemed content to play Mike Kostka over Gardiner, which continued into the playoffs until Kostka sustained an injury.
For next year the Leafs may be icing a defense that could look like this:
Carl Gunnarsson – Dion Phaneuf
Jake Gardiner – Cody Franson*
Mark Fraser – Paul Ranger
John-Michael Liles**
* Franson is still a restricted free agent.
** The Leafs' current cap-space issue mean that Liles may be traded before the start of the season.
If Ranger is able to regain the skills he showed prior to his leave of absence then it means the Leafs have improved their defense from last year.
The top pairing of Gunnarsson and Phaneuf provide a shut-down pairing that that play lots of minutes but still provide some offense. Gunnarsson is the team's best defensive defensemen and next year he should be fully over the hip injury that plagued him last year.
Phaneuf, the team captain, played some very tough minutes last year and had some people calling for him to be traded. Phaneuf's hard-hitting game can get him into trouble and out of position, but it also keeps the over team on their toes. Phaneuf also paired well with Franson on the power-play where his slap shot really shines.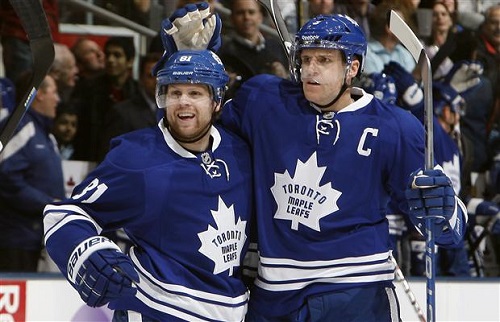 I'm not sure if the second pairing of Gardiner and Franson will actually get paired together or split up so that Franson can play with Fraser and Gardiner with Paul Ranger to provide a more balanced line-up.
Franson still has not signed a new contract with the Leafs and may end up being traded. Franson was part of a deal that saw Brett Lebda go to Nashville in exchange for Franson and Mathew Lombardi.
The Fraser- Franson paring proved itself last season, going from the third pairing to the second. Fraser provides the solid stay-at home defensive approach that allows Franson to be a puck-moving, offensive defensemen.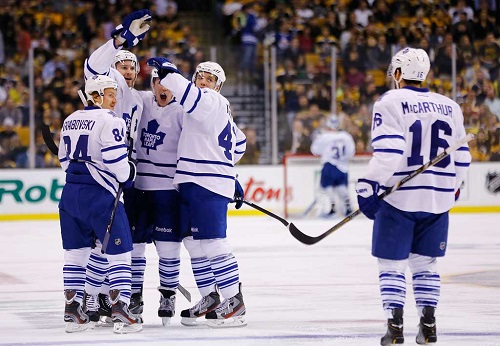 As for Gardiner, it would appear to be up to Carlyle how much time he will get next year. Gardiner did not get much time to prove himself until injuries forced Carlyle's hand. Although Gardiner has to work on his defensive game and on gaining strength, his skating and offensive game really set him apart. Gardiner could be the future of the Toronto blue-line along with Morgan Rielly blue-line.
The real wild-card to the Toronto defense is Ranger. If he can get back up to speed he will be a great asset to the team, but if he cannot get his game back, he could still be a serviceable 6th man, plus his deal is only one year long.
Overall the Leafs could be coming into the next season with an improved defensive corps who have learned the lessons of what it takes to win the cup and how difficult the playoffs can be.