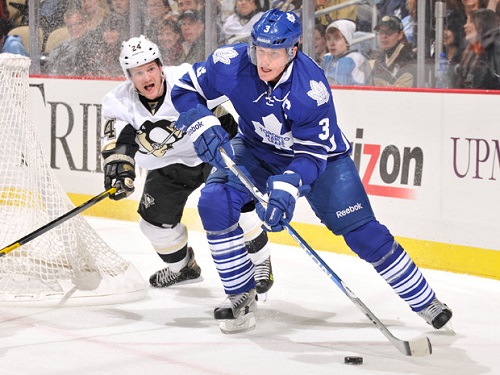 The Toronto Maple Leafs and their captain, Dion Phaneuf, have agreed on a seven-year contract extension that could see Phaneuf on the team until 2021.
The new contract will be $49 million USD spread over seven years. The deal will also include a modified no-trade clause that begins when the new contract kicks in.
Phaneuf joined the team in 2010 when he was traded from Calgary. He has been the team captain for the last four seasons.
Phaneuf has played 261 games for Toronto since the trade, notching 35 goals and 127 points. He has spent quite a bit of that time with paired with Carl Gunnarsson.
"This is a very proud day for me and my family," said Phaneuf in a statement. "I'm very honoured to be the captain of this historic franchise and to maintain the opportunity to play and represent the Toronto Maple Leafs for many years to come. We have passionate fans and a dedicated ownership group. I have great teammates and look forward to growing with them and achieving our goal of winning."
Phaneuf is now one of many Leafs players tied in longer contracts. David Clarkson signed a seven-year deal and Phil Kessel signed an eight-year $64 million contract extension at the start of the season.
"Dion is our team leader and has been a pillar in our building process," said general manager Dave Nonis in a team statement. "He has proven to be a very durable and reliable defenceman in all facets of the game. He plays big minutes in every situation for us and we're pleased to have him under contract for the next seven seasons."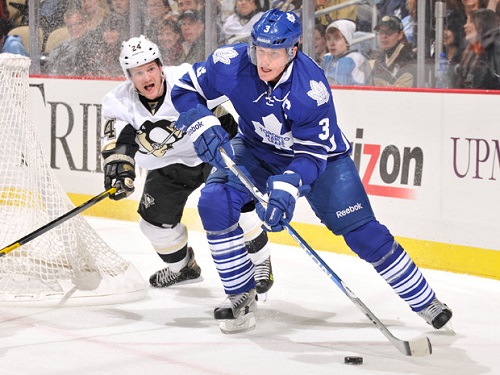 The money and term of this contract do not seem to be that bad. It is true that the deal could have been shorter term, but that would have cost more per year. This contract is a good balance of length and term.
Had the Leafs not signed Phaneuf, it is likely that he would have been able to get paid just as much, if not more, by another team in the league.
Phaneuf shines offensively, but also plays the toughest minutes for the Leafs. If the Leafs can gain another solid defensive d-man, then some of the pressure could come off Phaneuf and he could really impress.
As for the downside of this contract, one could argue that there are better defencemen out there to pay big money to, but they rarely reach free agency. The Leafs have to try and build with the best parts of what they have now, and work to a future plan.
If the cap continues to go up, this deal could look especially nice a couple years from now. Good players make a lot of money in the NHL, and so it costs money to retain them.
Either way the Leafs captain is here to stay.