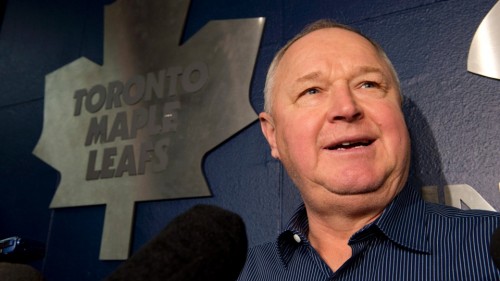 Something stinks in the Toronto Maple Leafs organization. The team has not won a single game since eking out a shootout win in the Winter Classic. Going back to December, the team has only won two games without having to go to overtime or a shootout.
If one believes Randy Carlyle, it would appear that the team does not compete hard enough or have enough drive to win. The players the Leafs have, like Jake Gardiner or Peter Holland, are too small and prefer to carry the puck into the zone instead of dumping the puck.
Carlyle has already driven away good players from the team, like Mikhail Grabovski and Clarke MacArthur because they do not fit his mold. Instead of adopting his system to fit the strengths of the Leafs, Carlyle prefers to double down and offer advice lie "play harder" or "compete more"
There are now rumours that the Leafs may be willing to trade away Gardiner, Nazem Kadri or James Reimer because they are not performing to Carlyle's standards. Instead of Gardiner, Carlyle prefers Mark Fraser, a slow-skating defenceman whose errors end with the puck in the Leafs net.
Dave Nonis is no better, allowing Carlyle to make all the personnel decisions that should be his job as the GM. If Nonis does not fire Carlyle, and soon, then his job should also be on the line. His track record as GM has been disastrous.
His signing of David Clarkson, Tyler Bozak and trading for Dave Bolland showed that he cannot evaluate the real needs of the team. The most glaring need being a first line centre, however by signing Bozak to a $4.2 million cap-hit has pretty much hamstrung the Leafs ability to acquire one.
Clarkson has also preformed miserably while sucking up a huge chunk of the Leafs' cap hit. Making over $5 million a year, Clarkson has put up less than 10 points. Mason Raymond, making only $1 million, has himself scored 12 goals.
The Leafs team is not perfect, but the incompetence of its management is showing its ugly head. The Leafs are on pace to have a shot differential of -1000 by the end of the year if they keep going at the pace they are. That means they gave up a THOUSAND more shots than they took.
The Leafs need to focus on improving their defence and adding big bodies like Fraser or Tim Gleason isn't going to help. Instead they need more players like Carl Gunnarsson, who covers up for Dion Phaneuf.
The Leafs cannot improve by trading away Gardiner or Kadri; instead they need to do the opposite. They need to improve their centre depth and their back-end. Trading those players away is resigning is resigning themselves to keeping Carlyle as their coach until he and Nonis are finally fired.
The Leafs have lost their wild card slot and with the way they are playing, they will not win it back any time soon. The Leafs have a very tough month ahead in March, and there will be games more often with the Olympic break.
The Leafs need to change things up, but that has to happen to the "brains" of the organization, not the players.
Love Reading About Hockey?

Subscribe to keep up-to-date with the latest and most interesting hockey news!
| | |
| --- | --- |
| | We hate spam just as much as you |