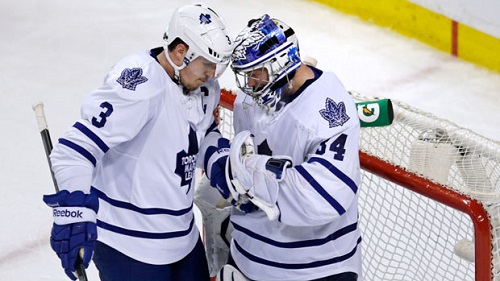 The Toronto Maple Leafs may have a dilemma on their hands heading into September and the beginning of training camp. With the addition of Jonathan Bernier to the team the Leafs have two solid net-minders and it is not clear who is the number one.
Jonathan Bernier was traded by the Los Angeles Kings for Matt Frattin, Ben Scrivens and a second round draft pick. Bernier became a restricted free agent this summer and then signed a two-year $5.8 million contract with the Leafs. Bernier's contract comes with a cap hit of $2.9 million.
Reimer is in the last year of a three contract with a cap-hit of $1.8 million. Next year Reimer will become an unrestricted free agent.
With Bernier making more money of the two, you would expect him to get the starting job in more games, but Bernier is still some-what untested as an NHL starting goaltender. Bernier has only played 62 regular season games and one playoff game whereas Reimer has played 104 regular season games and seven playoff games. This means Reimer has an edge over Bernier as far as experience goes.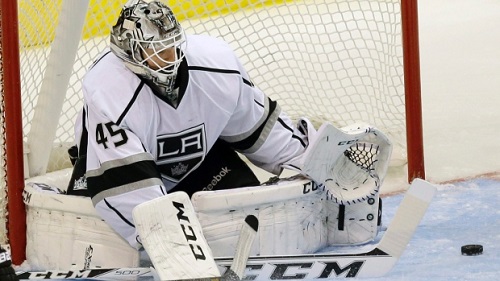 When you compare the two players' performances it is clear that their save percentages are fairly close with Reimer's being higher, with a career .915 save percentage vs Bernier's .912. Reimer has put up slightly better numbers over more games. Reimer also has 10 shutouts to Bernier's 6.
This suggests that as much as Dave Nonis intended for Bernier to become the team's starting goaltender, James Reimer might not be willing to let that happen.
In an interview with Connor Mellas, an NHL.com Staff Writer, Reimer said "Overall, I felt I played well this past season."
"I feel like I've established myself as a No. 1 goalie in this League."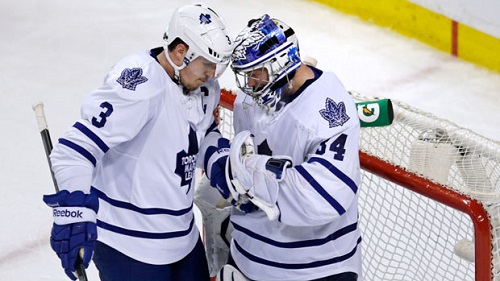 Bernier has the chance to take the top position from Reimer, but it will not be easy. Both players will have that extra motivation to stay on top of their games. The Leafs have also hedged their bets against an injury, like the one Reimer took in 2011.
While Bernier appears to be slated into the starting position, no promises have been made. "They haven't really told me anything. I'm very excited to have a fresh start," Bernier said.
"Nothing is being guaranteed to anybody," Nonis said.
With training camp just around the corner, the rookie tournament starting next week, and the Leafs still having to sign Nazem Kadri and Cody Franson, The Maple Leafs' front office will have their hands full.