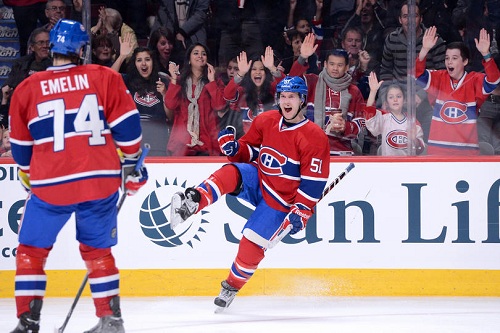 Any momentum that the Sabres had with their big win versus Boston Thursday night is now gone. Coach Lindy Ruff "We got caught up in the emotions from the other night." The Sabres looked flat and played awful in their 6-1 loss to the Montreal Canadiens. The Sabres managed just one first period shot and were sloppy in the opening frame.
Montreal would strike first. Marcus Foligno was in the penalty box on a hooking penalty. Montreal was on the rush with Brian Gionta bringing up the puck on the wing. He sent a pass toward the net that went off a rushing Rene Bourque to make it 1-0. Bourque scored with about 8 seconds left, a reoccurring problem for Buffalo: letting in late period goals. Tomas Plekanec also assisted on the goal. Ryan Miler made 14 saves in the opening frame.
Montreal wasted little time to add to their lead. The Sabres got caught in their own end in it was a 2 on 1. Alex Galchenyuk and Brendan Gallagher got the best of Christian Ehroff and Ryan Miller to make it 2-0. Gallagher sent a pass to Galchenyuk but it went off of Ehroff and into the back of the net. Francis Bouillon also assisted. Then the floodgates would open for the Habs.
Tyler Ennis had a great scoring chance half-way through the period but hit the post. Lars Eller came rushing with the puck who then fed David Desharnais and beat Miller with a wrist shot to and it was 3-0. 28 seconds later, it would be Eller beating Miller with assists from Galchenyuk and Tomas Kaberle and it was now 4-0.
Sabres Coach Lindy Ruff came out in the 3rd period with a goalie change. Jhonas Enroth would come in for Miller. It did not make much difference. Plekanec led a 3 on 1 break and fed a rushing Bourque to the net, Bourque tapped in in to make it 5-0. Steve Ott tried to send a message by fighting Brandon Prust, Ott was pummeled by Prust. Ott would also get a 2 minute unsportsmanlike conduct which Mikhail Grigorenko would serve.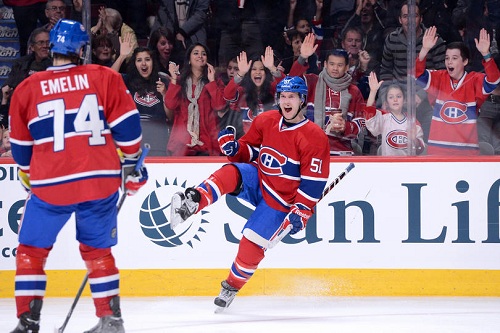 Thomas Vanek would be the only bright spot for the offense. Marcus Foligno fed a breaking Vanek and he beat Carey Price to make it 5-1. That would be it for the Sabres on the score-sheet. Desharnais would later score on the power-play to make it 6-1 with Eller and P.K. Subban assisting.
Game Notes:
This was the Canadiens 338 consecutive sell-out, their last non sell-out was 1-8-04.
P.K Subban made his season debut and had an assist.
Carey Price finished with 30 saves.
Tyler Myers was a minus-3 in the game and now sits at minus-6 for the season.
Myers has a lack of confidence right now and believes that with hard work he can work through it and
get back on track.
Andrej Sekera left the first period with a lower-body injury after blocking a shot.