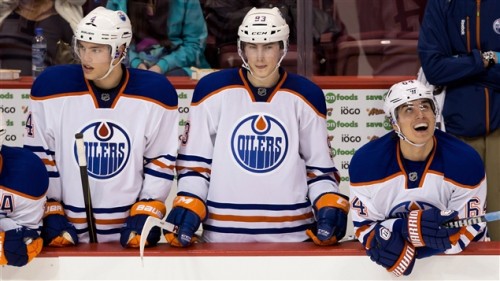 It should come as no surprise, the Edmonton Oilers have a number of solid young players on their roster and a group of very good young prospects in Oklahoma City. That's the 'reward' for being so bad for so long, if you can even call it that.
Edmonton has accumulated players like Taylor Hall, Ryan Nugent-Hopkins, Nail Yakupov, Jordan Eberle, Tyler Pitlick, Martin Marincin, Oscar Klefbom, David Musil, Dillon Simpson, Martin Gernat, and so on. All those players were drafted by Edmonton, and another group is incoming this year, led by Leon Draisaitl, Mitch Moroz, Jujhar Khaira, and Bogdan Yakimov, as well as the above mention Simpson.
These guys are supposed to be the guys that lead Edmonton back to the promised land, and if Edmonton is to have success, that statement will have to hold true.
The Oilers have found other ways to attract prospects however, looking under every stone out there. They've been going the route of little results, the route the maybe gives you one good prospect in ten. That route? The undrafted free agent way, and it's actually begun to pay off.
The Background:
Look now, I, along with your mother, brother, cousin and anyone else, know that Steve Tambellini was one of the worst GM's of the last decade in terms of building an NHL roster, but this guy could build a farm system, and could find prospects in odd places.
His moves when in charge in Edmonton have given the Oilers a development system that is not only winning, but finally starting to churn out talent, and is now rising in the power rankings of development systems around the NHL.
This hasn't been just because of the draft picks, in fact the picks just started making it to the big club. Martin Marincin, Tyler Pitlick and Oscar Klefbom all made their debuts this past season, and Gernat is likely to make his this coming year in a likely cup of coffee.
The success has come from a surprising area, those undrafted free agents.
The Targets:
Edmonton has signed a few of these players. Tambellini brought in guys like Mark Arcobello, Taylor Fedun, Tanner House, and Hunter Tremblay.
Tremblay and House never made it to the NHL, but both served as useful pieces on good AHL teams in Oklahoma City under coach Todd Nelson. They both got chances to develop into NHL players, and while it didn't happen, they at least developed into solid pros, that is better than the usual results here. Tremblay even got another look from the Winnipeg Jets at the AHL level.
Taylor Fedun likely would have made the Oilers in the fall of 2011 if not for a hit by Eric Nystrom in a pre-season game that badly injured his leg. In two full AHL seasons since, he had become the clear cut number one defender in OKC, and even earned four NHL games, where he posted two-goals.
Fedun will never be a regular with the Oilers, he signed with San Jose on July 1st, but he's likely got an NHL future. The Sharks don't have many prospects, and Fedun has a solid skill-set for a 3rd pairing defender on a puck-possession team like the Sharks.
Mark Arcobello rose from ECHL player to AHL star in short order, and now is simply too good for the league. He showed well in Edmonton in 41 games last year, and will have the inside track for a top-nine center job this coming season. Will he have a long NHL career? I'm not sure, but he's likely to hit 100 games, exceeding all expectations when he was signed.
This road that is often less traveled in regards to gathering prospects has delivered for Edmonton. It's given them a solid two-way center with solid passing skills, and a puck-moving defender capable of playing on the third pairing. They'll only reap the benefits of the center, but can take pride in knowing they also developed that defender.
This route also provided two useful AHL'ers for a short span. That's a good haul for free.
The Next Wave:
Craig MacTavish realized the success Tambellini had here, and made a solid move in hiring Bob Green, former Edmonton Oil Kings GM, to a new position that is totally devoted to scouting the upcoming undrafted free agents.
This year's haul is larger than ever before. It gave Edmonton a big name in Western Michigan defender Jordan Oesterle, who is likely ready for AHL work and has been seen as a legit NHL prospect. It could be a third NHL player acquired for nothing more than a contract.
The Oilers also signed NCAA defender CJ Ludwig to an AHL deal through this route, and he is likely to see time in the ECHL developing his game like Arcobello did. Same goes for junior defender Graeme Craig, who is a huge shut-down defender that got an AHL deal with Edmonton. Forwards Mitch Holmberg and Josh Winquist will get their chance to follow Arcobello via AHL deals coming out of junior as well.
Edmonton has also invited undrafted Russian forward Vladimir Tkachev to camp. He's really small, but has a ton of talent and could become Edmonton property with an ELC and assignment back to juniors. He's got some real skill, and could be a player down the line. That has value.
The Overview:
The Oilers are trying to get better at the NHL level, we know that because they spent cash on guys like Mark Fayne, Nikita Nikitin, Teddy Purcell, Benoit Pouliot and Keith Aulie this summer, all proven NHL players for their required roles. In addition to that however, MacT is following through with an old Tambellini saying.
The Oilers want to follow the 'Detroit Model' of developing players with patience and having a good minor league system. Part of that, especially in the early going, was signing undrafted players out of college and juniors and developing them. Edmonton is currently going down that less traveled path.
It's already produced Mark Arcobello and Taylor Fedun, and has some real candidates to deliver to the NHL down the road. Sure, they might not be sexy moves today, but they are moves that could pay off two or three years from now.