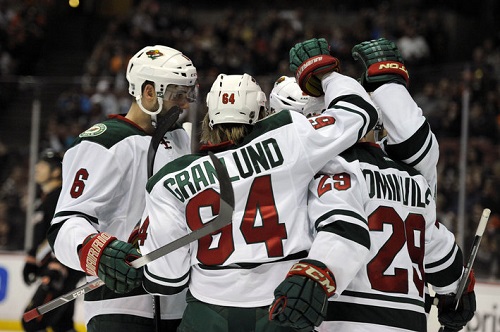 How about that sweet 5-0 shutout win Thursday night over the Colorado Avalanche, Wild fans!
With that win, the Minnesota Wild remain undefeated in regulation for all home openers, improving their home opener record to an astounding 12-0-2. I guess their new "home of the home ice advantage" slogan is ringing true.
A major contributing factor to the win was that the Wild kept a high pace for the duration of the game, starting in the first period with a goal from Jason Pominville
The onslaught would continue in the 2nd period, with Jared Spurgeon, Zach Parise, Nino Niederreiter, and Ryan Suter each finding the back of the net. Despite the fact that no other goals were scored after that, the Wild still kept the pedal to the metal until the end of that game.
Seeing a win as huge as that one is a rarity, so take the time to relish this while you can, Wild fans.
Anyway, with the home opener now out of the way, the Wild cap off this opening week of their season with the second half of the home-and-home against the Avalanche.
In terms of line configurations for tonight's conclusion to the home-and-home against the Avs, I would expect them to likely look the same as they did Thursday night.
Here's how the lines looked in the home opener:
Parise–Granlund–Pominville
Vanek–Koivu–Cooke
Niederreiter– Haula–Coyle
Carter–Brodziak–Zucker
Brodin-Suter
Scandella–Spurgeon
Dumba-Folin
It is likely that Darcy Kuemper will get the start in net again tonight following the spectacular performance he had Thursday night.
With the Wild blowing the Avs out of the water 2 nights ago in their home opener, I would expect for this game to be much different, and that the Avs will try to bounce back from their bad start.