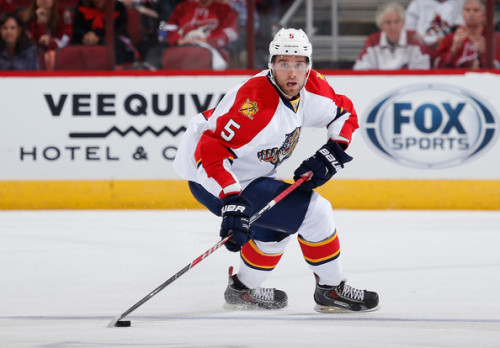 I'm cold. I'm tired. I'm scraping the bottom of the "C's get degrees" barrel in my Financial Accounting class, and I'm weeks behind on my online lectures. In lieu of all of this, I'm just going to full-on Ryan Lochte this thing. and dive in head first, typing as fast as I can until I either reach the finish or pass out from lack of oxygen. Mom, I love you; I'm sorry about the time I didn't clean the pool when I said that I would. I'M SO SORRY.
At any rate, here goes nothing:
AARON EKBLAD IS THE BEE'S KNEES AND IF YOU DON'T THINK THAT'S THE TIGHTEST SH!T EVER THEN JUST GET THE HELL OUT OF MY FACE.
Allow me to explain; since being drafted first overall by a franchise who's logo appears next to the word "guano" in the dictionary, Ekblad's essentially assumed an Atlantian weight on his 18-year old shoulders. Regardless of who he would've been selected by, expectations would've undoubtedly run high for the former Barrie Colts' junior standout; the first defenseman in the history of Hockey Canada to be granted "Exceptional Player" status, the young rearguard has performed at a level several notches above his peers for the entirety of his career. Tasked, however, with providing elite play for an otherwise struggling Florida Panthers' team, it may have been wise to temper said hopes; blueliners-even "can't miss", "blue chip", "top flight" prospects-have historically progressed slower than their offensive counterparts, and Sunrise, Florida-host city of a full-scale rebuild-doesn't quite provide the ideal environment for a sheltered upbringing. It isn't so much of a baptism as it is a trial by fire. Most observers could have logically assumed it to be the equivalent of taking your two-year old toddler and throwing him/her into the deep end of a pool. An Olympic-sized diving pool. The potential for disaster was there.
In spite of it all, Ekblad has, thus far, lugged that burden with grace; making the team out of training camp after recovering from a concussion sustained at Canada's World Junior camp, the 6'4″ native of Windsor, Ontario hasn't just survived-he's thrived. As far as traditional statistics go, the greenhorn leads all rookie defensemen with ten points off of two goals through 15 games, and remains a mere point off of Jussi Jokinen's Panther-leading pace. His +/- rating of an even zero is tied for second among rookie rearguards with at least ten games played, indicative-at least on the surface-of his two-way contribution to the Panthers' top-ten defensive unit. If rudimentary stats aren't quite your cup of tea, he definitely, completely, 100% explodes the "eye test". With a healthy 216 pounds filing out his frame, the kid (I can call him kid, he's younger than I am, though infinitely more successful at life) looks like a small horse that was trained by Russians to skate and collide with other living objects with GREAT FORCE. With a beard, you'd swear Bigfoot laced up his skates.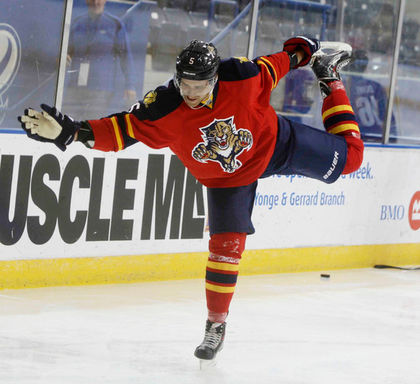 From an advanced statistical viewpoint, he shows encouraging signs; munching an average of 21.20 minutes of ice time per contest, Ekblad and his most fresquent linemate Brian Campbell-more known for his ability to "lug the mail" as a puck-moving offensive defenseman-have done a good job in driving possession while hindering the competition's ability to generate it. Per war-on-ice.com (THIS PLACE IS A GOLD MINE YO), Ekblad's Corsi Teammate Percentage and related Fenwick Teammate Percentage stand at 52.06% and 52.58% respectively; when compared to the competition's equivalents of 48.87% and 48.85%, it becomes evident that the Cats benefit possession-wise from having him out on the ice. With the Ekblad pairing on the ice, the Panthers generate an average of 58.67% of total shots for, as Ekblad and Soupy are the only pairing with a positive shot +/- (an average of 55 between the two). Granted, these numbers are susceptible to skewness created by zone deployment; according to behindthenet.ca, Ekblad begins his shifts in the offensive zone 53.2% of the time, behind only Campbell's 57.1% and well ahead of Dmitry Kulikov's 39.8%. If we then look at Relative Corsi Quality of Competition-a statistic indicating "Average Relative Corsi of opposing players, weighted by head-to-head ice time", it also becomes evident that Head Coach Gerard Gallant is insulating the rookie from the team's stiffest competition; with a rating of 0.671, Ekblad sits fourth among the six regulars patrolling the blueline.
All things considered, though, Gallant can't be faulted for his handling of his talisman defenseman; although he possesses talent in droves, he is-at the end of the day-an 18-year old acclimating to the world's fastest contact sport, played by a group of grizzled men, some not quite unlike moose. Even in light of his facing "softer" competition, it takes a remarkably skilled individual to exploit and excel in their matchups, especially at such a young age. Looking more the part of the seasoned veteran than the knock-kneed rookie, Ekblad patrols all three zones with equal confidence. Not at all skittish on the puck, he routinely opts for the safe play, busting off crisp passes and unleashing a seeing-eye shot that can find it's way through traffic. He can throw his body around if need be, but he doesn't do it as often as you'd expect a man of his stature to do; although his 20 hits are second among rookie defensemen, that number-coupled with watching his play and his peripheral stats-paint the picture of a positionally-sound rearguard.
Think he's good now? Give him a year.