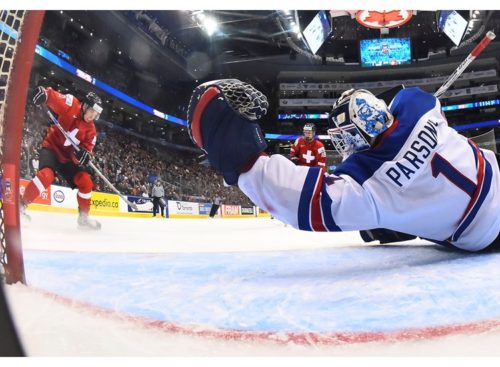 Nobody expected Switzerland to hang around.
They scraped out of Group A at the 2017 World Junior Championships, failing to win a game in regulation and posting a minus-two goal differential.
Their quarterfinal draw paired them against a top-seeded United States team fresh off of a win over Canada. The Americans had never lost to the Swiss in the history of the U20 tournament.
But despite that reign of dominance, Switzerland nearly pulled off the upset, outplaying their American counterparts for most of the game before ultimately falling 3-2.
"They outplayed us," forward Colin White said in a release, "but good teams find a way to win."
That positive result was due in large part to the play of Tyler Parsons.
Although he didn't post the gaudiest numbers, the 6-foot-1 goaltender drew praise from his teammates for his performance. "Parsons was huge in the net for us," forward Jeremy Bracco said.
Huge, but not impervious.
Down by two after being shut out in the first period, the Swiss clawed the game back even on the back of 17-year-old Nico Hischier. Switzerland's top scorer notched a power play brace over the course of two periods, putting the Swiss in the thick of things.
They outshot the Americans 21-17 on the night. They capitalized on mistakes.
However, it was United States that punished Switzerland in game-winning fashion.
Just 11 seconds after Hiscier knotted things up, forward Nando Eggenberger was called for tripping. Seven seconds after that, American winger Jordan Greenway latched onto a deflected puck, easily finishing past Joren van Pottelberghe for his third goal of the tournament.
"You can't give a great team like that a power play," Swiss defenseman Jonas Siegenthaler said in a release. "It's just stupid."
Parsons took over from there, stoning Hischier from point-blank range to preserve the lead in the dying minutes of the game.
Following the shaky victory, the United States will have a day off before traveling to the Bell Centre to square off against the Russians. Puck-drop is scheduled for 3:00 pm.