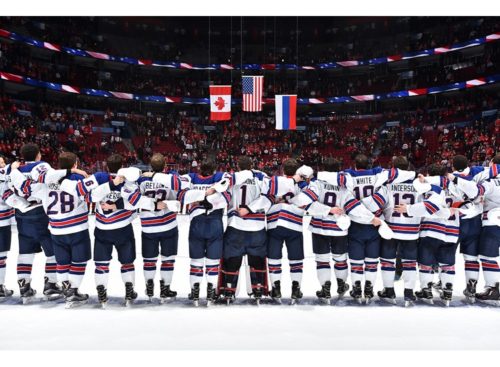 Six shooters had past. After playing to a 4-4 draw, the gold medal match of the 2017 World Junior Championship between the United States and Canada was primed to drag deeper into its deciding shootout.
Until Troy Terry took the ice.
The 6-foot native of Denver, Colorado, had been in this situation before. 24 hours earlier, to be exact; when the forward from the University of Denver scored three shootout goals during Wednesday's semifinal victory over Russia.
Terry had established himself as the United States' premier shootout threat. And on Thursday night, he came through once more.
The only skater to score in the five-round skills competition, Terry snapped the puck five-hole on Canadian goaltender Carter Hart, finding twine and gifting the USA its first World Junior championship since 2013.
"Unbelievable," forward Colin White said in a release. "There's no feeling like it. We came together as a team. Four weeks now we've been together, and to win a gold medal together is just great."
That win almost didn't happen.
The United States had to dig itself out of multi-goal deficits on two separate occasions, sparked by Boston University forward Keiffer Bellows' two-goal effort.
"The calmness we've had all tournament was huge," White said. "We stayed calm on the bench and fought back.We always knew we had each other's backs all tournament, and we came together so well as a team."
Anchoring the American defense, goalie Tyler Parsons turned in his finest performance of the tournament, stopping 46 Canadian shots. The 6-foot-1 netminder also pitched a shutout in the skills competition, turning aside five shootout attempts.
Ultimately, it was a total team effort. And after defeating Canada twice on home ice, the Americans came home with one of their most memorable victories to date.
"Our country needed us at this point with the hockey," Bellows said. "Kids looking up to us, teenagers, older adults …We came out on top, and hopefully the country's proud of us."