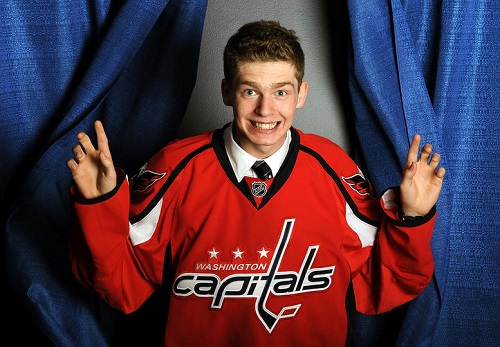 In the 2010 entry draft, the Washington Capitals took Russian-born Evgeny Kuznetsov with the 26th overall pick in the first round. The 21-year old was ranked as the third-best European skater at that time. He started his career in the KHL with Traktor Chelabinsk in 2009-2010. He played a total of 35 games, registering 8 points. In the 2009 World U18 Championships with Team Russia, Kuznetsov scored 6 goals and had 7 assists for 13 points in the games to help the Russians to a second-place finish.
In Kuznetsov's second season in the KHL, he played 44 games, scoring 17 goals and finishing with 30 points. In the 2010 World U18 Championship, Kuznetsov scored 5 goals and 7 assists, but the team struggled, finishing in 4th place. Kuznetsov was named to the First Team All-Stars. In 2010 he played in the World Junior Championship once again. Russia finished in 6th place, and Kuznetsov mustered up only 2 goals.
In his first full season with Traktor, he played 49 games, setting career highs in points, goals, and assists with 19 goals and 21 assists, good for 40 total points. In 2011, Kuznetsov helped Russia win the World Junior Championship. He was the only 18-year old on the team with the rest being the age of 19. He scored 4 goals and had 7 assists in 7 games. He had three assists in the gold-medal game, helping the Russians overcome a 3-0 third-period deficit. Kuznetsov was named one of the top-3 players on the Russian team by the tournament coaches. He was also named to the First Team All-Stars by the media.
In the 2012 season with Traktor, Kuznetsov played 51 games, registering 19 goals and a career-high 25 assists for a total of 44 points. Kuznetsov captained Russia's World Junior Championship Team too. In a game against Latvia, Kuznetsov recorded a hat trick and added 6 assists for 9 total points, setting a record for most points scored by a Russian in one game at a WJC. He was 1 point shy of Peter Forsberg's record of 10 points set in 1993. In that tournament, he was voted as Best Forward, a First Team All-Star, and Most Valuable Player. In 2012, Kuznetsov also made his senior debut for Russia in the World Championship. Russia won the gold medal while Kuznetsov recorded 2 goals and 4 assists in the 9 games he played.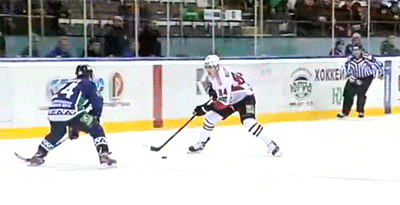 In 2013-2014, Kuznetsov is believed to be earning $3.8 million dollars for Traktor. His contract is up at the end of this season. Evgeny signed that contracted back in 2012, admitting it was a 50/50 decision. "I wanted to go and try myself [in the NHL], but I thought it over, Traktor made me a good offer, so why not stay, play here and bulk up." He also stated that he believed staying in Russia would help him make the 2014 Sochi Olympic team. "Of course, my main goal is to make it to the Olympics. If I were to go to the NHL – and what if I couldn't prove myself right away and would be sent to the minor leagues – that would be the end for my Olympic dream. Here – I will have visibility and a chance to prove myself, and to play during Eurotour."
Now, Kuznetsov's chances of making the Olympic team have diminished. He was left off of the Channel One Cup Roster, an annual international tournament for pro European players to be held in Sochi on December 19-22. "I understand, that first of all Bilyaletdinov will be picking from those who go to the [Channel One Cup], but there's still a chance to make a team. The rosters will be submitted on January 7th, and I've got time to show that I didn't regress. My dream to play at the Games stays. I stayed in Russia for two more years for a reason. Everyone thinks it's because of money, but they're mistaken. I stayed to play in Sochi."
Recently, things haven't been going well for Traktor. In the midst of a losing streak, Kuznetsov has admitted that the fans have been whistling at Kuznetsov. "They whistled at me and other guys. And when we exited after the game, they were trying to insult us, talking trash. I'm not offended though. Fans want to see wins and they're emotional. It's okay, it's a motivation to play our best." This year, Kuznetsov did have a minor injury that was believed to be of the shoulder that was operated on twice. It turned out to just be a trapezius muscle (connects the shoulder, neck and upper back area) injury and didn't see him miss any games.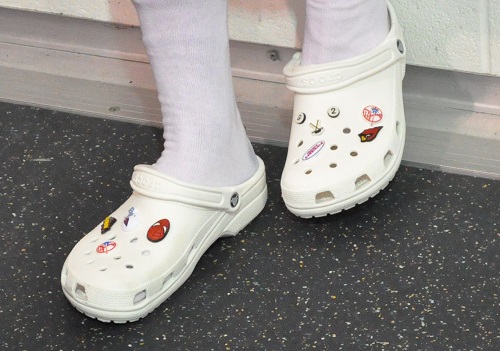 Kuznetsov has expressed interest in coming across the pond to play with the Washington Capitals. "I've decided for myself that it is my last year in the KHL. There's no money that could keep me in Russia. I could make 30 times less, but I'll feel what it's like to live in a different country and play against the best players in the world." He isn't the only person to say that they believe he will leave the KHL. Director of Traktor, Vladimir Krechin, revealed that he believes that Kuznetsov will leave for Washington as soon as the Traktor season is over. When asked about Kuznetsov's contract ending at the end of the year, he said "I'm 200% sure he's going [to Washington]. Once the season's over he's leaving." The KHL playoff are in March, so he could be over in time to help Washington in the Stanley Cup playoffs.
Over the summer, he said in an interview that Traktor was starting contract talks with him. He stated "If I were to stay in Russia, it would be for five years or so on a new contract." In an interview in late August he said "I can guarantee you, I am going to start working on my American Visa after New Year's. Also, we'll have to look at my health. Also don't forget about the Worlds. But if everything works out, I should be able to leave like Alex Radulov – to the NHL right after the KHL season ends for the club." When the interviewer mentioned that Radulov had already played for Nashville before, and asked if he was nervous to go jump right in. Kuznetsov responded by saying "What's there to be afraid of? Alex Ovechkin is in Washington, he promised he is definitely going to help me out. Hockey-wise it's going to be much more interesting. I'll end up right in the midst of the inferno."
Even Traktor's coach has stated that Kuznetsov has huge desire to play in the NHL. When asked about the option of him staying in Russia with a long deal he said "It's up to him; I don't want to hold him back in a sense that he has a huge desire to play [in the NHL]."
In the end, we won't know when Kuznetsov will come over or if he will come over. He would be a great addition to a Capitals team that has a struggling 2nd line. Hopefully, he comes as soon as possible. Although he will need a new number unless he and Mikhail Grabovski want to fight for the #84.
Shout out to Russian Machine Never Breaks for the interview translations.