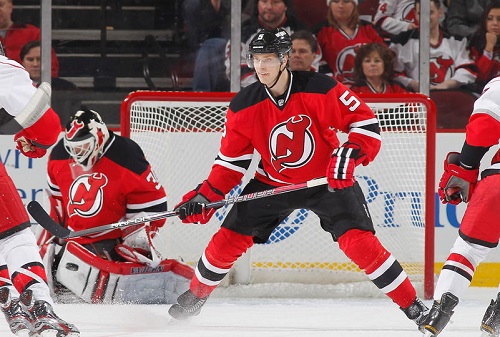 In a time when the Devils defense collectively is not getting the job done, one man sticks out in my mind: Adam Larsson.
Anyone who has watched a Devils game with me in the past year knows that I have given him a hard time, to put it mildly. Looking at Larsson's 2011-12 regular season stats, he led all defensemen in points with two goals and 16 assists – the same number of assists as David Clarkson, by the by – and had a -7, which, while not great, was certainly not the worst plus-minus of a Devils D-man, let alone the whole team. And, who could forget Larsson scoring the game-tying goal against the Philadelphia Flyers in Game 2 of the Eastern Conference Semifinals, after sitting the first eight games of the playoffs? Not too shabby on paper, right?
In the Devils defensive end, though, it seemed like every time Larsson corralled the puck, he thought it would be a good idea to pass it to open space right in front of the Devils net, and I quickly lost count of how times this lead to a goal by the opposition. That's a fairly big no-no for a defenseman, yet he seemed not to have a learning curve because he continued to make the same wrong pass time and time again. One of the things that seems to play a larger role for New Jersey as compared to other teams are the impact of the intangibles. You won't see Larsson's pass-directly-to-opposition-in-Devils-end as a line on a stat sheet and aside from the obvious impact of the other team scoring, these types of mistakes often times seemed to play a larger role in the game's momentum and overall feel.
So, I yelled about Larsson. A lot.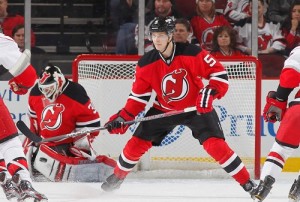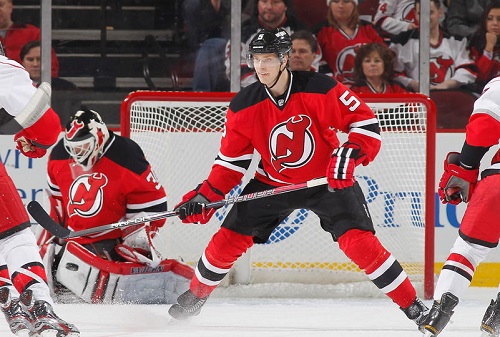 That being said, I think the Devils had a fairly decent year in 2011-12, am I right? Clearly, this team had the wherewithal to withstand such errors in judgment, and the resiliency to counterbalance his mistakes with solid recuperation on both ends of the ice.
This year, though, Larsson looks massively improved, in 15 of New Jersey's 20 games; his passes are actually completed to his teammates, he steps up and falls back at the right times, and he is tied with Andy Greene for the best plus-minus of the D with a +4.
One play in particular brought Larsson's performance to the forefront of my mind: midway-ish in the third period of Thursday's game at the Winnipeg Jets, Clarkson sent a backhand pass from the right side of the net to Larsson at the blue line, who wound up for a big, one-time slap shot, but his stick snapped in half leading to a Jets 2-on-1.5 (you can't really call it a 2-on-1, because Larsson was there, nor can you call it a 2-on-2, because Larsson was stickless). Larsson stuck with it, though, and was able to stay in front of the trailing Bryan Little as Johan Hedberg then made a realtively easy save. Larsson's hustle to get back on defense after his stick broke was a defining moment and probably has solidified him in my mind as the asset New Jersey had hoped he would grow into.
It may have Larsson a little bit longer than I would have preferred to get to this point, but that play is a great example of the effort and heart the Devils need to show more of this year because unfortunately, it appears that with Larsson's improvement comes New Jersey's lackluster overall play. The Devils look like they have lost their mojo, along with losing six of their last eight games. This is a rough time of the season to go on a losing streak, especially since today's game at the Buffalo Sabres is the first of five games the Devils will play in the next eight days. But, hopefully Larsson will lead by more examples of smart play and help turn the Devils around.
Happy: Andrei Loktionov scored the lone goal against the Jets on Thursday and he made just a gorgeous one-on-one move. He was explosive but maintained the finesse needed to thread the needle by Ron Hainsey, and placed his shot perfectly past Ondrej Pavelec. Me likey.
Crappy: Did I mention that the Devils have lost six of their last eight games? Right.