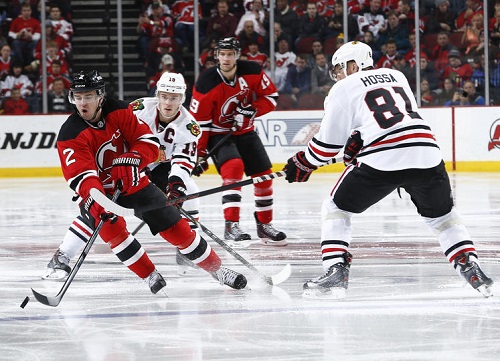 In their first two games of the new year, the Devils haven't fared as well as they'd hoped as they have been unable to ride the momentum of their recent big win over the Eastern Conference-leading Pittsburgh Penguins.
On Friday, New Jersey dropped a 5-3 decision to the Chicago Blackhawks, the best team in the Western Conference, and followed that with a 2-1 loss to the Buffalo Sabres, the worst team in the Eastern Conference, the next night.
Particularly because the Devils don't score enough, they've had to rely on their defensemen to make an impact: Marek Zidlicky and Andy Greene make up for two of the Devils top five point-scorers, with 22 points (seven goals and 15 assists) and 21 points (seven goals, 14 assists), respectively. Both scored in the loss to Chicago on Friday; Greene scored in the second period to tie the game at 1-1, while Zidlicky scored twice in the third to help the Devils pull within one goal before Patrick Sharp scored his third goal of the game to put it away for the Blackhawks.
Crazily enough, rookie defenseman Eric Gelinas has scored four goals and has handed out 12 assists in his 33 games played, which sits him in ninth on the team with 16 points.
On Saturday, though, General Manager Lou Lamoriello sent Gelinas to the Albany Devils (AHL), because Anton Volchenkov returned after missing three games due to an undisclosed injury. It's unclear what Gelinas's immediately future will bring given that defenseman Adam Larsson is nearly ready to return, too, but I think that we'll see him back in New Jersey again before the end of the season. He played well overall, and brought a spark offensively along with his defensive strength.
Prior to Friday's game against the Blackhawks, Lou put Mattias Tedenby, a first round draft pick in 2008 (24th overall), on waivers which he then cleared on Saturday and was sent to play for Albany. In 15 games in New Jersey this season, Tedenby scored only one point – a goal against the Nashville Predators on Nov. 10 – and had a -8 rating, and he took just nine shots.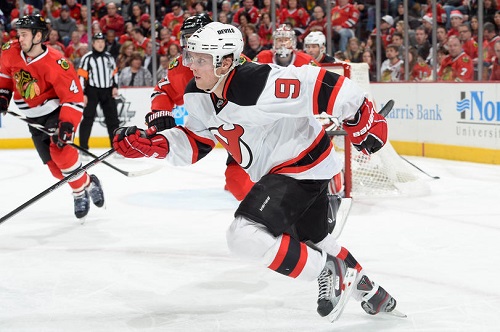 Last season, Tedenby played in just four games due in part to the fact that he took a skate to his face while playing with Albany and was out for 18 games. In New Jersey's Stanley Cup run in 2011-12, he played in 43 games and finished with six points and a -15 rating; his rookie season was his best to date as he recorded eight goals and 14 assists (22 points) in 58 games played.
Mike Sislo was called up on Friday to replace Tedenby and was given jersey number 9, which all but sealed the deal for Tedenby's time in New Jersey to come to a close. It's Lou's M.O. to reassign numbers immediately once a player has left the team, regardless of reason; Tedenby took 9 after The Player Who Shall Remain Unnamed left for the Minnesota Wild.
Before he was called up, Sislo was second on the Albany Devils with 20 points (nine goals, 11 assists) in 27 games played. He looked pretty good for being the new guy on the ice with New Jersey, but most importantly, he's fast. Really fast. The Devils are fairly slow offensively, so hopefully Sislo will be able to improve that for New Jersey. He gave a little taste of his speed in Buffalo on a play where he took a pass from fellow rookie Reid Boucher and flew by two Sabres then was able to get a shot on Ryan Miller. Miller stopped it, but it was exciting to see Sislo have a noticeable impact – he took five shots – on the Devils offensive opportunities in just his second NHL game.
Sislo should have ample time to show what he can do, though, as the Devils have a long week ahead: they face the Philadelphia Flyers on Tuesday, the Dallas Stars on Thursday, the Florida Panthers on Saturday, and the Toronto Maple Leafs on Sunday. Hopefully joining Sislo will be Larssen as well as Patrik Elias, who currently is listed as day-to-day; the Devils need to get into a rhythm on the ice to position themselves to reach the playoffs after missing them last season, and to do that, they need to stay healthy.
Plus: Two pluses this week, too: Ryan Carter and Adam Henrique. Carter returned to the lineup after missing the entire month of December and was reunited on a line with Steve Bernier and Stephen Gionta. The trio put together some solid plays as Bernier and Gionta each recorded an assist against Chicago, but I'm looking forward to seeing what this proven line will do moving forward. Henrique broke his 12-game goal drought by going on a mini point-scoring streak—he recorded five points on three goals and two assists in the last five games. Henrique's line with Ryane Clowe and Michael Ryder has posted five goals and five assists during that same time frame.
Minus: I hate to mention the Devils leading scorer here, but Jaromir Jagr has just one point – from an assist against the Islanders on Dec. 28 – in the last six games. Ouch. There's no doubt that he'll pick it up, but sooner would be better than later given how the Devils have kicked off 2014.
Love Reading About Hockey?

Subscribe to keep up-to-date with the latest and most interesting hockey news!
| | |
| --- | --- |
| | We hate spam just as much as you |