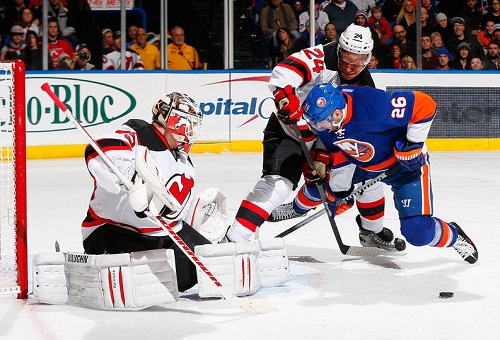 Goaltender Cory Schneider and forward Adam Henrique seem to have broken out of their undesirable streaks on their respective ends of the ice last week, as the Devils again went 1-0-1 in a back-to-back series.
New Jersey lost, 2-1, in a shootout to the Columbus Blue Jackets, but bounced back to top the New York Islanders, 2-1, the next night to gain ground in the Metropolitan Division standings.
Henrique entered Friday's game against the Blue Jackets on a 12-game goal-scoring drought that followed closely on the heels of a 10-game goalless streak; his two streaks were broken up only by his game-winner at the Carolina Hurricanes on Nov. 29. Henrique's goal tied the game at 1-1 early in the third period, but New Jersey's shootout woes continued as Jaromir Jagr, Ryane Clowe, and Patrik Elias came up empty handed in the loss.
Henrique has gone through some dry spells in his three seasons thus far, though: he had an 11-game scoring drought midway through the 2012-13 season, from March 23 through April 15; and he suffered through a 17-game drought in 2011-12, from Feb. 19 through March 20, as a rookie. Of course, the latter mostly was forgotten after he proved his ability not only to score, but to score clutch goals during the Stanley Cup Playoffs; I digress.
I won't call goals in two consecutive games a "streak," but he's gotten himself back on track after he followed up with a goal in the Devils 2-1 win over the Isles on Saturday night. And, he did have five assists during this most recent goal drought—admittedly, he's scored less overall than one might expect at this point, but maybe it's just time to accept that he's streaky.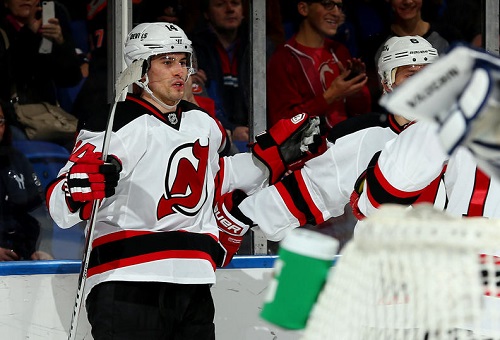 Turning to the opposite end of the ice, Schneider won his first game since the Devils 1-0 overtime win over the Buffalo Sabres on Nov. 30; he has gone 1-3-2 over his past six starts and with the win over the Islanders, he improved his season record 5-8-5 on the season.
Not good, clearly.
He, too is streaky, and while his goals against average of 2.13 is good enough for eighth in the league, he's still not anywhere near a .500 record for New Jersey. Reading into that a bit further will bring you to the conclusion that the Devils aren't scoring enough when he's in net.
New Jersey has scored just 30 goals in Schneider's 18 games in goal as compared to 65 in Martin Brodeur's 22 games. Additionally, the Devils have been shut out four times when Schneider played versus being held scoreless just once when Brodeur played.
That being said, when Devils general manager Lou Lamoriello signed Schneider this summer in that stunning draft day trade, the consensus was that he'd found the heir apparent for Brodeur. Breaking a losing streak always is a good thing and not that it would be a fair comparison to look at Schneider's first season in a new system as indicative of his potential, but Schneider has a long way to go to prove he's worthy enough of such a title.
Of course, expectations are high when you've been tagged to take over (eventually) for the best goalie who ever played, but Schneider must know that he has to be more consistent, especially if the offense continues to have such a paltry output with him in net.
Plus: Bryce Salvador and Clowe both returned last week after missing 30 games and 32 games, respectively. Salvador took the spot of defenseman Anton Volchenkov (total body soreness), and maybe it's a self-fulfilling prophecy, but I thought the defense looked significantly more in sync, overall, with him out there. Clowe also made his presence felt with four hits in the loss to the Blue Jackets, and again against the Islanders as he took a five-minute major for fighting Matt Carkner early on in the first period.
Minus: The Devils have to find someone who can score an overtime goal. They're 0-6 on the season in games that go to the shootout, and New Jersey needs every point it can get its hand on these days. Rookie forward Reid Boucher still stands as the lone shootout goal-scorer, as he found the back of the net in the Devils 4-3 loss to the Montreal Canadiens on Dec. 4.