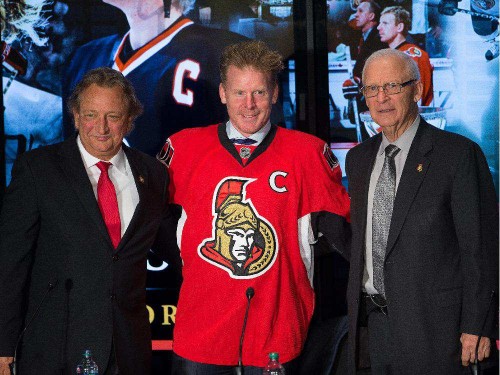 When he returned last season to officially retire as an Ottawa Senator he hinted at an eventual return to the Sens in a few years. But if the rumours are true, that return could come as soon as this season.
Daniel Alfredsson is reportedly set to join the Sens in some type of hockey operations capacity in the near future. The addition of Alfredsson to the fold, regardless of what role his role is, would be huge for the organization, bringing his decade-plus of playing experience to the front office. There's no question that experience will help him when it comes to working with the players.
One player in particular who stands to benefit from Alfredsson joining the front office is the Sens' 25-year-old superstar Erik Karlsson. As if having the pressure of being the face of the franchise, a two-time all-star and two-time Norris Trophy winner wasn't enough, Karlsson also has the responsibility of being captain. Luckily, Alfredsson has been in his shoes before.
Having spent 13 years as captain of the Sens (from 1999/2000-2012/13), most of which as the face of the franchise, Alfredsson knows a thing or two about juggling the pressures of being the star player and the leader – pressures Karlsson is now getting acquainted with. Having Alfredsson around could help Karlsson stay even-keeled through the rigors of an 82-game schedule.
Missing his defence partner, Marc Methot, for nearly the first half of last season – coupled with his new found responsibility of wearing the "C" – Karlsson looked lost to start 2014-15. With Alfredsson around there's no guarantee things would have been different, but their familiarity with each other as friends and former teammates could have helped ease the transition.
Aside from Karlsson, the team as a whole would benefit greatly from Alfredsson's presence. With his aforementioned experience playing in Ottawa, plus the fact he is not far removed from his playing days, Alfredsson has plenty of knowledge and wisdom he can impart on the players – especially the young Swedes, whose journey he is no doubt very familiar with.
With Karlsson, Mika Zibanejad (22) and Fredrik Claesson (22) already in the professional ranks, as well as Tobias Lindberg (20) and Andreas Englund (19) working through the system, Alfredsson will have ample teaching opportunities. But although he may be able to identify with Swedish players best of all – given his background – his overall value can't be understated.
As a veteran of 17 seasons in Ottawa, Alfredsson has been through it all – the lows of the expansion years and the high of the 2007 Stanley Cup run – and thus can offer plenty to advice to players on the current roster. His tenure with the team also gives him clout as a spokesman of sorts for the organization when it comes time to court free agents.
After he left for the Detroit Red Wings as a free agent in 2013, few could have expected a scenario such as this to play out with Alfredsson. But for a man who spent so much of his life in Ottawa and gave so much of his heart to the organization, it seems only fitting that he return to the place where it all started to begin his off-ice career.
Love Reading About Hockey?

Subscribe to keep up-to-date with the latest and most interesting hockey news!
| | |
| --- | --- |
| | We hate spam just as much as you |