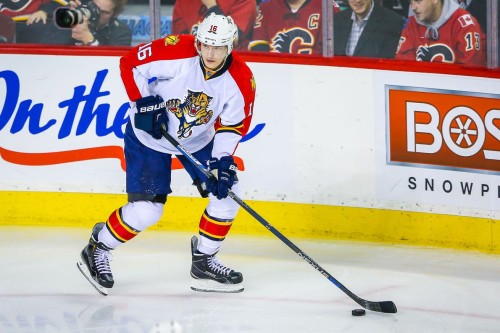 The Florida Panthers have locked down a major contributor in their forward corps for years to come.
Breaking Monday evening, news is spreading that the Cats have signed budding young centerman Aleksander Barkov to a contract extension. Purported to be valued at $36.4 million over the course of six seasons, the deal breaks down as follows (according to David Pagnotta):
The contract carries an Average Annual Value of $5.9 million.
Year one pays Barkov $4.5 million, year two gives him $5.25 million, and each remaining year doles out $6.25 million, $6.9 million, $4.75 million and $7.75 million, in that order.
Years five and six carry clauses, namely a No-Movement Clause in year five and a 12-team limited No-Trade Clause in year six.
Scoring at the highest clip since his 2012-13 draft year performance with the SM-Liiga's Tappara Tampere, the 20-year old Finn has notched 30 points off of 12 goals through 38 games, despite missing 10 games with a hand injury early on in the season. Centering a top line that features Jonathan Huberdeau and Jaromir Jagr flanking him on te wings, Barkov leads all Panthers' forwards in both average ice time and plus-minus rating. He also places in the club's top-four in terms of goals, assists and production.
Additionally, Barkov is managing to post career numbers in spite of a change in his deployment tendencies. Coach Gerard Gallant is sending Barkov out to start his shifts in the offensive zone at the lowest rate of his career (49.2%) while bumping up his defensive zone usage (from 43.1% of zone starts to 50.8%), indicating his continued development into a reliable two-way presence. Furthermore, the 6'3″, 213 pound pivot is blocking .68 shots per game — the highest rate of his still fledgling career — and is getting shots through traffic at a 69.2% success rate, the highest figure of his career and up 7.4% from last season's number.
TL;DR: This dude's basically a badass. And hockey-reference.com is the greatest thing since sliced bread.