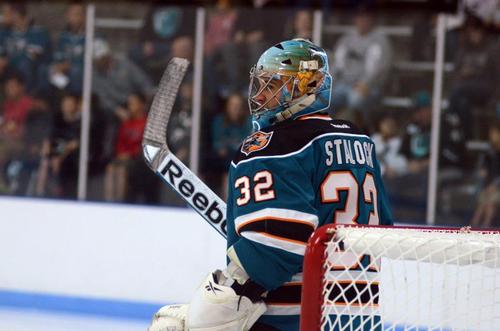 Earlier in the season head coach Roy Sommer tested the waters in Worcester by giving alternating starts to Harri Sateri and Alex Stalock. His plan was to ignite competition between the two goaltenders, evaluate their performances and determine who would be his go to net minder for the 2012-2013 season. With 15 games already in the books for the Sharks there seems to be a clear winner for the number one spot in net, and that man is Alex Stalock.
Now in his 4th year with Worcester, Stalock has gotten the nod from coach Sommer in five of the Sharks' last six games, and he has not let his team down. Since his disappointing performance in Portland earlier in the season (7 GA .758 SV%) Stalock has been on fire. In his last eight starts he has a 7-1 record, a 1.63 GAA and a .942 save percentage. His impressive play has been the main reason the Sharks are in second place in the Atlantic Division, just one point behind Manchester.
Stalock has great positioning in net and rarely is caught taking a poor angle on a shot. His rebound control has improved since last season and the results can be clearly seen in his stats. Most impressive though is his ability to handle the puck. His skills allow him to become a third defender for the Sharks, which helps maximize puck possession, creates more opportunities off the rush and relieves pressure in the defensive zone. He even has one assist this year in just 11 games, which is pretty impressive for a goaltender.
The Sharks will start their weekend off at Manchester in a game that will determine first place in the Atlantic Division. Expect to see Stalock in net for this tough matchup against the Monarchs. The last time the Sharks faced Manchester Stalock had a 27 save shutout and helped Worcester get the 1-0 win in the shootout. If he can have similar success this time around the Sharks will be one step closer to their first Atlantic Division title since 2009.