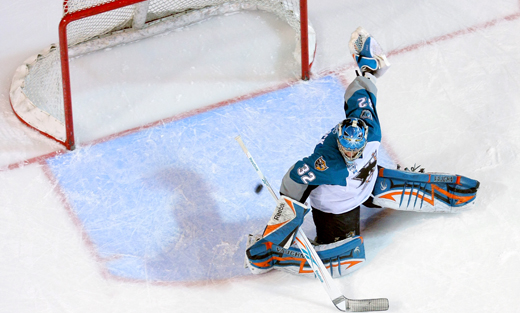 The start of Worcester's season was just about bad as it gets, as the Sharks went 1-4-1 in their first six games. At first it seemed like it was going to be a long year for San Jose's AHL affiliate, but over the last four games things have really turned around in Worcester. With wins against Bridgeport, Providence and Manchester as well as an overtime loss to St.John's the Sharks have gained seven points in just four games and now rest in second place in the Atlantic Division.
Worcester's recent success can be credited to a strong overall team effort, but there are a couple of individual players that have really shined over the past two weeks. The most impressive performances have come from 25-year-old goaltender Alex Stalock. In his last three starts Stalock is 3-0 with a shutout and a .958 save percentage. If he can keep playing this well with some consistency throughout the season the Sharks may capture their first Atlantic Division title since 2009.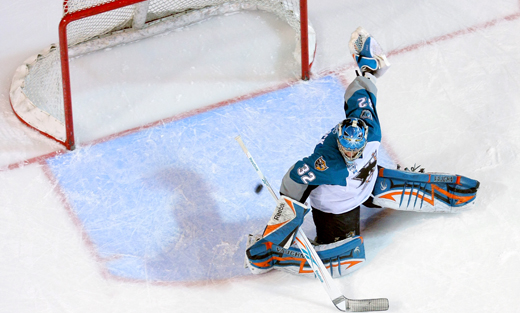 Center Bracken Kearns scored the game-winning goal against Providence and now ranks second among the team in points. Defenseman Danny Giroux had two assists and the game winning goal against Bridgeport and another assist against Providence. Left wing Tyler Kennedy continues to produce offensively and leads the team in points with nine. Defenseman Taylor Doherty had a two-point night against St.John's and has played solid defensively over the last four games.
Most importantly the Sharks have really started to play well as a team. They are playing great defense on their side of the ice and applying devastating pressure on the forecheck and neutral zone. On offense they are moving the puck well and making smart decisions which has allowed for more quality shots on net and increased time of possession. Alex Stalock's impressive play in net hasn't hurt either.
The Sharks will finish their four game home stand against Portland and Connecticut this weekend before heading out to Providence for the second time this season. If they can carry their momentum from the last few games we may see Worcester at the top of the Atlantic Division by the beginning of next week.