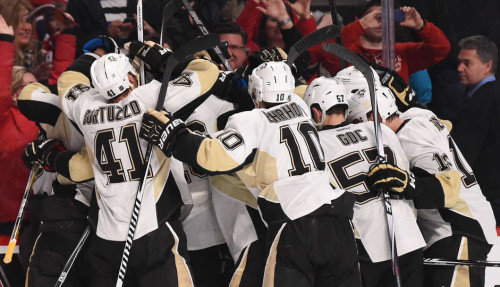 Fun Facts:
Evgeni Malkin has points in 31 of 41 games this season.
In the last ten meetings at the Bell Centre between the Montreal Canadiens and the Pittsburgh Penguins, the final score has been the difference of one goal seven times.
Per Pens Radio Network, the Penguins have now killed 33 straight penalties at the Bell Centre since Scott Gomez beat Fleury on February 6th, 2010.
Video Recap: 
The Good:
Sidney Crosby was due after the first sixty-minutes of tonight's game:
Crosby has had a noticeable hop in his step since the arrival of David Perron. That's by design. It seems that the general consensus was that Crosby would spend night after night setting up Perron. As much as this trade will help revive Perron's career, it is also going to involve Perron creating enough room for Crosby to do what he does best. Perron does have a great shot and soft hands, but don't underestimate his ability to be a pest. Combine those two with Chris Kunitz parking in front of the net and you're looking at a few more goals.
Evgeni Malkin decided to show off his slapshot once again. No surprise that he was able to just pick his spot and put it there when the team needed it most. Malkin hasn't let off the gas yet this season. He wont. General Manager Jim Rutherford wanted Malkin to have another MVP season. At this point, Malkin wants it twice as much.
Fitting as both Crosby and Malkin were selected this evening to play in the 2015 NHL All-Star game.
Marc-Andre Fleury had another stellar night despite being "snubbed" of an All-Star selection. Shutting the door after allowing a late goal in the first period should help him forget about that quickly. Fleury stopped 27 of 28 and finished with a .967 SV% to give him his third best save percentage of the year (not including shootouts).
Special teams played a big part in this win. The Penguins killed off four penalties against the Canadiens. Marcel Goc did a great job shorthanded and earned his only shot on goal while the Canadiens had the man advantage. The power-play caught a break to win the game after a substantial lack of pressure on their previous three opportunities. The four man unit found a simple formation and made simple passes to get a hard shot on goal. No surprise that goes in from Crosby's stick.
The Penguins played hard the entire game and didn't run out of gas for overtime. Not much more you can ask for.
The Bad:
It's hard to see Derrick Pouliot scratched in favor of Rob Scuderi and/or Robert Bortuzzo. There's nothing more to it. Scuderi and Bortuzzo aren't adding enough to the lineup to justify keeping them in.
Despite the game-winner coming on the power-play, their previous chances were horrid. They lacked pressure in the offensive zone and let several pucks escape forcing them to regroup over and over again. There were only a few good looks and most weren't recovered. If the Penguins can apply their 4-on-3 power-play in overtime to their 5-on-4, they'll be set.
For Next Time:
Maintain pressure on the power-play and make the simple plays. It's practically a broken record at this point, but Crosby's game winner shows it's the truth.
The Penguins return to CONSOL Energy Center on Tuesday, January 13th to face the Minnesota Wild.
Love Reading About Hockey?

Subscribe to keep up-to-date with the latest and most interesting hockey news!
| | |
| --- | --- |
| | We hate spam just as much as you |