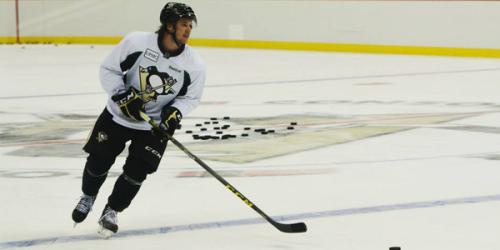 Derrick Pouliot totaled 24 points ( 7G, 17A) with the Wilkes-Barre/Scranton Penguins last season. After an injury filled December in Pittsburgh, he earned a call-up to the big leagues where he earned 7 points (2G, 5A) with the Pittsburgh Penguins. He was quick to impress with his first NHL goal on his first NHL shot in his first NHL game:
Pouliot also impressed off of the regular score sheet. His possession numbers with the club were strong from the start. But as the injuries piled up, so did his time on ice. Being called up to play is one thing. Being forced into a starting role is another.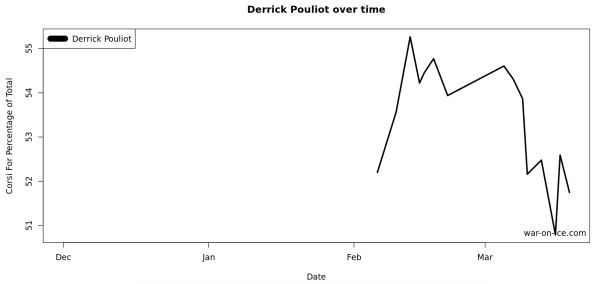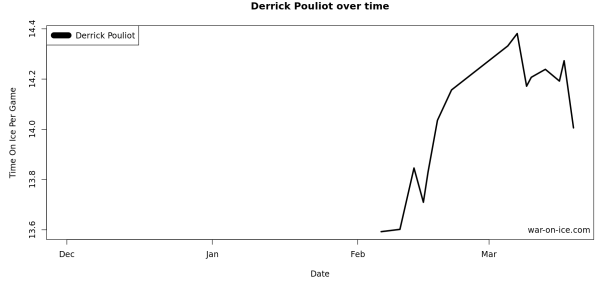 The correlation is obvious. Not to mention expected for a young player quickly thrown into such a big role.
Regardless, Pouliot proved he has the potential to play with the big boys for a full 82 game season. What has he done to increase that potential? Train with the Gary Roberts of course.
Anyone in Pittsburgh will probably make a snarky, flax seed related comment when Roberts' name is even mentioned. But it won't take long for one to also recall his training regimen that turned the likes of Steven Stamkos and James Neal from merely talented humans into elite machines. What does Pouliot have to show for it?
"I've lost 8 pounds, added a lot of muscle," Pouliot told Dejan Kovacevic of DKonPittsburghSports.com. "I've been working out with Gary Roberts. There's no messing around with that guy. It's all business."
Business is right. Roberts even has Pouliot making smoothies for the other prospects.
The added strength will no doubt help him where he struggled most last season. "…I've got to be a better defender," he told Kovacevic. "I've got to win more battles in the corners, take better care of the front of the net and do everything that a solid defenseman does."
I know what it sounds like. Pump the brakes before you call him the next Kris Letang.
A big part of Pouliot's success in his first full NHL season will be his defensive partner (according to general manager Jim Rutherford and head coach Mike Johnston), Ian Cole.
If you take a look at the 2013-2014 season, you'll see another young budding defenseman in then 19-year-old Olli Maatta. Part of his success? Playing alongside then 27-year-old Matt Niskanen: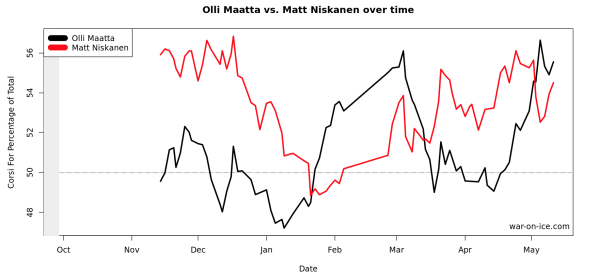 Olli Maatta may have looked like an amazing rookie defenseman, but the eye test doesn't tell all. It's easy to see in terms of possession that Matt Niskanen did a lot of the heavy lifting, but it would be unfair to say that they didn't benefit from each other looking at the relationship between their statistics over time.
So will 21-year-old Derrick Pouliot get the same help from 26-year-old Ian Cole?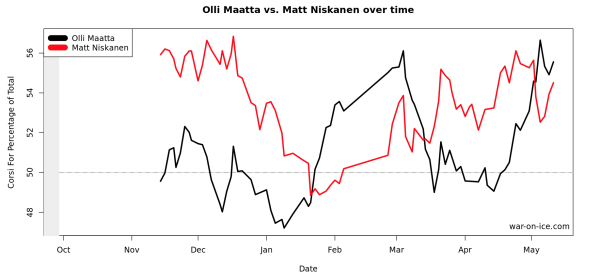 While Cole and Pouliot only played together 0.58% of the time last season, the pair certainly looks to possibly have the same effect on each other as Niskanen and Maatta.
The play of Niskanen and Maatta lead one to a giant payday and the other, a solidified spot with the Pittsburgh Penguins. Hopefully the play of Cole and Pouliot can do the same. Except this time with both of them solidifying their spots in black and gold for a few more years.
Love Reading About Hockey?

Subscribe to keep up-to-date with the latest and most interesting hockey news!
| | |
| --- | --- |
| | We hate spam just as much as you |