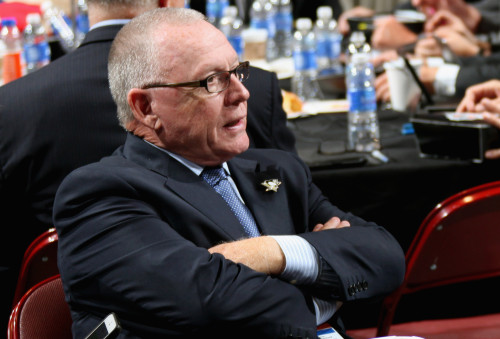 They picked at 46. They picked at 137. They picked at 167. They picked at 197. They walked away with two new centers and two new wingers – none of whom are the highly coveted, top-six winger the Pittsburgh Penguins are after.
According to Rob Rossi of the Pittsburgh Tribune-Review on TSN Radio over the weekend, the Penguins were just shy of obtaining Phil Kessel from the Toronto Maple Leafs after offering their 2016 1st-round pick, Derrick Pouliot, Chris Kunitz and Rob Scuderi.
Regarding T.J. Oshie, Jeremy Rutherford tweeted, "Talks between the St. Louis Blues and Penguins are dead."
The Penguins offered everything they could for Kessel. The Blues don't want to talk anymore. Derrick Pouliot is on the block. Jim Rutherford can't do his job. The Penguins are doomed, right? Nah.
The amount of wingers available would normally make this a seller's market. Since everyone knows the Penguins need a winger, this would normally put them on the "bad" side of each trade. However, this is not a normal situation.
No one else seems to be connected to the Penguins' top two targets. The Maple Leafs are apparently still talking to the Penguins in regards to retaining salary and those pesky signing bonuses involved with Kessel's contract. The Blues are still shopping Oshie and Patrick Berglund. Just because a day goes by and someone hangs up the phone doesn't mean talks are dead.
Don't forget Jeff Skinner, Patrick Sharp, Jiri Hudler, Alexander Semin – all have been connected to the Penguins at some point as well.
With all of these names, can it really be a seller's market when there is only one buyer? Is it really a seller's market when teams have the contracts of Patrick Sharp, Phill Kessel and Alexander Semin to unload? Don't let Derrick Pouliot at a 2016 1st-rounder fool you. The asking price nor does one offer set anything in stone. The market is set by how many buyers and sellers are participating. In regards to top-six wingers, it seems as if the Penguins are the only ones on the buying side this year. Elliotte Friedman agrees.
Hope you didn't forget free agency is on the horizon as well. According to Josh Yohe of DKonPittsburghSports.com, Rutherford was chatting with Michael Frolik's agent at the draft, Allan Walsh:
Rutherford spoke at length with Allan Walsh, Frolik's agent, Saturday at the NHL Draft. The two have a good relationship and late last year worked together on Marc-Andre Fleury's extension.

The Penguins like that Frolik is a dependable two-way player. They also like that he likely won't break the bank. He won't come cheap — presumably a modest raise from last season's $3.3 million cap hit — but compared to the rest of the free agency crop, the Penguins believe dealing with him will be reasonable.
Here are Frolik's career numbers:


(Ryan Wilson already looked at his advanced stats for those of you that are into that sort of thing.)
Don't let his low goal totals with the Chicago Blackhawks fool you. Frolik was used in a very different role during his time with the Blackhawks. Competing for ice time with Patrick Kane, Patrick Sharp, Marian Hossa, Brian Bickell, and Brandon Saad definitely pushed him down the lineup. Frolik spent his final season with Chicago on a checking line with David Bolland and Marcus Kruger where he still managed to earn 10 points (3G, 7A) on their way to a Stanley Cup.
There was also the time he almost split Corey Schneider in half on a penalty shot in the 2011 Stanley Cup Playoffs:
His immediate improvement with the Winnipeg Jets is nothing but reassuring. Put him next to Sidney Crosby or Evgeni Malkin and those numbers have a chance to soar. Not to mention he'd be a great two-way compliment to either center at nearly half the price of Phil Kessel – not including assets.
Throw out buzzwords like "desperate" and "incompetent." Replace them with "patient." Jim Rutherford is going to take his time moving forward. His patience should not be mistaken for weakness. Whoever the Penguins end up acquiring on the wing will be a player they've been awaiting for quite some time. With such a delicate puzzle in front of him, there is no better approach to acquire one of the final pieces.