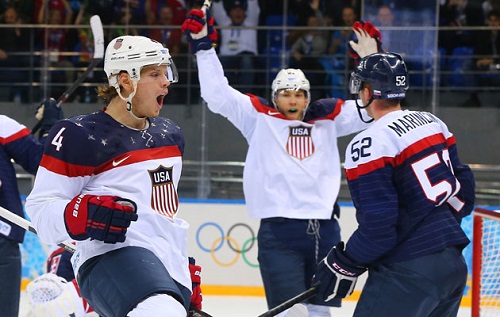 A beatdown. A shalacking. The opening of an industrial sized can of WHOOP-ASS™ brand Whoop-Ass. Call it what you may, Team USA introduced their Slovakian counterparts to a new world of Olympic thrashing.
Taking the dark horse out to pasture, the Americans-on the strength of a six goal second period-went medieval on a competitive Slovak squad, trouncing the Europeans by a score of seven to one at the Shayba Arena. Leading the charge for the Yanks, Paul Stastny potted two goals, aiding in the demolition of his father Peter's homeland. Starting in net, Jonathan Quick would turn aside 22 shots en route to victory, good for a pristine .957 save percentage.
Dominating the flow of play from the drop of the puck, the Americans were quick to turn the tides against team Slovakia; despite peppering the Slovakian cage with shot after shot, Jaroslav Halak held his line, denying shot after American shot. It took the better part of the frame before the United States would be rewarded for its efforts, as Washington Capitals defenseman John Carlson would join the rush and take a Phil Kessel feed to beat the beleaguered Halak. With the shot count favoring the USA eleven to four, Slovakia went into the locker room counting its lucky stars.
Fresh out of the room, Slovakia immediately boosted its compete level; Detroit Red Wings' forward Tomas Tatar latched onto a Marian Hossa feed to tally past Quick, tying the score at one. And that's when things went horribly, horribly wrong. Despite throwing 13 shots on net during the period, three less than the Americans, team USA would up its performance, solving Jaroslav Halak time and time again. Pulled after Stastny's second marker in favor of understudy Peter Budaj, the St. Louis Blues man would leave the match with a heavy .800 save percentage. The change in the crease did little to benefit the Slovakian cause; Budaj would surrender two more before the end of a nightmarish second period, entombing Zdeno Chara and friends under six feet of goals (YA SEE WHAT I DID THERE) and effectively ending the contest altogether.
Finding the scoresheet for the Americans:
Ryan Kesler (1 G, 1 A)
James van Riemsdyk (2A)
Kevin Shattenkirk (1A)
Dustin Brown (1G)
the aforementioned Paul Stastny (2G)
the also aforementioned John Carlson (1G, 1A)
David Backes (1G)
Max Pacioretty (1A)
T.J. Oshie (2A)
the previously mentioned before both Carlson and Stastny, Phil Kessel (1G, 2A)
Patrick Kane (2A)
There will be no recap of the third period, taking into consideration the absence of any scoring from both teams along with team Slovakia's collective leaving the building after 20:24 of total game time.
"Sounds kind of Kafkaesque"-you
"Yeah. Totally Kafkaesque"-me