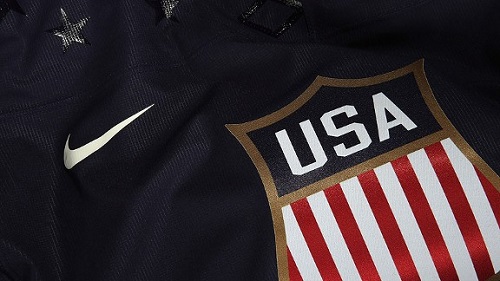 Ahhh, The Olympic Games. A celebration of the world through the lens of sport. Harbinger of temporary peace, it unifies and dignifies, bringing together those of all cultures and creeds in pursuit of a common goal-Olympic gold and a place in history.
And then there's us. Sitting around TVs at homes, dorms and bars, we too gather with a singular aim- to get downright patriotic. To scream like madmen at the miniature humanoids on our screens, telepathically propelling Americans to gold while wishing the unholiest of unholies on whatever Canadian, Russian, or insertcountryhere-an bastard that DARE USES THEIR BIG SHINY ROCK TO KNOCK OUR BIG SHINY ROCK OUT OF THAT TARGET THING ON THE ICE.
But there's something about the Ice Hockey tournament that drives us all particularly mad. As much as it's ignored, ice runs through this nation's athletic veins. The 1980 triumph over the Soviet Union at Lake Placid is generally considered to be the singular defining moment in our sporting history; some have even ventured to place it on the mantle over the hearth that is history. Perhaps it's the nature of the sport- physical yet intricate, as much of an emphasis placed on power and speed as there is on finesse and technique. The action on the ice relates to our raw emotion. And with the Red White and Blue seeking its first gold medal since that faithful Olympiad-fresh off of a crushing gold medal match loss at the hands of the Great White North-this tournament ought to be followed with ferocity from the very first drop of the puck.
Drawing a place in Group A, captain Zach Parise will lead his troops into Arctic warfare against the likes of Slovenia, Slovakia and familiar foe Russia. All signs point towards a berth in qualification-perhaps even a bye-but nothing is set in stone. Games aren't won on paper-just ask the Russians.
Presenting the most formidable challenge to America's success, Russia's entry to this edition of the tournament is stacked with top flight talent. Highlighted by Washington Capitals' sniper Alex Ovechkin, Pittsburgh Penguins' pivot Evgeni Malkin and Detroit Wed Wings' dangler Pavel Datsyuk, the Big Red Machine possesses a wealth of offensive depth- when you can roll Ilya Kovalchuk and Alexander Radulov on a third line, offense is the least of your concerns. Noted primarily for their attacking prowess, Russia possesses a relatively steady-if not underwhelming-defensive core; per SB Nation's observations, coach Zinetula Bilyaletdinov appears to be rolling a top pairing of 27 year-old Edmonton Oilers' rookie Anton Belov and Columbus Blue Jackets' rearguard Nikita Nikitin. With budding two-way defenseman Slava Voynov lining up alongside veteran Andrei Markov in a projected third-pair, the Russian blue line brings modest depth to the table. Combining equal parts NHL and KHL in an effort to protect the Russian crease-to be manned either by Sergei Bobrovsky or Semyon Varlamovthe Reds will look to outgun their opposition in Sochi.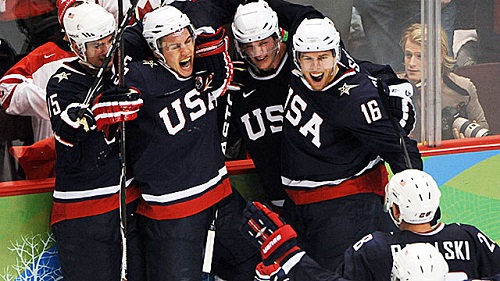 Opening the tournament for the United States, a date with perennial dark-horse candidates Slovakia is slated to take place February 13th. Though weakened by the losses of right wing Marian Gaborik and powerplay quarterback Lubomir Visnovsky, the Slovaks own a deep pool of NHL talent, running through every position. Young guns Tomas Jurco and Richard Panik serve as the yin to the yang of wily veterans, with the brothers Hossa (Marian and Marcel) joining Tomas Kopecky and Michal Handzus up top as the spearhead to the Slovak offense. Zdeno Chara undoubtedly anchors the Slovak defensive unit-the hulking rearguard joins the company of fellow NHLers Andrej Meszaros and Andrej Sekera on the blue-line, with highly touted Oilers prospect Martin Marincin mixed in for good measure. Jaroslav Halak and Peter Budaj ought to provide a solid netminding presence, though clearly separated into a 1-2 type tandem by skill level.
Minnows of the pool, Olympic tyro Slovenia-led by lone NHL star Anze Kopitar and his father, coach Matjaz-will seek to rope-a-dope its much stronger opponents, hoping to steal a point or two. As previously mentioned, Kopitar leads a squad composed largely of relative unknowns with a bunch of those little v things over random letters in their names (NEWS FLASH- it's called a caron); apart from former NHLer Jan Mursak, I've never heard of anybody on this squad, other than netminder Luka Gracnar. And I don't even remember where I remember him from. But remember,
it could always be worse
. Personally, I'd like to see this squad give its rivals a run for their figurative money.
But anyways, I digress. We are stacked with talent, even in light of several earthquaking snubs (I see you, Bobby Ryan). Any team with Phil Kessel and Patrick Kane skating in the same forward group should be able to comfortably assert the notion. Any team with Ryan Miller and Jonathan Quick vying for time in net should be able to scientifically prove it, making it a harder fact than death and taxes. Coach Dan Bylsma's men ought to confidently march into the Shayba Arena and the Bolshoy Ice Dome, heads held high, oozing the conviction that they are the superior team, both on paper and on the ice. If lucky enough to find the perfect hybrid of talent and work ethic on the larger European ice surface, the Yanks can take heavyweights Canada and Sweden championship distance. We can emerge victorious at the end of those twelve rounds, our three periods.
But like I said before, games aren't won on paper. Nothing comes easy. Nothing can be taken for granted. Nothing comes without total effort. You play to win the game. Ain't that right, Herm?