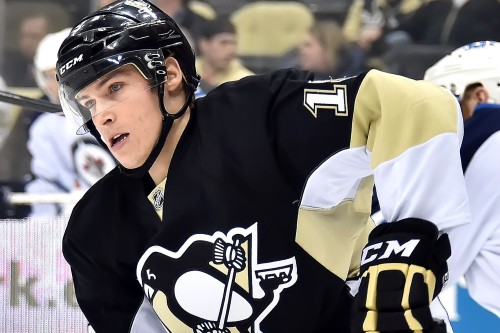 Beau Bennett made a New Year's resolution for 2015: play in ten consecutive games. Bennett succeeded and played in 12 consecutive games from January 1st to January 28th. He wouldn't hit the ice for a game again until February 11th, and not because of injury. Head Coach Mike Johnston wanted Bennett to play harder and get to the dirty areas – something the Penguins have been doing a lot this season. It's easy to see how someone with a long history of injury would be timid going hard to the net. Bennett heard the coaching staff loud and clear, stepped up his physical game, and earned his spot back in the lineup.
The problem is Bennett is playing less and still producing less.
Before Bennett was a healthy scratch at the beginning of February, he averaged about 14:37 of ice time per game. After? He's averaging just 11:28 of ice time per game. In 36 total games this season, he's earned ten points (3G, 7A) with only two of them, both assists, coming after his time as a healthy scratch.
With the Penguins acquiring more depth players like Maxim Lapierre and Daniel Winnik around the deadline, Bennett has found himself buried on the fourth line when the team his healthy. Too bad that only lasted for the duration of warm-ups before their Saturday afternoon game against the Bruins. With Evgeni Malkin and Patric Hornqvist out of the lineup, lines will obviously be shuffled. Why not give Beau Bennett a shot alongside Sidney Crosby?
The purpose of the healthy scratch was to make Bennett more physical. The coaching staff wanted him to see where the dirty areas were and how to get to them. His practices involved heavy corner battles and board play. Unfortunately the fourth line demotion has Bennett reworking his game around being physical and nothing else. A 2010 1st-round pick is running around dishing out needless hits with Maxim Lapierre and Craig Adams. That's the last thing this team needs right now.
Factor in what Ryan Wilson said over at HockeyBuzz :
Blake Comeau didn't magically change into a better player this year. He is still the same guy he was on Columbus. What changed was him receiving big minutes as Evgeni Malkin's winger rather than being in a fourth line role with Columbus. The quality of teammates you play with matters and needs to be taken into consideration with player evaluation. Ignoring important variables leads to incorrect evaluations.
So when evaluating Beau Bennett, how much are we ignoring the fact that he's on a fourth line centered by Maxim Lapierre?
Currently, this is the level of play we can expect out of Lapierre: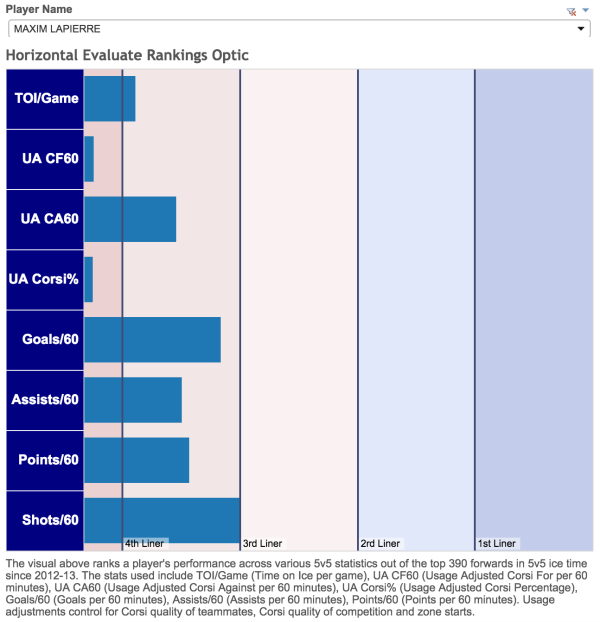 His recent possession numbers should come as no surprise: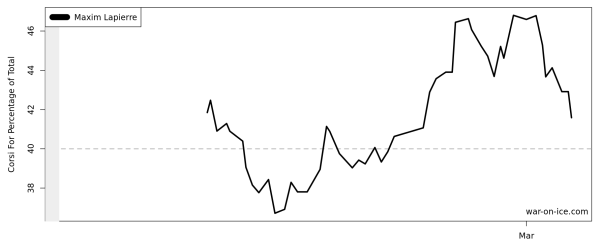 And we have Lapierre centering a winger with this kind of potential: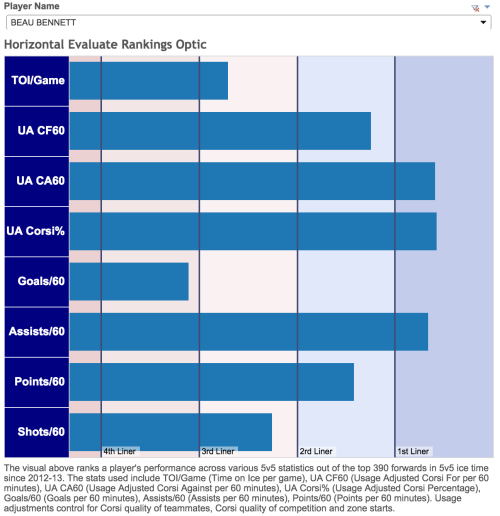 It should come as no surprise that since Bennett was scratched and forced to change his game by the coaching staff, his possession numbers have suffered. It probably isn't very hard to point out where Bennett's role on the team changed: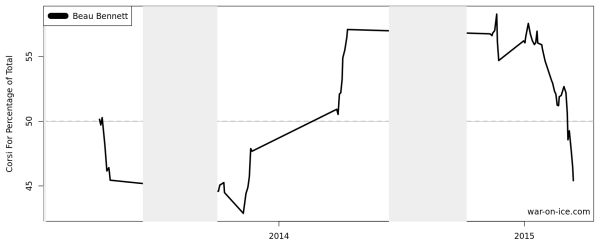 So why not give Bennett some time with Sidney Crosby? Even while playing next to Brandon Sutter, Bennett only produced a handful of points.
If the coaching staff stands behind their reasoning for scratching Bennett as toughening his game and teaching him to get to the dirty areas, then why aren't they letting him do that? Currently, the first line is without net front nuisance Patric Hornqvist. The easy route would be to slide Chris Kunitz up a line, but why? His possession numbers are fine with Evgeni Malkin and he'll find the back of the net eventually. Not to mention he's dealing with issues of his own.
Beau Bennett has shown the coaching staff that he can play physical. He can get to the dirty areas. He's been stuck on the fourth line and hasn't had a choice. Give him the chance to combine his new physical abilities with his natural scoring ability. With Malkin and Hornqvist out of the lineup, you need other guys to step up. They can't do that if they aren't even given the opportunity.
For a team that seems to be grooming defenseman well enough to send them off at the trade deadline, the Penguins have a chance to finally groom a forward in Beau Bennett into to the next Patric Hornqvist. They've already made him more physical, but when will they give him a real opportunity to score?