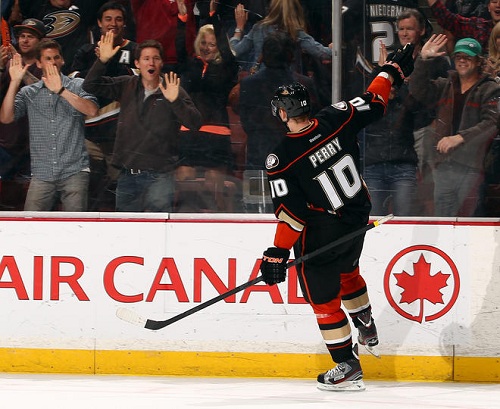 If there is anything a Ducks fan hates more than Eastern Conference bias, it is a Kings fan. Though we are still in the midst of the regular 2013 season, the atmosphere of the Honda Center last night had much more of a playoff feel to it. "It was just a fast-paced game," said Bruce Boudreau. "People wouldn't call it playoff hockey because there were too many goals, but I'd tell you, there were two teams that were giving it everything they had and they didn't leave anything on the ice." The intensity that both teams played with sent over 17,000 fans in attendance into an uproar.
The excitement of the game was mixed in with a slight nervousness on Anaheim's part, as their lead scorer, Ryan Getzlaf, sat out the night's game due to a leg injury. However, Kyle Palmieri started out the night strong with a goal assisted by Matt Belesky 2:54 into the first period. The rest of the period went without a goal despite their being a plethora of scoring chances for both sides.
Drew Doughty with the Los Angeles Kings was credited with the game's second goal with a long range slap shot that was effectively screened by Jeff Carter six minutes into the period on a power play. The score was then tied 1-1 until Corey Perry earned his first goal of the night, assisted by Andrew Cogliano, with 1:48 left in the second period. Perry now leads the team in goals along with Ryan Getzlaf, both of them having earned thirteen goals so far this season. Anaheim's celebration of a lead was cut short as the Kings countered the goal with 29.4 seconds left in the period; a goal credited to Jeff Carter who was assisted by Mike Richards.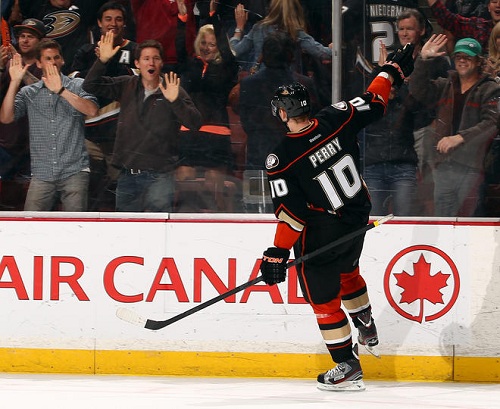 Anaheim took the lead again in the power play–Matt Belesky scored from a tip-off by Sheldon Souray four minutes into the third. However, the team seemed to get too comfortable with their goal over Los Angeles, causing them to give up way too many scoring opportunities. Viktor Fasth was successful in blocking a total of thirty-five shots on net in both regulation and overtime, but failed to contain a shot by Dustin Brown, assisted by Anze Kopitar, with 3:45 left. The remained of the period went without a goal and so the game moved into overtime and eventually a shootout.
Corey Perry scored the game-winning goal in the third round of the shootout, his second goal of the night. Anaheim claimed victory of Los Angeles with a score of 4-3. Andrew Cogliano is now on a three game point streak while the team as a whole has a nine point lead over the Kings in the Pacific Division. They are now second in their division and third in the league with fifty-seven points. Tonight they play the Edmonton Oilers at the Honda Center.