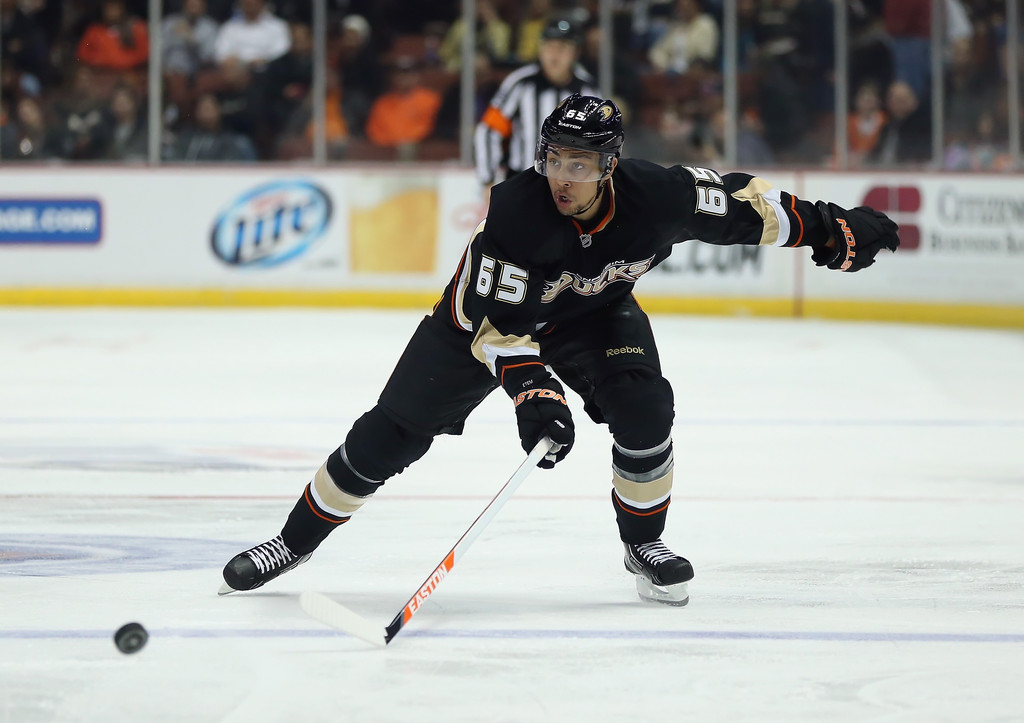 Well, the Ducks' season is over. The most productive regular season for Anaheim since 2007 fizzled out quickly in the 2013 Stanley Cup Quarterfinals against the Detroit Red Wings. It was a defeat that was incredibly hard to swallow for many reasons, but what's done is done and Ducks fans everywhere must wait patiently until the next season. As hard as it is to put aside all the mistakes that led to the conclusion of Anaheim's run for the cup, one must be able to look back and realize what a leap forward it was for the team. Out of all the promising rookies that emerged in 2013, one seems to stand out above the rest—Emerson Etem.
A young boy from Long Beach, California, it was not expected of Etem to pursue ice hockey as a hobby, let alone a career. He started off in a roller hockey youth league before moving on to ice hockey. He watched his older brother play for the Long Beach Jr. Ice Dogs in the 2003 National Tier II Championship tournament against the soon-to-be hockey great, Sidney Crosby with the Shattuck-Saint Mary's Sabers. The game inspired the 14-year-old to move to Minnesota where he would also play for the Sabers. Later he would go on to play with the National Team Development Program and the WHL's Medicine Hat Tigers before he was drafted 29th overall to the Anaheim Ducks in 2010.
Though Etem's debut season in the NHL was shortened significantly—he adorned the number 65 for only 38 games—his impact on the team was impossible to overlook. He scored his first NHL goal on March 18 against the San Jose Sharks, but he was not a goal-scoring machine; he had a total of six goals in the regular and post season. Anaheim's fan base initially did not expect much from Emerson Etem with his roller hockey background and awkward way of skating, but he proved them all wrong with his many contributions both offensively and defensively.
A trio formed early on in the season—Etem, Selanne, and Cogliano—that was practically impossible to keep at bay. He played a surprisingly (pleasantly) physical game and was quick and confident when handling the puck which complimented the two veterans beside him. The beauty of number 65 is his ability to make the most of every on-ice situation thrown his way; he is a team player, not a selfish one, which allowed those beside him to work off of his momentum.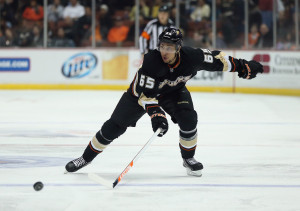 Emerson Etem helped push the Anaheim Ducks to play on a much higher level than they have in recent seasons and although he will not have a chance to fight for the cup this year, great things have yet to come from the young player. Using this season as reference, Etem seems to improve under pressure, as seen in the post season where he emerged as Anaheim's best forward, tucking three goals and seven assists under his belt in just six games played. Though it is never clear whether or not a star with burn out too soon, I don't see Etem being snuffed out anytime soon. If his influence on the team is half of what it was this season, Anaheim will grow and improve even more in the 2013-2014 NHL season.