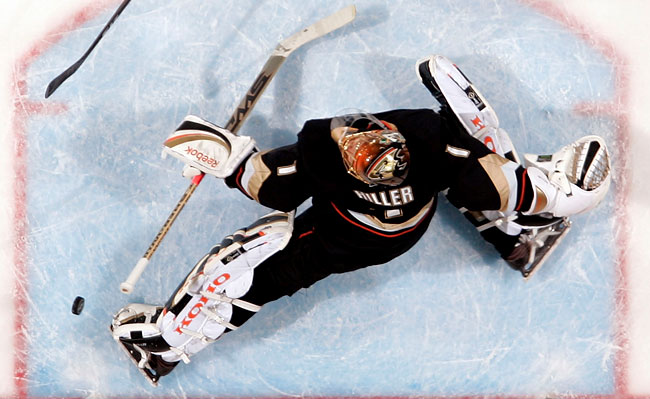 Now that the 2013 season is over for the Anaheim Ducks, there is much talk of what changes should be made in order to progress next year. Such changes are essential to the team, according to Bruce Boudreau who told his players, "Don't be satisfied [about last season]. A lot of people will say a lot of good things, but if the bar was raised as high as it's going to be, then we're never going to achieve what we want to achieve. We did a lot of good things, but at the end of the day we fell short."
The goaltending this year was much better than expected. No fan could say they were not worried to hear that Anaheim had picked up a 30-year-old rookie from Europe, but Viktor Fasth surprised everyone. He now has one of the best rookie starts for a goalie in the NHL since Ray Emery in the 2003-2004 season. Overall, he ranked eighth in the West and 11th in the entire league–only slightly better than Jonas Hiller who ranked 10th in the conference and 14th overall in the regular season.
Though there were many good things to be seen from both goalies, it became apparent later on in the season that their collective talent was inconsistent. Hiller has been with the team for seven seasons and anyone paying attention to his habits will tell you that number one can play an amazing game until the moment a goal slips past him; his head tilts back in disappointment and from that point forward, he seems to lose all hope that he can block any shot coming his way. He is his worst critic at times and it takes a major toll on the outlook of the game. Whereas Fasth remains a bit of a mystery; one game he will completely shutout the opposing team with what seems like relative ease, but the next there doesn't seem to be a shot he can block. It all proves to be very frustrating for fans and one can't help but look to Pete Peeters, the Ducks goaltending consultant of four years.
Now is the time for change in Anaheim and it has already started for the goaltending staff. On June 5, Peeters announced his retirement from the NHL after thirty years of playing, coaching, and consulting. Though the specific reasons as to why he made this decision are still unclear, he had this to say about his time in Anaheim: "I could write a small book thanking everyone who has made my career such a great experience. The Ducks welcomed me into their family and made me feel a part of it from day one. Thank you to the Samuelis, Michael Schulman and Bob Murray for giving me the opportunity to work with this great organization. I will certainly miss the people, including the coaches, players and the entire club staff. The list could go on and on."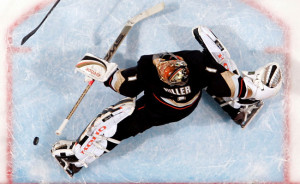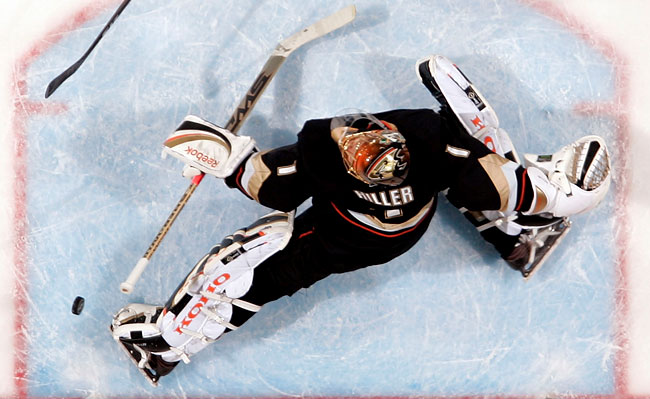 It took a total of five days for the organization to announce who would be replacing Peeters, which left Ducks fans to wonder just what would become of their beloved goaltenders; fans have been sorely disappointed before, time and time again, and so it was only natural that a slight panic would arise after such an announcement. Who would replace him? Would this person be qualified to handle such a position? Would the team crumble just as quickly as it had rebuilt itself this season? On June 10, it was announced that Dwayne Roloson would become the new goaltending consultant for the 2013-2014 season.
Roloson joined the organization in February as a goaltending consultant for the Anaheim's AHL affiliate in Norfolk. He spent a total of fourteen years in the NHL as a goalie, ranking 58th in wins and tying for 52nd in shutouts of all time in the league. "We are happy to have Dwayne in the organization and look forward to him joining the NHL club this season," said Ducks Executive Vice President and General Manager Bob Murray. "He's a knowledgeable, hard-working coach, just as he was as a player."
Though at first, Peeters' retirement sent nervousness throughout the world of Ducks hockey, it seems our net minders will be in capable hands for the upcoming season–something that only time will tell for sure. Positive changes such as these are needed and one can only hope there are more to come.