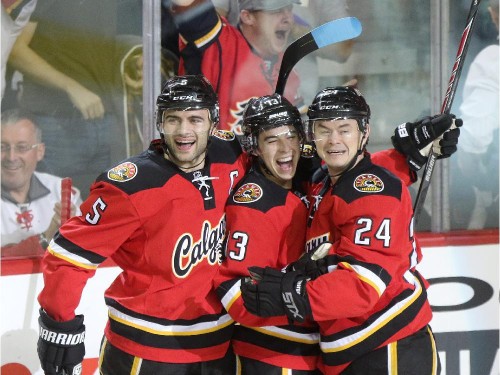 By February it's usually pretty clear who the contenders in the playoff hunt are and who the pretenders are. The Washington Capitals: Contenders. Colorado Avalanche: Contenders (though pretty close to pretenders). Calgary Flames: Contenders?
No, that's not a typo. It hasn't been the conventional route – okay, late game comebacks and stealing wins is pretty conventional for the Avs – but they've gotten it done. More than just getting by the Flames have, at times, been a very tough team to play against, all leading to 61 points in 52 games and the second seed in the Pacific Division as of Feb. 5.
It's not often a team in a playoff spot that isn't named the Toronto Maple Leafs can face so many doubts, but the Flames are far from a certainty. As mentioned they have been almost unbeatable at times, but at other times it seemed like they would never win again. Such is the case when you play the Calgary style of hockey.
So, with that in mind, the bigger question is can the Calgary Flames be taken seriously? The answer, not unlike certain stretches of Calgary's season, isn't so simple. On the one hand the Flames have owned the California coast – compiling a 7-3 record against the three teams – an especially tough task considering the might of the team.
On the other hand they've lost to such teams as the Buffalo Sabres, Minnesota Wild (in their down swing) and Carolina Hurricanes. No team can win every game, but these are teams that – on paper, at least – the Flames should have been able to get some Ws against. Still, a 29-20-3 record is tough to dispute.
Then there's the issue of consistency. Ideally a team wants to win in bunches and lose sporadically, but apparently that message never got to Calgary. They've enjoyed multiple separate three-game winning streaks, but endured a single losing streak that lasted nearly three times as long: spanning eight games.
It's tough to take a team seriously when they can't stop the bleeding at two or three games, let alone eight. Having said that, it also speaks to the character of the team that it can avoid making such losing streaks common, unlike some other basement dwellers, while also stringing together a few winning streaks.
Finally, there's the individual performance of the players. For much of the first month of the season it was the defence that carried the offensive load, while the forwards sputtered along. While production has more or less evened out over the course of the season, there are still long stretches when players who are leaned on underperform.
As great as it is to have Mark Giordano, TJ Brodie and Dennis Wideman contributing lots of offence, at a certain point enough is enough. Jiri Hudler and Johnny Gaudreau have become more consistent, but Sean Monahan continues to be streaky and players such as Curtis Glencross and Mikael Backlund need to do more (though Backlund has been injured for long stretches).
So are the Flames contenders? It's hard to call a team in a playoff position in February anything otherwise. But are they for real? The fact is – despite sporting a great record – they still haven't done enough to warrant genuine concern from other teams.
If they can become a more consistent team both in terms of wins and losses and play on the ice that may change. Until that time, though, there will continue to be an air of uncertainty around the team.
Love Reading About Hockey?

Subscribe to keep up-to-date with the latest and most interesting hockey news!
| | |
| --- | --- |
| | We hate spam just as much as you |