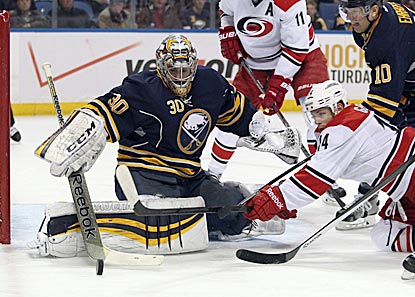 The Hurricanes fell short of a win, losing in the last minute of the game against the Buffalo Sabres in their first game back after the 2014 Winter Olympics. But does that show they weren't ready to play?
Although the Canes lost with only 43.4 seconds left in the third period, they most definitely showed that they were ready to play after a long break. They held a 21-9 shot advantage through the first two periods, and ended the game outshooting Buffalo 38-18. The goals that went past goaltender Cam Ward were mostly lucky bounces. And even though the goaltender only had 18 shots on net, he did well by making 15 saves in his first start since December 31.
Continuing their five game road trip, the Canes will make their second stop in Dallas tomorrow night against the Stars. And with only 24 games left in the season, they know they have to make the most of it.
With the trade deadline coming in hot on March 5th, every player will be putting in their best effort. There's no time to slack off with less than ten games until the deadline. Each player has to prove they deserve a spot to stay.
There is also not much time for the Hurricanes as a whole to slack off. They need to secure a playoff spot and there's not much time to do it. Currently, the team is five points out of a Metropolitan Division playoff spot but they're working towards closing in the gap. With only 61 points right now, Coach Kirk Muller stated they are hoping to get around 94 points by the end of the season to clinch a playoff spot.
Even though the Canes didn't start their five game road trip as they would have liked, there are still four more games to play on away ice. They're ready to ignore the home-ice advantage for the other teams and win as many games as possible.
As they plan the rest of the season, there are only simple things the Canes need to do. They have to put in all of their effort, work as a team through contribution from every player, have confidence, and WIN GAMES. Before the game last night, Eric Staal made the comment, "The biggest thing for the next 25 games for us and every team is the detail part of the game- the defensive side, the little bit extra you need to have to get wins and points." The Canes need that little bit extra and every player is going to have to push towards it. That little bit extra is what could get them a spot in the playoffs and that's something not worth losing.
Love Reading About Hockey?

Subscribe to keep up-to-date with the latest and most interesting hockey news!
| | |
| --- | --- |
| | We hate spam just as much as you |