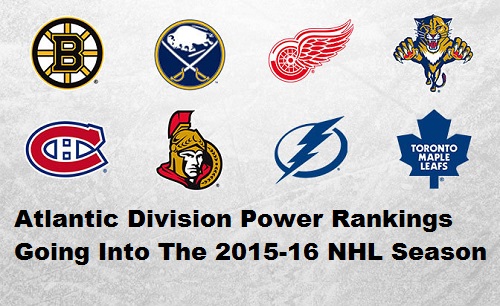 ATLANTIC DIVISION POWER RANKINGS
The dust has settled on the 2015 NHL Free Agency period. While there are still a couple of players left that could help some teams, I'll be examining each division (you can check out the Pacific Division & Central Division rankings) and ranking the teams on where they are after their additions and subtractions. Today we'll take a look at the Atlantic Division, home of the defending Eastern Conference champion Tampa Bay Lightning.
TAMPA BAY LIGHTNING
Key Additions: RW Erik Condra
Key Departures: LW Brendan Morrow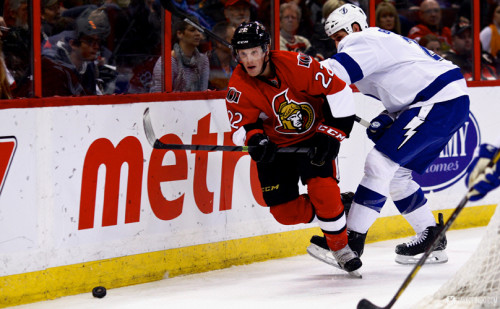 -The Lightning didn't do much this off-season, but they didn't have to. Other than replacing Brendan Morrow with the younger Erik Condra, GM Steve Yzerman stood pat. There wasn't much cap space to work with either, and the main focus will be the future of Steven Stamkos in Tampa Bay (this is the last year of his contract). The Lightning are a well-built team, and there's no reason they shouldn't find themselves deep in the 2016 playoffs again.
MONTREAL CANADIENS
Key Additions: RW Alexander Semin, RW Zack Kassian
Key Departures: RW Brandon Prust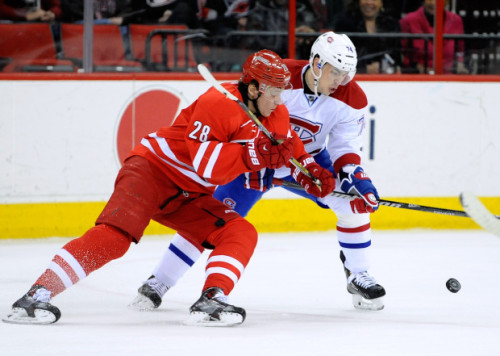 –Montreal's main problem (besides not being able to beat the Lightning) last season was a lack of offense. They ranked 20th in the league in goals per game, but ranked first in goals allowed. That was mainly due to Goalie Carey Price's career season, and Montreal can't bank on Price to play at that level again for an entire season. They needed to add some offense, and signing Alexander Semin to a one year/$1.1 million dollar deal is a low-risk/high-reward maneuver by GM Marc Bergevin. Even fifteen goals from Semin would make a difference. Acquiring Kassian for Prust was another shrewd move because Kassian is a younger, bigger version of Prust with some upside to him.
DETROIT RED WINGS
Key Additions: C Brad Richards, D Mike Green, HC Jeff Blashill
Key Departures: HC Mike Babcock, D Marek Zidlicky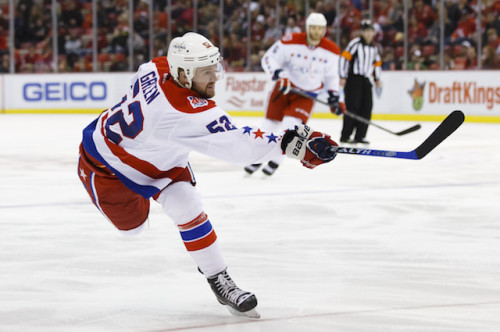 -Losing the coach you've had for ten seasons is obviously a big blow, but the Red Wings are loaded with veteran talent that will help keep things in order. Promoting the AHL bench boss to become your new NHL Head Coach is a smart move considering the younger Wings have spent time playing for him. Blashill led the Grand Rapids Griffins to a Calder Cup in 2013, and should do a fine job guiding Detroit. Adding Mike Green gives them the right-handed power play quarterback they needed. Bringing in Brad Richards gives them another reliable presence among their top six.
BOSTON BRUINS
Key Additions: LW Matt Beleskey, C Zac Rinaldo, RW Jimmy Hayes, D Matt Irwin
Key Departures: LW Milan Lucic, D Dougie Hamilton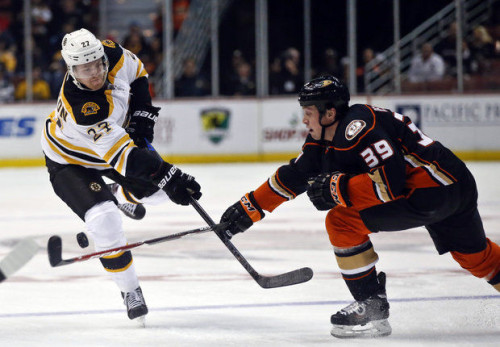 –Bruins fans were up in arms about the moves new GM Don Sweeney made this past off-season, and it's understandable. While Sweeney made the team younger and potentially better off in a couple of seasons, they'll be fighting for a playoff spot again after missing out in 2014-15. Matt Beleskey is going to be expected to fill the void left by the Milan Lucic trade, and Zac Rinaldo will bring his usual toughness to the fourth line. Trading Dougie Hamilton away could be a move that haunts Sweeney for years. Jimmy Hayes could be a nice surprise with a better supporting cast than he had in Florida. Speaking of the Panthers…
FLORIDA PANTHERS
Key Additions: RW Reilly Smith
Key Departures: RW Brad Boyes, RW Jimmy Hayes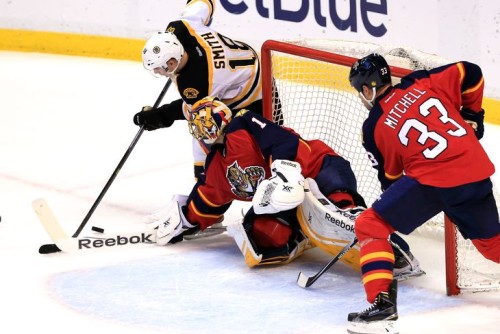 -The ageless Jaromir Jagr is coming back for his 22nd NHL season at the age of 43, but Florida will be counting on their youth to shoulder the offensive load this season. Guys like Jonathan Huberdeau, Aleksander Barkov, and Nick Bjugstad need to produce often to get this team in the playoff mix. Acquiring Reilly Smith from Boston in the Jimmy Hayes trade is a solid addition, and he'll find a role somewhere in their top six forwards. Aaron Ekblad will lead a solid defensive group in front of Roberto Luongo again.
OTTAWA SENATORS
Key Additions: None
Key Departures: G Robin Lehner, RW Erik Condra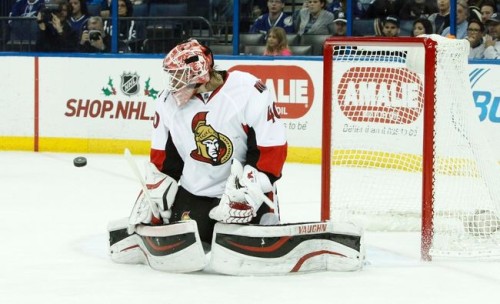 –Ottawa secured one of the Eastern Conference's Wild Card spots due to some unbelievable goaltending down the stretch last season from Andrew Hammond. It'd be tough to bank on getting goaltending like that again, but I can't see the Senators only winning 17 of their first 41 games either. Ottawa will be taking the ice in 2015 with an almost identical line-up from last season, and will be counting on their youth like Florida (Curtis Lazar, Mike Hoffman, Mark Stone, Mika Zibanejad, Kyle Turris) to carry the load this season. I think that might be a little too much to expect of the group this season. They're more of a 5B to Florida's 5A than behind them.
BUFFALO SABRES
Key Additions: HC Dan Bylsma, C Jack Eichel, G Robin Lehner, C Ryan O'Reilly, C David Legwand, D Carlo Colaiacovo, LW Jamie McGinn
Key Departures: C Mikhail Grigorenko, D Nikita Zadorov, G Anders Lindback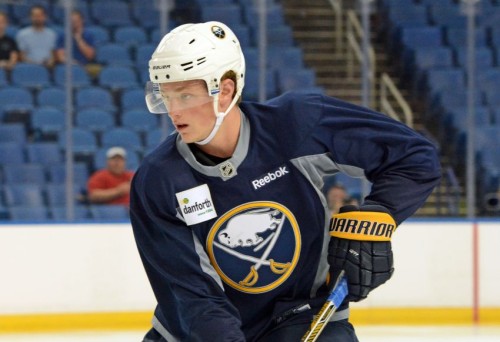 -It's been quite the off-season in Western New York. Buffalo drafted a franchise cornerstone in Jack Eichel and added a Stanley Cup winning coach in Dan Bylsma. Off the ice issues aside, Ryan O'Reilly was a fantastic acquisition, and Robin Lehner will get a chance to be the top goalie without much competition breathing down his neck. The experienced David Legwand can help Eichel with some of the finer points of the game. Buffalo may need a year to gel, but brighter days are coming up on the horizon.
TORONTO MAPLE LEAFS
Key Additions: HC Mike Babcock, C Shawn Matthias, C Mark Arcobello, RW PA Parenteau, D Eric Brewer, D Matt Hunwick, C Nick Spaling
Key Departures: RW Phil Kessel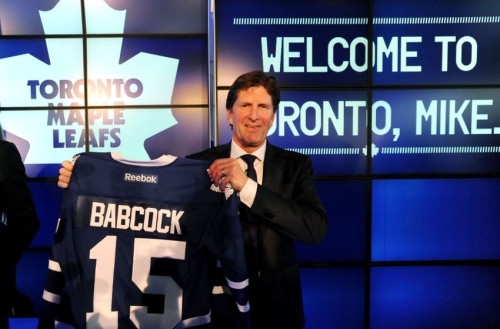 -After a long stretch of futility and one playoff appearance in over a decade, the Maple Leafs have finally bottomed out and have begun the full-blown rebuild. Having Mike Babcock behind the bench automatically makes everyone on the team accountable. Adding guys like Matthias, Spaling, and Hunwick will make sure the team plays hard every night while waiting for guys like Kasperi Kapanen and Mitch Marner to graduate to the NHL level. They may be the bottom team in the division this year, but this should be the last year Toronto is in the basement for a long time. They'll lose a lot of games, but they will be competitive every night.