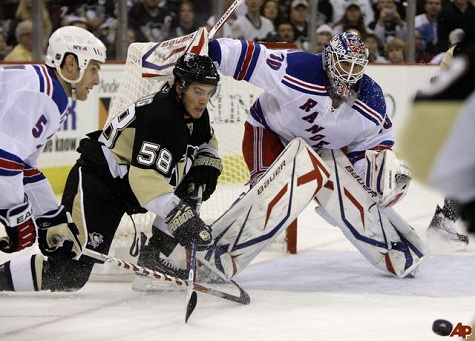 Today we're going to continue breaking down the Atlantic Division by looking at the top 5 defensemen in the division. We saw the offensive superstars yesterday and now we get to look at the guys that are tasked with shutting them down. Let's begin!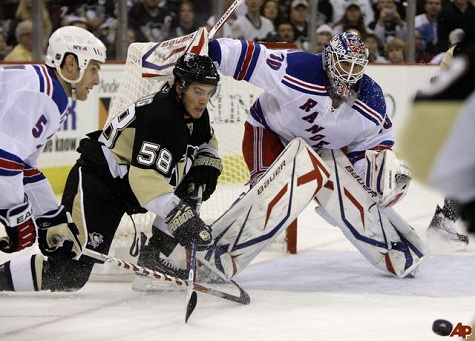 Honorable Mentions: Michael Del Zotto, Marc Staal, Brooks Orpik, Adam Larsson
The toughest omission for me definitely was leaving out Michael Del Zotto. Del Zotto led the Rangers blue line in points and finally turned around his terrible +/- numbers in his 3rd NHL season, but he just missed the cut here to his teammate. Marc Staal was on his way to being an All-Star defenseman in 2010-2011, but a concussion derailed his season. When he returned during the Winter Classic, many hoped that he would pick up where he left off, but he struggled in the second half of the season and thus he just misses the cut here. Orpik is a great stay at home defenseman that throws big hits but won't wow you offensively. Larsson showed some flashes of brilliance and in a couple of years you can expect him to become a mainstay on this list. Now, let's look at the 5 defensemen that made the cut.
5. Mark Streit
Mark Streit in one of those sneaky defenseman that never gets talked about, but people don't realize just how good he's been over his career and how good he still is at 34 years of age. Last year, Streit finished in the top 10 in defenseman scoring for the 4th time in the last 5 years with 7 goals and 47 points. The one downside is that Streit's +/- took a major beating last year as he was a -27, but he can't take the full blame for that. However, Streit does have some good anticipatory skills as he was tied for 3rd among defensemen in takeaways (50) and is a great powerplay quarterback (T-5th among defensemen in PP points with 23). We can't really expect Streit to improve too much in terms of his overall game, but I do expect his numbers to increase slightly next season with Lubomir Visnovsky joining him on Long Island this year.
Projection for next season
8 goals – 42 assists – 50 points
4. Ryan McDonagh
After struggling during his rookie year for long stretches, McDonagh finally put together the breakout season that Rangers fans were looking for. McDonagh played on the top defensive pairing and formed a top-flight shutdown unit. McDonagh finished in the top 33 in defenseman scoring (7-25-32), was 8th in the NHL in blocked shots (182), was 9th among defensemen in takeaways (46), and finished 11th amongst all skaters with a +25. McDonagh's confidence should be very high heading in to next season and we should expect McDonagh to get a whole lot better in the next few years. He's only 23 years old and is just starting to find his prime.
Projection for next season
8 goals – 32 assists – 40 points
3. Kimmo Timonen
When Chris Pronger went down with a concussion (more on Pronger later), Timonen was left to pick up the offensive and defensive burden. Timonen answered the call, being named an NHL All Star and finishing in the top 15 in defenseman points. Timonen has always been an offensive stalwart, usually finishing with about 40-50 points every season, but this season he played a bit better defensively and he looked like a more complete defenseman. As a result, he finished 6th among all defensemen in shorthanded time on ice (3:28/game). Similar to Streit, we know that Timonen has peaked, but you always know what you're gonna get from him.
Projection for next season
5 goals – 37 assists – 42 points
2. Dan Girardi
Dan Girardi is the guy that absolutely does not get as much recognition as he deserves. Most people look at his point totals, see that he only had 29 points, and determine that he's not a top 15 defenseman in this league. Well, Girardi makes his presence felt in so many different ways. Here's a statistical recap of his year last year (all stats are among defensemen only): 4th in ice time (26:14), 8th in hits (211), 5th in blocked shots (185), and 12th in takeaways (37). Girardi did everything you wanted defensively and formed an impressive top pairing with Ryan McDonagh. The best part about Dan Girardi is that he's a physical defenseman that doesn't take dumb penalties, only recording 20 PIM's last year. He's also extremely durable for a physical defenseman, playing in all 82 games last year, and only missing 2 games in the last 5 years. Fact of the matter is that Girardi is a Norris Trophy caliber defenseman and hopefully in the next few years, he will get that recognition.
Projection for next season
6 goals – 32 assists – 38 points
1. Kris Letang
After the departure of Sergei Gonchar, Kris Letang has taken his game to a whole new level. Letang has recorded 18 goals and 92 points in his last 133 games. Last year, Letang was on his way to a monster offensive season before getting derailed by concussions. Letang had 42 points and was a ridiculous +21 in the 51 games he did manage to play in. Letang has truly blossomed into a top 10 defenseman and he's still only 25 years old. When healthy, you can pencil in Letang for 50+ points, 150+ hits, 100+ blocked shots, 30+ takeaways, 24+ minutes of ice time, and 90+ PIM. What's not to love about this guy? For Pens fans, be excited about the fact that you will get to watch this guy get even better the next few years and I fully expect Letang to be in Norris contention for the next 6-8 years.
Projection for next season
12 goals – 52 assists – 64 points
So there you have it. That's our ranking of the top 5 defensemen in the Atlantic Division. I chose not to include Chris Pronger because it doesn't look like we may ever see him play another game. Pronger is a Hall of Fame defenseman and would definitely be in the top 5 somewhere, maybe slotting 3rd behind Girardi and Letang, but I don't believe we'll see him play again. Disagree with our top 5? Comment below to let us know what you think!