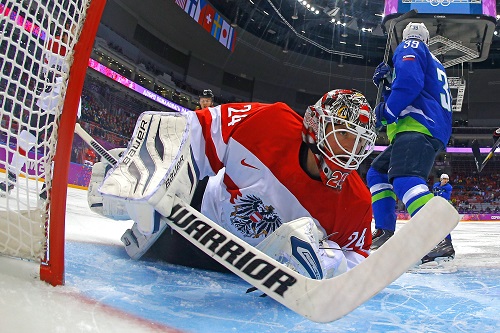 Anytime your team loses, it's rough. When your team loses in the Olympics, it's rough but the competition is the best in the world. When your team loses to an opponent who only has seven hockey rinks in their entire country and was the underdog from the first day, it's extra rough.
Slovenia has only one professional hockey team in their entire country, and only five enclosed hockey rinks. But that didn't stop them from routing Austria 4-0 in their quarterfinal match-up.
Slovenia's only NHL player, Anze Kopitar, opened the game up with a power-play goal early in the first period after ringing the post on his first shift of the game.
Jan Urbas tallied a shorthanded goal later in the first period and the scoring opened up for Slovenia. Slovenia was able to score on the power-play, shorthanded, even-strength, and added an empty-net goal in the third.
Slovenia netminder, Robert Kristian, stood tall against all 30 of Austria's shots on goal, even facing some highlight reel moments from Michael Grabner and Thomas Vanek.
Grabner was the leading goal scorer for the tournament thus far, but was shut down during the game against Slovenia.
Vanek looked like he was frustrated with the game as he took a penalty, was stopped on a breakaway, and his turnover on the blueline lead to a Urbas' shorthanded goal.
Austrian defenseman, Andre Lakos summed up the game. "We had a rough start. They had a couple of chances, and they got a couple early, and we couldn't get anything past their goalie. Their goalie won the game."
Austria shares a border with Slovenia but the whole idea of 'good fences' gets thrown out in Olympic play.
"Very disappointed," reflected Austria coach Emanuel Viveiros. "I'm not sure why we didn't come to play. We had the chance to go to the quarterfinals, and we did not start the game."
Austria was eliminated from the tournament with a 1-3 record. Their first two games, both losses, had combined scores of 14-4. To be fair, those games were against Finland and Canada, heavy favorites. Though, Austria can come away from the games with some positives, including beating Norway 3-1 and Grabner's scoring performance.