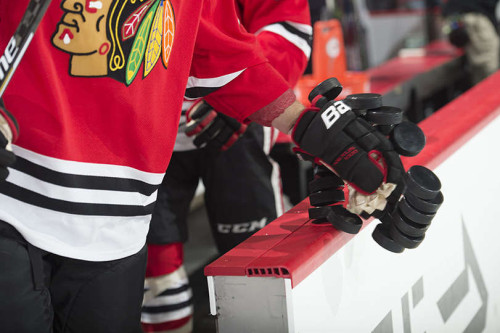 While the celebrations and legal disputes die down, Chicago is looking at another hopeful season. Even with the loss of some popular names, the Blackhawks are still hopeful that they will be reliable contenders for post-season hockey. They've got good reason to be excited.
Chicago's reliable formula is still kicking and holding true for the upcoming season. They've kept a solid core of veterans, and surrounded them with talented youngsters.
Patrick Sharp's departure may hurt the Blackhawks' female fan-base, but it was the right move for everyone. Sharp wasn't performing to the potential that we've seen in the past and his shift to the Dallas Stars may turn out to be a better move for his career. He's a veteran Cup-winner that can provide leadership to a quick team.
Moving Brandon Saad to the Columbus Blue Jackets caused some uproar in the off-season as well. The move made him more money and placed another Cup-winner on a team looking for leadership.
Teuvo Teravainen is expected to break out this season. He got his feet wet last year and experienced what it was like to play at the NHL level. Not only play, but take home a championship ring his rookie season. Now comes the difficult task of defending the hype and proving that his rookie season wasn't just a 'right place, right time' fluke.
A big question will be in net. Corey Crawford has proven his mettle, and his vulgarity, the last two Stanley Cup runs. He's a proven champion. More critical eyes will be focused on Scott Darling. He earned his NHL spot, and competed in the grueling playoffs. But he's in a spot similar to Teraveinen, now comes the time to prove he's here to stay. Already a local hero, Darling fans are excited to see him on a regular roster. Although if the preseason is any predictor, Darling is going to have to work hard to fit into Chicago's history of reliable net-minding. The good news is that if anyone knows about working hard and succeeding, it's Darling.
The Rockford Ice Hogs will be stocked with talent this upcoming season. A great amount of trust was put into Stan Bowman when he decided to send Ryan Hartman down to Rockford instead of giving him a permanent spot in the NHL. Hartman has proven his talents in Rockford already, and stayed reliable and steady when called up. It's suspect that his move back to the minors has a lot to do with the talent already on Chicago's roster and the limited number of spaces to fill. He's earned a regular spot in the NHL; it's just a matter of time before that happens.
Some early predictors have Chicago as the Stanley Cup favorites yet again. While it's reliable that they will be post-season contenders and difficult opponents on any team's schedule during the regular season, to call the Cup winners now is far too early. There are too many talented teams, even in the Western Conference alone, to make the case this early. Yes, the Blackhawks are smart bets for a repeat, but not a lock to win. They're still going to have to prove that they can win with a revamped roster.
Instead, the Blackhawks are a good bet for a playoff contender and perhaps even a decent shot at a repeat. The Western Conference is heated this season, as it usually is, and the Detroit Red Wings have been putting on a highlight reel in the preseason. Nothing is for certain yet, but Chicago can expect more playoff hockey at the end of this season and maybe, just maybe, another parade route.