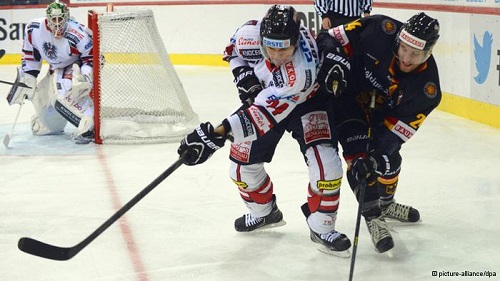 It's been more than a decade but Austria has once again qualified to compete in the Olympics. Not since 2002 has Austria competed on the Olympic stage and their last appearance wasn't overly impressive with a 12th place finish.
Austria's roster for that last appearance had some stellar NHL stars such as Ziggy Palffy, Pavol Demitra, and Miroslav Satan. Though, it wouldn't be enough as Austria fell to the bottom of the list of 14 teams.
Austria has competed in the Olympics 13 times but hasn't yet placed higher than fifth. And that was in 1928. Just for reference, the Chicago Blackhawks organization was only two years old at the time. So was Marilyn Monroe, Fidel Castro, and Joe Paterno.
This year Austria will have three NHL regulars on the ice. Thomas Vanek and Michael Grabner will both take some time off from the New York Islanders and Michael Reffl will take a break from the Philadelphia Flyers.
Vanek has 15 goals so far this season, which includes the time he spent at the beginning of the year with the Buffalo Sabres. He's loaded up 22 assists for 37 total points so far on the season.
Grabner is just behind him with 15 points in 42 games divided over 7 goals and 8 assists. Though, Grabner has a goal in each of New York's last two games.
Raffl has 3 goals and 9 assists for 12 points in his 31 games for the Flyers. His last goal came on January 8th against the Montreal Canadians.
The remainder of Austria's roster is collected from various European leagues, and will have stiff competition in Group B of the Men's hockey division. Austria may be able to contain Norway, but it's a safe bet that Canada and Finland are going to dominate the group, and put a good push for a medal. Austria's first game will be against Finland on February 13.
The entire Austria Men's roster is as follows:
G Bernhard Starkbaum
G Rene Swette
G Fabian Weinhandl
D Mario Altmann
D Florian Iberer
D Andre Lakos
D Rovert Lukas
D Thomas Pock
D Matthias Trattning
D Stefan Ulmer
D Gerhard Unterluggauer
F Michael Grabner
F Raphael Herburger
F Thomas Hundertpfund
F Matthias Iberer
F Thomas Koch
F Andreas Kristler
F Manual Latusa
F Brian Lebler
F Daniel Oberkofler
F Machael Raffl
F Oliver Setzinger
F Thomas Vanek
F Daniel Welser