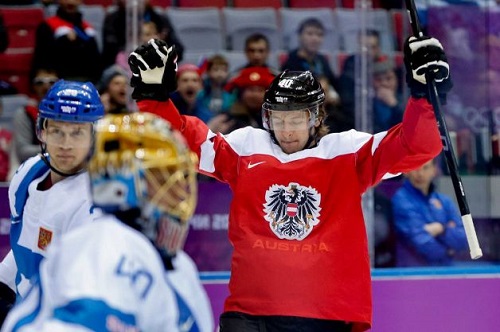 Austria's first game of the 2014 Olympics didn't end the way they were hoping it would. But it sure started according to plan.
Although Finland handed Austria an 8-4 loss, their early play showed signs of what the team is capable of when all cylinders are firing in unison.
Michael Grabner netted his first of three goals in the game just 39 seconds into the first period. Finland came out of the gate a little loose, and Grabner jumped on the opportunity. While Finland was able to respond, Thomas Hundertpfund was able to put himself on the score sheet after his shot bounced off a Finnish skate ten minutes later.
Early in the game, Austria had netted two goals off of their first three shots. Nobody assumed that kind of shooting percentage would continue, but Austria was proving they could play on the international ice, and that they wouldn't be intimidated.
But that's when things seemed to come apart. Finland would accept the role as the game favorites and presume to tally five unanswered goals, including two just eight seconds apart. Finland threw 52 shots at Austria and had goals from six different players.
What Austria can take away from the game is that they can, in fact, score goals in this tournament and can give opponents a headache. While they aren't anticipated to be standing on the podium, they can seize opportunities to prove to the world hockey community that they can have a seat at the table.
Austria hasn't been in Olympic hockey contention in a dozen years. This is their rebirth into the arena. This is a way for them to prove that the little guy can still have some surprises, and that when teams are staffed with the best players on the globe, the play has to be strong from the first second to the last.
Austria had a disappointing ending, but fantastic start in their tilt against Finland. Up next on the schedule is mammoth Canada. A win would be unbelievably unprecedented. But if Austria can come out of the gate with the same fire, and string some goals or great plays together against Canada, maybe they will get the respect and pride they deserve.